02-05-2010
Silverchair's got a new groove
By Jonathon Moran (The Sunday Telegraph)
http://www.dailytelegraph.com.au/news/sunday-telegraph/silverchairs-got-a-new-groove/story-e6frewt9-1225860992414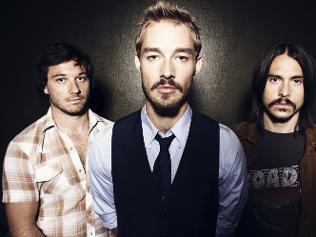 From grinding machinery to twisted melodies, Silverchair are trying out new sounds on their sixth studio album.

Performing at the Groove In The Moo outdoor festival in Bendigo, the trio of Daniel Johns, Ben Gillies and Chris Joannou, gave fans a taste of the forthcoming album by way of two new tracks called Machina Collecta and 16.

"It's always interesting to see how live audiences react to songs they don't know, and it sometimes tightens up the performances, too," Johns tells Insider exclusively. "Hopefully, this road-testing will help the recorded versions turn out even better." Silverchair recently booked out a Sydney studio to record tracks for the follow-up to 2007's hugely successful Young Modern, which they are conveniently referring to as Album 6.

Details of the album, which is slated for release by year's end, have been kept secret. Machina Collecta is one of the first tracks they wrote for the album.

"As the title suggests, it's meant to sound a bit like some big machine grinding away," said Johns, who is producing the album as well as singing, having co-produced Young Modern with Nick Launay."It's pretty full on so it should be fun to do live."

Johns describes the track 16 as "melodic but a bit twisted".

"But don't be afraid."

Silverchair play Groove In The Moo at Maitland on Saturday, and Canberra next Sunday.