02-07-1997
Brixton Academy - London, UK
By JOLANDA
At 5:30 p.m. there was a huge line of people outside Brixton Academy in London (mostly girls with weird hair colors and multiple piercings and/or tattoos). We decided to get tickets early so we'd have no problems getting in later.
When we returned to the venue at 7:30 there was still a huge line but they were letting us in without really checking for anything except tickets. We made our way to the soundboard just in time to see Even kick off the evening. They played a 30-minute set. I liked them but have to say that I liked the next band, Feeder, better. They rocked!
The crowd was really heating up by this time and people were having a good time crowd surfing and stage diving. Seeing that made me happy I was in my safe spot near the soundboard. The lights went down and instead of the circus music that I expected, there was some soccer theme playing.
As always, the show started with Slave. I could not help it and had to laugh when I first saw Daniel's new haircut -- I did the same when I first saw Ben and Chris with less hair as well -- but I still think Daniel is WAY too skinny to have short hair.
The next song was Roses, after which Daniel introduced Bailey Holloway as "Peter Mengede from Handsome," which made me laugh because I was extremly ticked off when Handsome cancelled the Melkweg show I was going to attend a few days earlier.
Abuse Me and Pure Massacre followed, and then Daniel said, "Hi Brixton, we're gonna play a song we haven`t played in a while... yeah, Undecided." It was actually Pop Song For Us Rejects, which was followed by Suicidal Dream and Cemetery, before which Ben nearly fell over while leaving the stage.
Next up was Tomorrow, after which Daniel started a little conversation.
"Yes, check it! What's up y'all? Brixton kicks ass! Brixton has the reputation for being bad-ass motherfuckers. We were talking to someone and we said we are gonna rock Brixton, we're playing Brixton 'cause we too are bad-ass motherfuckers," he said.
The show continued with The Door, Faultline, No Association, Freak and Madman. It was so bloody HOT in the Brixton -- I kept on seeing John Watson bringing Ben more water. After a break they came back on stage and Daniel started playing God Save The Queen. Ben joined in a bit later. Daniel yelled, "Stick your head between your legs and suck your butt!"
They then played Lie To Me. I love this song! It was only the second time I heard it played live.
At the end of Israel's Son, Daniel was the last to leave the stage, as usual, leaving the people watching overheated, overexcited and tired, but with huge smiles on their faces. I was no exception! These shows are always over WAY too fast.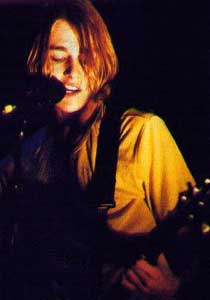 Set List:
Slave
Roses
Abuse Me
Pure Massacre
Pop Song For Us Rejects
Suicidal Dream
Cemetery
Tomorrow
The Door
Faultline
No Association
Freak
Madman
God Save The Queen
Lie To Me
Israel's Son
[Photo courtesy of Goose]
---
By DANIEL YOUNG
After what seemed like forever and a day to come the tickets for the Brixton Academy gig had arrived. Me and the rest of my friends (five in all) had decided to go and see silverchair's gig at the Brixton Academy after seeing them in action at the Kentish Town Forum, a few months previously.
The news of this gig came as somewhat of a shock seeing as it was hardly advertised and we only had found out about it from the tour schedule on chairpage and by ringing up a few ticket companies to enquire whether or not it was actually true.
Many people were left short because of this as only a few of the main magazines had adverts for it a few weeks before it was due to start.
Anticipation was also of number one priority for many people, news had it that it was one of their last concerts of the year for the UK, if not the last, and also for the teeny boppers it was a sad, sad day, because for everyone concerned the rumours were found to be true. Kerrang magazine, were the party responsible, they ran a double page spread about the band recording two new singles, one for the Spawn soundtrack (Spawn), and another a cover of a Cure song for a tribute album (London's Burning), in these shots it was shown that both Daniel and Ben had completely gone away with all their hair.
Daniel had had it cut to around his chin and Ben had, had his hair completely shaved.
As most of the fans knew about the haircuts long before Kerrang had printed the article, it didn't come as much of a shock to many people, but for the teeny boppers it was hell.
We got to the gig around 6.00 p.m. waiting for the doors to open at the scheduled 7.00 p.m. and as me and my friends lined up all we could hear was people debating on whether he had still had it cut, whether he was going to grow it again, and whether or not he was going to dread it, of which later on in the year he did, the faint smell of sick was also wafting through the air thanks to some young individual who decided it would be funny to puke in the entrance, oh well, it had to be expected.
The doors finally opened and their was a mad rush to get in, many people us included decided it was wise to go to the bar, whereas other people started to go to the stage area or went to the T-shirt stall.
A faint sound of guitars being checked alerted us that the gig was about to start.
We made our way down the hall to get a good view of the stage, the lights dimmed and support band Even were first to grace the stage.
This band possibly had the worst sound ever, due to a poor sound mixer, and also very, very poor composition of tunes, many people stood around just chatting, booing.
Some people even tried to start a mosh going but to no avail.
Next band on were Feeder, a band from the UK which had only really started to gain the critical acclaim that they deserved. Their music had been criticised in the past, but many people, us included were keen to see them live.
I was blown away, they rocked and each note was played with precision to the album, the excellent song High was one of the highlights of the night, especially considering the poor performance by Even previously. They played I think, around a 45-minute set, then bidded their farewells to a rapturous applause.
The lights came back on and everyone started to push towards the front, it seemed like everyone who was at the back drinking had realised that silverchair were now gonna come on and there was a lot of people getting crushed or being pushed out the way. The wait seemed forever, but at around 9.30 p.m. the lights dimmed and the crowd roared. Everyone started to push forward again and started to all rise on to their tiptoes to get a better view. The smoke started and we all expected the circus tune to wail out, funnily enough a soccer tune started to sound, it was like a recording of a soccer match where there was loud chanting, then from out of the smoke the frail figure of Daniel Johns emerged sporting his new cropped blonde bob, apparently free from any red dye and also wearing his favourite yellow T-shirt and beige khakis combo.
Ben and Chris took their positions still under the dark of light and then the first chord of Slave rang out, all the lights started flickering, then it stopped, all that could be seen was Daniel Johns kneeling down and Ben started to count down the next chord with a few taps of his immaculate Pearl Kit, the next chord then rang out, then darkness, the wait was intense, then finally the last chord from the start rang out and all the light went up, the start of the gig had finally begun.
People started to fly over my head and security guards were rushed off their feet due to the enormous crush, trying to mosh at this point was impossible, just trying to keep my good position was one priority. Daniel hacked away at his guitar like there was no tomorrow when the last uptempo part of Slave was in progress; the crowd was going mad. We were then treated to an excellent version of Roses, which had Daniel screaming his lungs out during the chorus.
The silver PRS came out and then Daniel introduced Bailey Holloway as one of the members of Hanson or Handsome (it was hard to hear), a very cool version of Abuse Me followed, complete with a spooky light effect.
After a few songs it was time for Daniel to change guitars, out came Bailey Holloway and gave Daniel his Orange PRS to which all the lights dimmed and the spotlight was only on Daniel, the solo of Cemetery had arrived. Daniel singed his heart out on this occasion as the whole hall stood in awe. He even made it sound better with a few more guitar chords chucked in and the lyrics screamed like "Need a change, imitate, irritate."
The applause he got was overwhelming. It was then back to business with Suicidal Dream and an excellent version of Tomorrow.
Once the E-tuned songs were out of the way the green PRS came out for a great version of Faultline which I hadn't heard live before and a version of The Door.
During the set Daniel started talking to his bandmates and then said to the crowd that instead of playing what they was gonna play, they decided to play Pop Song For Us Rejects another song I hadn't heard live before, but of course was much better when played that way. They then played No Association or Freak and bidded their farewells. The crowd started to scream "silverchair, silverchair, silverchair", and after about five minutes they come on and launched into Madman, Daniel started to run around like a headless chicken, much to the delight of all the moshers, finally we could all move. Then Israel's Son's bassline started to be played by Chris and everyone knew that this was the last one, the crowd went mental and was especially appreciative of the long drawn out ending, the feedback roared and Daniel was the only on left on stage, the noise became more frantic until all that was left was him and his guitar in the dark blue spotlight of the stage. He got up waved, and through the still pummelling feedback that was coming out of the speakers he left the stage. I turned to my friends who were all moshed out and said "Same time next year then," to which everyone nodded in agreement. A great end to a great night.
---
By JIESELLE SIMONE URQUHART
VIBES: Very good. Everybody was moshing and Daniel, Ben and Chris seemed to be in high spirits. Daniel was very hyperactive and ran round the stage all night. He played with ten times more enthusiasm than their last London gig.
SONGS: They played the same sort of set list as last time with Slave as their opening number. Songs from frogstomp and Freak Show were mixed, with classics like Israel's Son and Tomorrow, and new ones like Pop Song For Us Rejects and Freak.
Daniel did Cemetery as a solo, which was really good.
For their encore they played Madman, which was the best track of the night. They had gone off stage looking really tired but when they came back on again, they were ready to go. Yeah, they did go! Go completely psycho! It was as if they were saving their energy all night for that one song. It was excellent! They played with such intensity and passion -- it was amazing.
At the very end Daniel started playing some weird guitar thing and sat on top of one of the amps before sliding off. He left his guitar on top of the amp and walked off stage.
QUOTES: Since they didn't have microphones, Ben interacted with the crowd by throwing out his drumsticks and Chris' offering was water. Apart from swearing and making sarcastic comments about which songs they were going to play next, Daniel didn't say much. He said the crowd was much better than at the other two England dates they'd played, and said something about Brixton 'chair fans being "bad ass motherfuckers."
OTHER: When Even were playing their set Daniel ran on stage and jumped along the front of it before running off the other side. Don't ask why. At least that psyched the crowd up a bit.
This gig was so energetic that I managed to lose half a stone just by moshing (joke)!
I was really surprised at how short and really skinny Daniel was. Even my little brother's bigger than him. He must get well tired really easily, bless him.
My friends and I met Ben after the gig and he was really sweet. We told him we were hungry and he gave us all the food out of his dressing room. He also signed autographs for each of us with a message my mum didn't approve of, but of course I liked!
---
By ROXANNE
I got to Brixton scared as hell! Everyone I had talked to said that Brixton was the South Central L.A. of London. As I stepped of the tube and onto the streets of Brixton, all fear subsided. Directly outside the tube station, there was a pillar pasted with silverchair posters. I was happy! I sat in front of the wall of rock legends and just stared. I was in awe -- yes I was stared at as if I was a freak, but I didn't care -- when it comes to silverchair, I am a freak!
At Brixton Academy, I was shocked to see that I wasn't the first person there. The two girls there were cool. I quickly befriended them and the whole day turned into a blast. More people arrived, drunk off their asses. They were throwing bottles in the streets, mocking Nirvana fans, and performing acupuncture on stuffed hedgehogs.
We decided to walk down the alley to see if we could hear the soundcheck. We could barely make out the chords to Slave. The people with me decided to give me a lift so that I could hear through an open window, but with my luck, it was the kitchen, and two cops were walking down the alley. I was quickly dropped and we started walking away, but were immediately stopped by the cops, who thought that we were trying to break in! We talked our way out of it and got back to our places in the front of the line.
Soon, we were allowed inside. Even took the stage, and I was in for a surprise -- the crowd in London doesn't mosh -- they surf. I quickly got sick of getting kicked in the head, so before silverchair took the stage I was out. Feeder was awesome. I had met Jon Lee earlier and he was cool, but I had no idea how much Feeder rocked.
Finally, silverchair took the stage. I was amazed at how much Daniel talked. At the show I went to less than two months earlier, he hardly said a word, so I was amazed at his little Brixton speech.
"Yeah! Brixton rocks harder than the other place we played. Brixton kicks ass! Brixton has a reputation for being hard-ass motherfuckers. Do you realize you are the SCARIEST CITY? Everyone's scared! We said we're gonna rock Brixton and they all said 'Oh, you're mad.' We're gonna rock Brixton 'cause they're hard-ass motherfuckers. We said it. This is a real conversation, I'm not making it up. And we said, "We're playing Brixton because we too are hard-ass motherfuckers."
The whole crowd erupted into a choir of cheers! We all knew we were hard-ass motherfuckers just as they were, and there was no one better to acknowledge that than them, right? YEAH!