04-05-1997
The Theatre - Ft. Lauderdale, USA
Review by Mike (pip@onramp.net)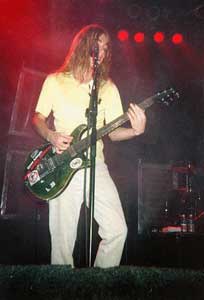 More technical problems as the battery which powers the memory in the light board leaked. Lighting director Hugh Taranto had to take apart the board and repair it before silverchair's set.
Local H covered silverchair's "Tomorrow."
Conditions were hot -- Daniel said he was doing "Cemetery" alone because Ben and Chris were too hot.
Daniel was very talkative. He told the crowd that Ben had sex with a cat and that they were having babies. He also said, "After experimenting, we've finally agreed that gay sex is the best... just kidding."
In "Tomorrow," Daniel sang, "The water in whatever city we're in is very hard to drink."
For the encore, Scott Lucas of Local H played Daniel's silver PRS and Daniel sang "Paranoid," grabbing the microphone and roaming the stage as he sang. Scott gave Chris a piggyback ride. Ben threw his drumsticks into the crowd but threw too hard and hit the soundbaord, narrowly missing sound engineer Peter Ward.