03-05-1997
Jannus Landing - St. Petersburg, USA
Review by Mike (pip@onramp.net)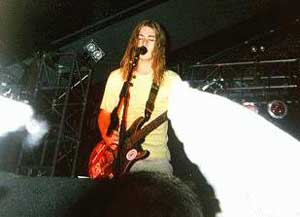 silverchair headlined on the main stage closing the first night of the Music Midtown Festival.
They played the standard set, with "Minor Threat" as the first encore song. Scott Lucas of Local H sang "Minor Threat" along with Daniel.
There were problems with the PA system, and Daniel stopped "Tomorrow" so it could be corrected.
Daniel tried to get on the crowd's good side by saying that when he watches baseball, he watches the Atlanta Braves. The crowd cheered. He said that when he watches American football, he watches the Atlanta Falcons, and the crowd booed. Then he said, "Atlanta football sucks," and the crowd cheered.