03-05-2010
Groovin' the Moo
By PHILIPPA HAWKER (The Sydney Morning Herald)
http://www.smh.com.au/entertainment/music/groovin-the-moo-20100502-u1a5.html
Bendigo Showgrounds, May 1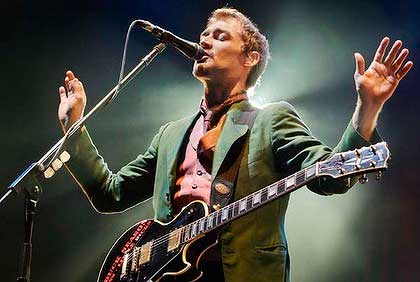 GROOVIN' the Moo is a festival on a commendable mission: it bypasses the usual venues to take a day of music to less predictable (mostly regional) destinations around the country, and it has been growing steadily since its inception in 2005. This year's event, which will also take in Canberra, Maitland, Townsville and Bunbury, kicked off in Bendigo on Saturday in ideal conditions: a warm, sunny day and a cool, clear night.

Bendigo sold out quickly, and the long queues outside the showgrounds at the beginning of the day could have taxed the patience of many, particularly those who missed performances early in the day. Two stages operated side-by-side from noon, with bands alternating between them in a schedule that ran like clockwork. A dance tent, the Moolin Rouge, was in action throughout.

GTM 2010 has a strong, varied selection. The line-up on the main stages was a sampler that included rap, pop, electro and rock: Muph & Plutonic, Kisschasy, Empire of the Sun and Grinspoon.

Canadian duo Tegan and Sara were an engaging presence, while Lisa Mitchell's beguiling combination of reticence and assurance transcended sound problems.

The joyous retro-dance explorations of Melbourne's Miami Horror (fresh off their support gig for Phoenix) were exemplified by the shimmering Sometimes, while the austere and focused Spoon, from Austin, Texas, played a strong set of hits.

Penultimate act Vampire Weekend (who play two concerts in Melbourne this week) brought their buoyant, erudite and infectious energy to a set that included plenty of amiable banter directed at the audience. And Silverchair, playing their first show for 2½ years, closed out the festival in an emphatic flourish, with Daniel Johns at his histrionic, extravagant best.