15-05-2010
Hay Park - Groovin' the Moo - Bunbury, Australia
By RENAE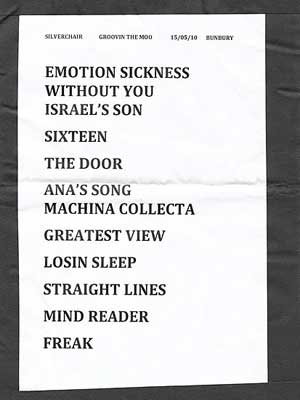 SETLIST

EMOTION SICKNESS
WITHOUT YOU
ISRAEL'S SON
16
THE DOOR
ANA'S SONG
MACHINA COLLECTA
THE GREATEST VIEW
IF YOU KEEP LOSING SLEEP
STRAIGHT LINES
MIND READER
FREAK

And so we come to the end of the tour. Walking onto Hay Park in Bunbury was bittersweet. We were full of excitement to be seeing Silverchair again but were also sad as this means that we won't be seeing them for a while now and also that the Groovin' The Moo tour is over. I can't believe how quickly the past 3 weeks has gone. Crazy.

Arriving at the show we were presented with a different set up in entering the show which was a lot more organised than the other shows. It separated the crowd into 3 separate areas first up for bag checks, fast track with no bags and VIP/media and everyone was entering in an organised fashion. The wrist bands here were also cloth instead of plastic which was also a change. Now people may call me biased as I was in my home State but I must say that this show was definitely the best for organisation and layout. There was a clear area for food, market stalls, clear and orderly entry and exits for the 18+ areas etc. The only disappointment for me was that the stages had been swapped around again which meant the Triple J side was back on the right stage which meant it was going to be harder for me to get in and have an easy exit route!

After meeting up with some crew from Twitter, watching a few other acts and getting some food I ventured in to the "mosh pit"/ crowd to see what it was like and to my surprise, for such a large sellout crowd, I was able to make it pretty close to the stage. I stood in the second row for Tegan and Sara and was lucky enough to have stood behind some girls who left after their set. Front row without having to wait all day = bonus! I took my position on the barrier in front of Daniel and enjoyed the other acts during my wait. It was pretty cold (not as cold as Canberra though!) so being surrounded by people was definitely a plus for me! What was not cool however, was the rain. And it was starting to bucket down! During Grinspoon, Empire Of The Sun and Vampire Weekend the rain came and went but thankfully only sprinkled a bit/nearly stopped for Silverchair.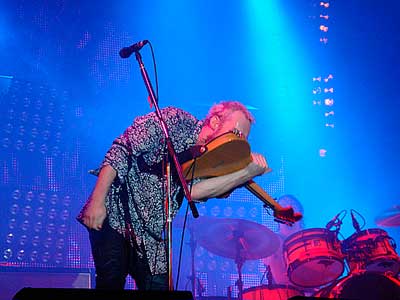 Soon enough the Imperial March started and then guys walked on to the stage to a huge reception from the crowd. Ben was dressed in football uniform including a West Coast Eagles guernsey (They're one of Western Australia's Australian Rules football teams). A lot of the crowd seemed pretty pleased with that! Daniel wore his suit again but even despite the cold, took his jacket off and unbuttoned his shirt. The stage lights must have been hot!

The set list remained the same as the last few shows with Young Modern Station cut from the top. The guys all seemed pretty perky tonight and Daniel was grooving all over the place with little dances and Chris was stomping across the stage and doing little jumps here and there. During Emotion Sickness Daniel lay down on the front of the stage, staring out into the cluster of photographers in the pit.

16 and Machina Collecta were well received again and I spent the whole time trying to read Daniel's lips to try and decipher what he was saying! Suffice to say I still can't get some of the words. Frustrating! There were also some interesting hand movements from Daniel during this song again. Daniel used his standard "That song was called 16 and this next song we wrote when we were 16" introduction for The Door, during which he licked the strings up the length of his guitar. I can bet that wasn't the best tasting thing on the planet :/ The extended outro on Ana's Song went on the longest it had all tour and Daniel was singing random thoughts in a falsetto voice. One thing I remember him saying was "It don't matter where you come from.....And you're the only one I wanna talk to and you're not here so I'll be quiet."

Daniel advised the crowd that this was the final Groovin' The Moo and they have had a great time considering they were "the most unrehearsed band on the tour. But we don't give a f**k. This next song is dedicated to the hottest girl in the crowd. It's up for contention." They then went into The Greatest View. Daniel did his "scream for me 1 time" etc spiel before and during If You Keep Losing Sleep and declared Bunbury to be the smartest place they've played.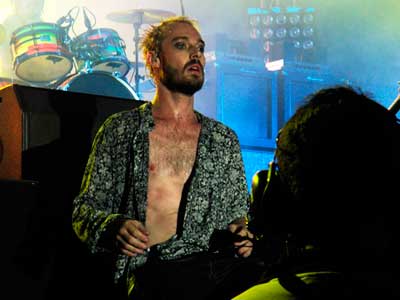 Before Straight Lines started Daniel advised that Bunbury was their favorite show to play thus far and it's not a stage trick, he doesn't say that unless he means it. Then he went on to say "Um...From the bottom of our broken hearts. In the words of a great poet Britney Spears, we say thank you." He then went on to sing a little bit of her song by that name to a lot of screaming and laughter from the crowd. During Mind Reader Daniel put his guitar down and started a chant of "Ole Ole" again and also jumped in to the photo pit to run along touching and high fiving the crowd.

Freak closed the show again but about half way through an eager punter from the crowd decided he'd try and run closer to the stage for a bit of a dance. The security were dragging him off and Daniel stopped the song saying "Hey hey hey hey, let him go. Politely." The guy started saying stuff to security so Daniel said "Don't pick a fight. Just go politely. Back to your bench." The guy tried running closer to the stage and saying stuff so Daniel said "Now I've got some power but I'm not the f**king Prime Minister dude. Stop arguing and pssh pssh pssh pssh (gesturing his hand to wave the guy away). We're in the middle of a song c**t." They then started Freak again and finished the song.

Ben and Chris walked off stage and Daniel hung his guitar from the microphone and left the stage. That was it. It was all over. This was probably my favourite gig from the tour. The set up, the crowd, the band – everything was just awesome.

The past 3 weeks has been an amazing, fun and interesting journey that was over all too quickly. For the band, it's on to Darwin and for me, it's back to reality. Bring on the next tour I say!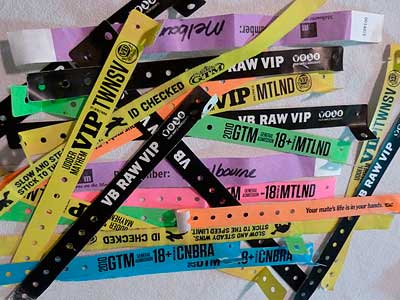 ---
By JOHN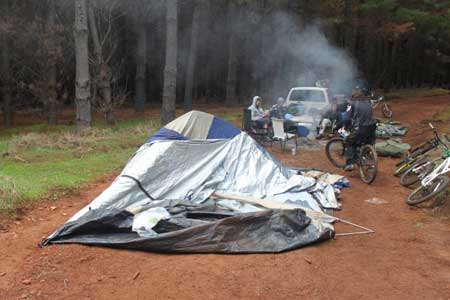 On Friday arvo me and three mates left for bunbury (or bum vegas as we call it) and after a deviation to the skate park we arrived at 11pm to camp at a national park. The tent went up, beers went down and our nuts froze. Had an early day Saturday to get a keen kid to the beach for a surf and to get some hungry jacks in.

After a long day of endless music Silverchair was up. The crowd was pumped when two figures emerged from the smoke, Chris in jeans and a t, Ben rocking a West Coast Eagles guernsey. A good way to win the approval of half the crowd and get the other half pissed off. But nothing could upset us when Daniel came out and Emotion Sickness was cranking.

After moving my head around a few ambitious photo takers i was able to soak in an amazing set. Cant remember all the songs but it was a good mix of old and new. It looked like Daniel had some tech problems early on (maybe I'm wrong) but nobody cared. Freak and Ana's Song had the crown singing along, while the new songs 16 and Machina Collecta had us thrown away. 16 was about sexual intercourse with 16 year olds I think while Machina Collecta had Daniel talking like a robot.

Although a big crowd, it wasn't really going off. It wasn't even an effort to hold my spot near the front and my ears weren't popping from cheering. A bit of encouragement from the man himself had the cheer meter go up and he told us we were his best crowd yet. I didn't agree but Daniel assured us it wasn't a trick and he doesn't say that to just any crowd.

After being blinded by the spotlights and amazed by songs like The Door, Daniel decided to rub his sweat on some lucky members of the crowd. I was about five metres away and there was a bit of aggression to get close. He then scared the crowd when stopping mid song, "Come on guys, back to your corners" he said to the macho boxers at the front. The fight nearly continued when Daniel said "Come on cunt! I'm trying to play a song here". The fighters admitted defeat and play was resumed without further delay. He also showed us his best West Australian accent which was pretty good I reckon.

All three of the guys were rocking out. A couple of stomach pumping bass solos came out of Chris and at one point Ben was trying to sing into his drum!? Dan had the crowd wild and even threw in his trademark swing (Mr Bean type) dance. It felt like watching a video clip when i saw that. They exited the stage with the crowd wanting more. Bunbury had a few failed attempts at cheering "Silverchair" for an encore. The lights flicked back on at one point, only to stop the cheering and send Silverchair home.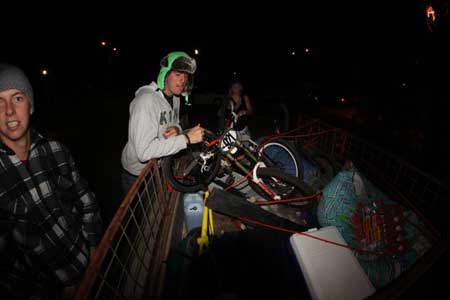 With Silverchair gone there was no reason to be there, so everyone left. It was another cold night and many people were without transport. The booze bus had a nice collection of drunks and the oval had a few keen campers. I was greeted by a policeman and told him I pulled over to check my map. He told me he had heard every one in the book and that i can't escape the booze bus. After a good 0.00 blow he left defeated and I was blazing the Neon Ballroom album in my car. One guy in the Maccas line obviously hadn't had enough Silverchair when he decided to shake up his can of Emu Export and smash it over his head.

I can tell you that after seeing Silverchair live for the first time I'm waiting for their next gig, even if it means going to Bunbury again. Many people went to Bunbury for the booze and females, but all of them stayed for Silverchair. We got back to a collapsed tent and our penises were that cold they could have snapped off. A three hour trip home turned into a five hour trip after being locked in a construction site, but it was all worth it!

No pics of the gig cause who does that. But some random photos of the trip.