08-05-2010
Maitland Showground - Groovin' the Moo - Maitland, Australia
By RENAE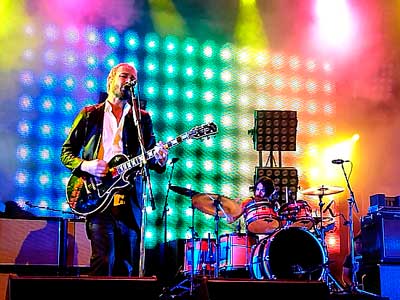 SETLIST
EMOTION SICKNESS
WITHOUT YOU
ISRAEL'S SON
16
THE DOOR
ANA'S SONG
MACHINA COLLECTA
THE GREATEST VIEW
IF YOU KEEP LOSING SLEEP
STRAIGHT LINES
MIND READER
FREAK

We left Newcastle to drive the 40 minutes to Maitland at 12pm so that we would get to the gig early enough to get a good parking spot and to catch some of the early acts. Arriving at the showgrounds we were faced with a huge line. We thought that the problems had been sorted after Bendigo but it appeared otherwise. Another frustrating wait in line where we had to stand and just watch heards of people push in line in front of us. There didn't seem to be much security around at the gate which was my first concern. My second concern was the amount of people already heavily drunk by the time they arrived at the venue. Some so drunk they were being sick in the line!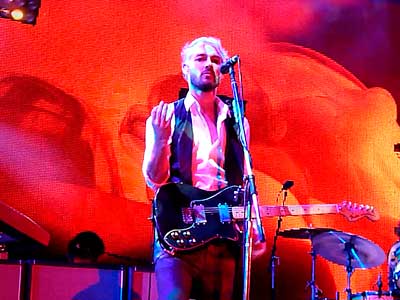 After a while we were eventually let in and made our way for food and to get a spot side stage. The crowd was huge. At the 2 previous gigs, between bands each side of the stage would completely clear out but not here. The crowd was a few people thick at all times. From what I could tell it appeared pretty rough. The other thing that was different about Maitland was the stages themselves had changed sides. The Myspace stage was now on the left and the Triple J one was on the right. I wasn't going to be able to get my usual spot as now I'd have to go through the thick of the crowd in the middle. The rest of the day went by quite quickly and was nice and warm. We also got to meet up with quite a few Chairpage Forum regulars which was great to catch up finally and everyone was really lovely.

The show appeared to be running about 5 minutes late but soon enough we hear the familiar sounds of the Imperial March which seemed to go on longer than usual tonight. The guys hit the stage and the crowd went crazy! Daniel was in a different outfit than the previous 2 nights and was wearing a black suit with a long jacket and waistcoat underneath with a white shirt. Chris was in jeans and a black shirt and Ben just in shorts!

The band started with Emotion Sickness tonight so I thought there may have been a change in the setlist but the only difference was that Young Modern Station was dropped off the front. I'm unsure why this was but assume it was due to time restrictions. Without You was up next which was a crowd favourite to sing along to. The band were really happy to be playing tonight and there were lots of smiles all round. From all reports from my friends who braved the mosh pit, the crowd were pretty appreciative too. After Without You there was a small break as Ben's drum kit started to fall off the drum rise and had to get fixed back up. The crowd of photographers were also asked to leave after the second song too instead of the third which was different.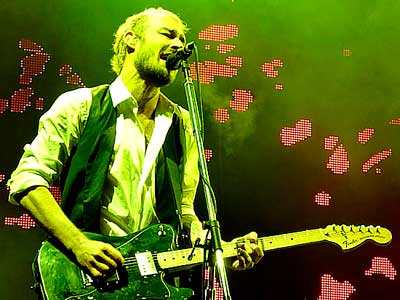 Israel's Son was up next and then followed by 16 which was introduced as "A song about having underage relations. Actually its about someone really old having underage relations with me!" I'm absolutely loving this song and tonight it sounded great. The vocals have improved and it's now much more enjoyable. I'm unsure as to the reaction of a majority of the crowd to this song but a friend with me (who it was her first GTM gig) absolutely loved it. Next was The Door which was again introduced as the song "he wrote when he was 16".

The haunting Ana's Song was next and was finished off with Daniel singing random thoughts with just guitar and keyboard. It's times like this you get a peek into the brilliance of his melodies and his voice. Machina Collecta was next and everyone really seemed to get into it around me. The Greatest View followed and was introduced as "This song is about you and us and growing up in the ghetto of middle class Merewether." Whilst I'll admit TGV has become one of those songs I usually skip when listening to the CD at home, live it's just such a great song and everyone sings along.

Next was something special. Daniel advised us that the band had received a very kind letter from someone who was going to join them on stage. Next up a guy walked on stage and called his girlfriend and proposed on stage! It was very sweet and a very cool idea. And for those wondering, she said yes!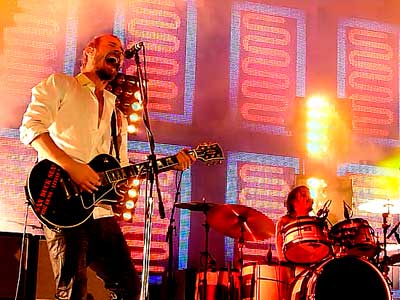 If You Keep Losing Sleep and Straight Lines were up next which everyone got down to. Daniel didn't do as many of his "scream for me xx number of times" spiel tonight which I was glad about as sometimes it tends to go on a little long. Mind Reader was next and this song just goes off live. It's so powerful and melodic. The crowd sings along and then band seem to enjoy playing it. During the end of the song Daniel actually put his guitar down and jumped into the photo pit at the front of the stage and then stood on the security step touching fans. He then climbed onto the speaker stack and did a little dance and then got back on stage. Freak finished off the set again much to the crowds delight. Well, most of the fans besides the ones I could hear at the back requesting the band play "Frogstomp"!!

I really enjoyed the show tonight. The band seemed really joviel and playful and the songs were really well received I thought (from where I was standing at least). The sound was good and the band played well. Overall though, the festival itself may have been one of the worst I've ever been to for drunken, dirty and rough behaviour. I could write a whole different blog on some of the things I saw in the crowd but will save that for another time!

Next stop... Canberra!
---
By KELLI
<snip>
After Vampire Weekends set finished, the crowd starting chanting "silverchair, silverchair, silverchair…!". Silverchair finally graced the stage just after 9:25pm and broke into Emotion Sickness. All those around me were singing at the top of their lungs, it was electric.

Not too far into the set, Ben's drum kit started to fall off the drum rise. It was hilarious to watch as Ben managed to continue playing drums crouched over the kit without a seat as it slid further and further over the edge. A true professional! After the song finished Ben threw his drum sticks into the crowd and the girl to the right of me managed to score one after diving back into the crowd.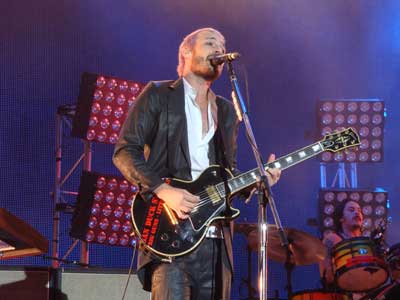 In between songs Daniel amped the crowd up and amused us with his witty banter. He got the crowd cheering and laughing throughout the set. He also waved into the crowd saying "hello darling!" in a very 'camp' voice. Laughter all round.

Well known and respected photographer Tony Mott was taking photos of the band throughout the set. At one stage Tony was trying to get a shot of Ben, however Ben was being rather cheeky and flipped Tony 'the bird' while drumming. Tony of course laughed and Ben looked very proud of himself.

Got to hear the new songs too - 16 & Machina Collecta. Brilliant! This is the first I've heard them as I've been overseas and unfortunately couldn't make it to other GTM gigs. I love that silverchair never create music that is predictable and by the sounds of it, their forthcoming album is going to have a very different, original and exciting sound. Daniel introduced 16 as "about someone really old having underage relations with me!"

A really cute moment was when Daniel welcomed a guy to the stage who proposed on one knee to this girlfriend. She said "yes" and all members of the band and audience clapped and cheered. Daniel returned to the mic and announced "that was pretty sweet, wasn't it?" before breaking into If you Keep Losing Sleep.

Daniel also jumped off stage (if I remember correctly, during Freak) and ran and jumped onto the security step of the barrier where some fans got to give him a hug. The crowd went wild. He didn't stay there for long though, climbing back up onto the speakers and then back onto stage.

Overall, I thought the show was amazing. Silverchair were energetic and sounded great, the crowd were mesmerised, and even the security guards boasted to fans about scoring one of their set lists. Everyone was happy!