01-05-2010
Showground - Groovin' the Moo - Bendigo, Australia
By RENAE
S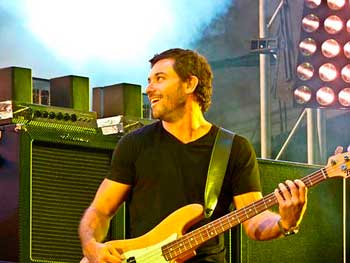 ETLIST:

YOUNG MODERN STATION
EMOTION SICKNESS
WITHOUT YOU
ISRAEL'S SON
16
THE DOOR
ANA'S SONG
MACHINA COLLECTA
THE GREATEST VIEW
IF YOU KEEP LOSING SLEEP
STRAIGHT LINES
MIND READER
FREAK

We had an early morning start to head to Groovin The Moo in Bendigo. We were catching a charter bus with a heap of other fans and set off on our journey. When we arrived at the gig, the line to get in was huge! We took our place at the end of the line and then the wait began! At least we were entertained by a guy behind us in the line who had a tennis ball with him and proceeded to throw it back and forth with punters walking past. Yes, we were desperate for entertainment by this point.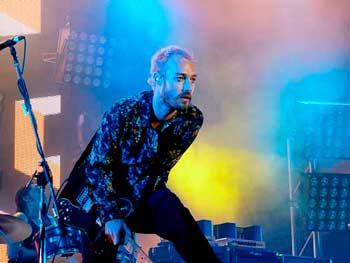 Finally we entered the oval and after grabbing something to eat, we hit the stages, finding a nice spot to sit and watch the day's events prior to gearing up for the reason we came!

Throughout the day we watched/heard all of the bands on the Triple J and MySpace stages. A few bands I hadn't heard a lot of, so it was a great introduction as to what they can do. I won't go into detail about the other bands as I know why you're reading this and that's to find out how the almighty 'chair did!

My friend decided to head into the front of the stage a few bands earlier to get prime position but as I was tweeting live throughout the set, I had my phone in hand to give peeps at home updates so I stood to the left of the stage. The anticipation in the crowd was amazing and you could feel everyone get a bit jittery just counting the seconds until Silverchair hit the stage. The clock seemed to stop as we waited for 9:25pm but then the familiar sounds of the Star Wars Imperial March started and it was finally time. Seeing the boys hit the stage was something we'd been waiting for 2.5 years and I couldn't believe it was actually happening.

They opened with Young Modern Station and the stage lit up and the crowd jumped to attention. Fan favourite Emotion Sickness was up next and was as stunning as ever. Daniel's voice was in fine form as he sang it to perfection and the boys didn't miss a beat. There was no Paul Mac on stage but a new guy sitting behind the keyboard. (We later found out his name is Scott as Daniel had us give him a welcome applause). Next was Without You and the crowd sang along and swayed with the music. Without You was followed by an oldie yet a goodie in Israel's Son.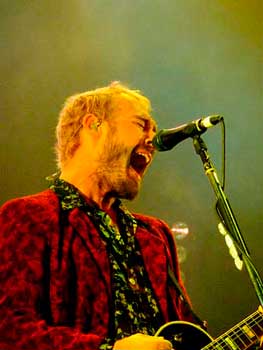 Next Daniel spoke to the crowd and asked for a scream. He said we had to do it again as he is going deaf and mentioned something about old age. He then said the next song was a new one called 16. Everyone's ears pricked up as we waited to hear what the new material would sound like. A new electronic looking box was sitting next to Daniel's microphone and I wondered what it was for but assumed it was for the new songs, which it was.

16 is quite hard to describe. Definitely electronic. I wouldn't say it was "electronic rock" even though the beat was there. At the time I tweeted that it reminded me of Empire Of The Sun meets The Presets meets The Smashing Pumpkins. Probably wasn't the best description but at the time it's all I could say to describe it. It's probably closer to Empire than the other 2 bands but even then it's different. You'll have to wait to hear that one to see what I mean! Lyrics were a little hard to understand other than the chorus which was about feeling 16 again but I did notice a few risqué words and phrases in the song along with some erm... interesting hand gestures and movements from Mr Johns. Daniel seemed really excited to be playing the song, dancing and grooving, and I noticed he became animated like this again during Machina Collecta. Maybe he was excited to finally be sharing the new material. Maybe he was excited to be playing something fresh. Either way, he was loving it. The crowd grooved along with the song but I think a few people were apprehensive. Personally I didn't mind it. I think it needs a few more listens but one thing that slightly disappointed me was the effect on Daniel's voice. Hard to explain but was kind of robot sounding over the top. His voice is perfect as it is and I just didn't think it needed it. That was my first impression anyway. Will be able to see when I hear it again in Townsville.

The next few songs were crowd favourites and it was obvious that this set list was chosen for the festival environment. I know a few people would have been disappointed with how "safe" the set list was, but given the crowd and the environment I think it suited the day and they made the right decision. Having been at previous festivals where slower songs have been played and to hear the abuse being yelled at the stage, the set list chosen was appropriate. The Door and Ana's Song were definite crowd pleasers. Nothing really to report on these songs being any different except that Daniel started Ana's Song solo while the guys looked on and was really beautiful.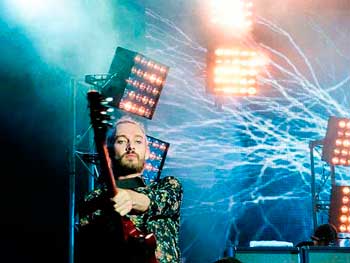 We were then privileged to hear the second new song for the night, Machina Collecta. This one was a little rockier than 16 but still not overly so. I didn't get many of the lyrics to this one other than "We want to be inside each other, we need to love one another" or something to that effect and the hand gestures once again made an appearance. As did the vocal effect. I only hope the new album doesn't have an effect on his voice in every song!

There were bits of audience interaction and the band being jovial between songs. One quote I do remember was when Daniel was saying what a lovely audience we were and he said that "they're normally c*nts but it's hard to be c*nts to us when we're so nice." He also said he has "irreversible impotence". Um... okay then Daniel!

We were then back in to the crowd favourites/sing alongs with The Greatest View, If You Keep Losing Sleep and Straight Lines. Nothing really to report on these 3 other than they were reproduced to perfection. Although Daniel did "bahhh" like a sheep during IYKLS!

The night ended with Mind Reader followed by Freak and the crowd were going nuts over these 2. Ben and Chris were bashing out the tunes and Daniel was strutting around the stage. He played the start of Freak with the guitar behind his head. I guess with the amount of times he's played it, it can do that kind of stuff now hehe.

With a bow at the end, the boys left the stage and left the crowd wanting more. Considering they haven't played for 2.5 years, they didn't miss a beat. The crowd were happy, the band seemed happy and everything seemed right in the world again.

For us, it was a long bus ride back to Melbourne followed by a 4:30am wake up to fly to Townsville. Am sure tonight will be worth it!