09-10-2007
Double dose of rock royalty
By Chris Quagliata (Townsville Bulletin)
http://www.townsvillebulletin.com.au/article/2007/10/09/7202_hpphoto.html
IT finally happened. After months and months of build up, the biggest touring show to come to Townsville rocked a packed entertainment centre on Monday night.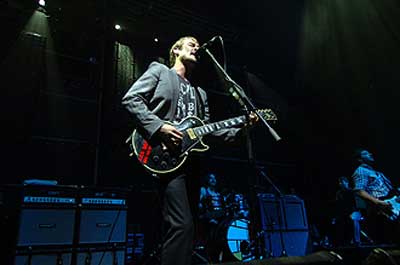 Silverchair and Powderfinger brought their Across the Great Divide Tour to local fans and they lapped it up.

Silverchair front man Daniel Johns played with the crowd, often stopping to make a quick joke.

He wowed the packed house when he, at one stage, played his guitar with his teeth.

The band treated fans to plenty of music from their older albums, including a couple from one of their most popular, Frogstomp.

Ana's Song from their album Diorama was also well received.

By all reports, Silverchair drummer Ben Gillies was popular with the females in his blue work singlet and `Stubbie' shorts.

Powderfinger was next out and rocked the crowd with songs from their new album Dream Days at the Hotel Existence as well as their significant backlog of hits.

There are still tickets available to tonight's show for fans who want their own taste of the action.