06-10-2007
10,000 in on double act
By Daniel Bourchier (Northern Territory News)
http://www.ntnews.com.au/article/2007/10/06/2262_ntnews.html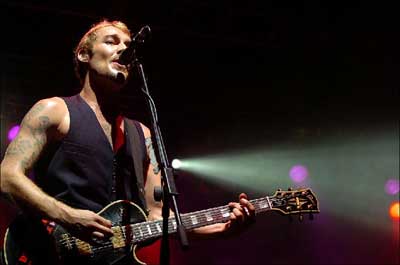 ABOUT 10,000 wildly enthusiastic music fans gathered under one big top last night for one of the biggest concerts to ever rock the Northern Territory.
Australian music greats Silverchair and Powderfinger wowed Darwin as part of their Across the Great Divide sellout national tour.
Fans and music buffs gathered from across the Territory for the spectacular.
Silverchair lead singer Daniel Johns (pictured) said: "You are very lucky to live in a beautiful place like this.'' Playing the crowd, he said "there is a party going on and everybody is invited.''
"All these people (in the tent) are beautiful.''
The music supergroups were welcomed by fledgling-rockers Kisschasy.
Staking out a prime viewing spot at the railing wasn't easy for Frank Plunkett, 16.
The Malak teen was in place by 5pm and raged well into the night.
"I got here through hard-work, determination and good looks,'' he said.
"I've been waiting for this concert my whole life.
"It's absolutely going off.''
Tennant Creek teenager Ashley Helmond travelled 14 hours by bus for the concert.
"Seeing Kisschasy, Silverchair and Powderfinger was awesome,'' she said.
Before taking to the stage in a thundering sound and light show, Silverchair acknowledged the region's Aboriginal traditional owners.