21-11-2007
The Marquee - Tempe, USA
By JUDI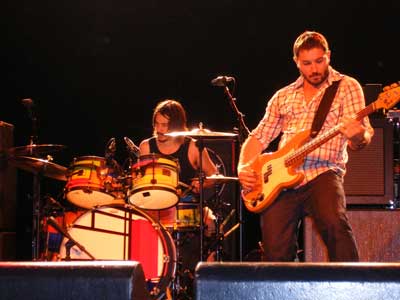 I found myself at another Silverchair show, my fifth one this year. I could hardly believe it. And who could blame me? Before this year I had only seen Silverchair a grand total of three times. It feels like they never tour in the states, plus last time they did any kind of US tour I was much too young and had no income of my own to be traveling out of state to see shows. I started this year in February going to one of the L.A. shows. Great show, and along the way I met some really nice Silverchair fans. When Silverchair announced they were playing a few more shows over the summer I was ecstatic buying tickets for both the L.A. and Anaheim shows. Alas, those were postponed due to Daniel's laryngitis and since I just couldn't wait until November to see some live Silverchair a friend of mine and I decided on an impulse to fly across the country and catch three of the east coast shows (New Jersey, New York, and Philadelphia). Cost me a pretty penny, and I'm still paying for it. But it was totally worth it. Met some more fabulous fans along the way and let's not forget that on this trip I actually met Daniel, Ben, and Paul Mac. It was just surreal to finally meet people I've dreamed of meeting for 12 years now. So after three great shows I flew back home with the thought I may not see them again this year unless I coughed up the dough to see them in San Francisco where I was planning to stay with a fellow Silverchair fan to save cash. But then to my complete delight they announced a show at the Marquee in Tempe. The Marquee is one of my favorite venues in the Phoenix area. I had always hoped one day I'd see Silverchair play there. So I bought my tickets, one for me and one for my sister who still hadn't had the pleasure of seeing Silverchair play live. Did I mention this was going to be Silverchair's first time playing in Arizona in 8 years and 10 since the last time they headlined their own show here?

Anyway to move along, on that fateful Wednesday in November I was more than ready to see some more Silverchair. I got to the venue at about 2pm-ish. I had been debating with myself the day before as to how early I should arrive to secure a prime spot in line. And since I know that Silverchair isn't exactly huge around these parts and also taking into account it was a school/work day for most people I figured I didn't have to be too early. I was correct. When I got there only a few people were already there. So I made friends with some of the people already in line, oddly enough one of them already knew my name. Apparently we had a friend in common that we had met at separate Silverchair shows. Funny how if you go to enough shows you start seeing the same people. I don't go to enough (I'm a poor college student I can't afford to follow the band around) but I have met some of the ones that do.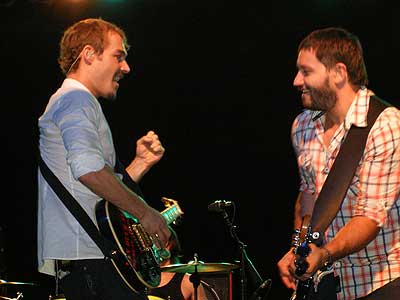 Sitting in line wasn't too eventful for the most part. Kind of boring really at some times. But you do what you have to do to get in that door first. At least that's my philosophy when it comes to Silverchair. At about 3:30 we sat in a girl's car and listened to the radio show the band was on. It was pretty good they played "Straight Lines" and did a short interview. A bit after the radio appearance I noticed one of the girls standing close to the back of the venue where she could have a good view of the back door. I went back there to join her to see if anything possibly came of it. And as I got closer I realized Chris was outside talking on the phone. Not wanting to interrupt his phone conversation but really wanting to at least say hi I inched ever closer. Once he hung up the phone I approached him and asked for a quick picture. He agreed "as long as it's quick." So I pulled out my camera and turned it around on us and snapped the shot. All the while rambling about how I loved the band, how he was the only member of the band I didn't have a picture with, and I know I said more but now I don't remember. So he went back inside the venue and I was excited to finally have met Chris. When I got back to the line some of the people were jealous that they didn't get a picture too. Oh well I guess I just happened to be in the right place at the right time.

About twenty minutes later, maybe less I found myself standing by the back yet again with the girl who mysteriously knew my name. We stood there for a very short time chatting before Daniel walked out the door, sat down on a chair and started smoking. Before he even had a chance to get comfy on the chair me and this girl walk up and ask for a picture. He hops off the chair and says "Of course." He was very nice and friendly about it. Just as I'm about to get ready to take the picture of Daniel with the girl Paul Mac walks out and we get him in the photo too. So I took the picture for the girl and then she took my camera and returned the favor for me. So now I had successfully met and got a picture with both Daniel and Paul Mac for the second time this year. It was good times. And probably the best part this time was that after the picture Daniel didn't scurry away. He hung around long enough for me to walk back to my car to grab a picture I wanted him to sign for me. It was a picture I took back at the show in Philadelphia and he remarked that it was a good shot. It's one of my favorite full band shots that I've taken at a show. Hopefully one day the rest of the band will sign it for me. Daniel and Paul were out there for a bit and we just chatted a bit, I asked about the set list for the night and other random things. It was good, yet weird at the same time. I didn't really know what to say. What does one say to someone you've idolized for most of your life? You can't just go on and on about how you love the band and how amazing they are... After a while I'm sure that would get annoying to listen to.

After that the wait in line did really get boring. The one good thing after that was we were successful in propping a door open to hear the sound check. And surprisingly they played "Barbarella" during the sound check. It sounded great, too bad they didn't actually play it during the show. Then at about 6:30 we finally got to go in, and waited and waited for what felt like forever for the opening band to come out. Unfortunately I didn't really care for the first band. I don't even remember their name what I do know is that I was very sad that it wasn't We Are the Fury. I knew they probably weren't going to be there, but they had been the opening act for most of Silverchair's US shows on this tour. And I really like that band. I fell in love with them over the summer at the shows I went to on the east coast.

So the opening band finished and then another long wait before Silverchair took the stage. Great show. It's always good to see this band live. I'm just kind of sad that even after all the shows I've been to this year I have yet to hear "Those Thieving Birds" or "All Across the World" live. I would be happy if the band came out and just played Young Modern top to bottom. That would be a good set to hear. As for the songs they did play it was: Young Modern Station, Israel's Son, Emotion Sickness, Ana's Song, Mind Reader, Insomnia, If You Keep Losing Sleep, Straight Lines, The Greatest View, Freak, Reflections of a Sound, and The Door. And that is not in the correct order seeing as I do remember them ending with Freak like they normally do. The only part of this show that stood out against the others I've been to was during I think "If You Keep Losing Sleep" Daniel asked us all to turn around and hug the people next to us. And the band had a group hug on the stage. It was really sweet. Too bad my sister was busy hugging people to capture that moment with the camera, that would've been a great shot. Anyway my sister and I had such a great time at the show rocking out and singing along. Probably not the best Silverchair show I have been to, but still good, they are never bad. After the show we didn't even try to hang around after because I was pretty sure all we'd get was to see them walk out and drive away. Plus I had a really early morning the next day. I could be wrong something really worth seeing could've happened but now I'll never know. It's alright though, I had a good time regardless.