07-12-2007
Newport Music Hall - Columbus, USA
By LAUREN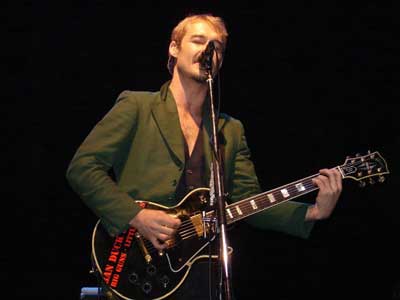 The last time Silverchair had played at Columbus' Newport Music Hall was December 3rd, 1995. Needless to say, having them return was long overdue. I've been a fan since the Frogstomp days and this was my first time seeing Silverchair. I waited outside about two hours before the doors opened with a few other die-hard fans, and the line quickly grew. Its important to note that it was VERY cold and it had snowed about four inches the day before. But it was well worth the chilly wait!!

As soon as the door opened, it was a rush to the front row...and thankfully I made it! The Newport quickly filled up. The opening band was As Tall As Lions, and they put on a great show. The members rotated instruments a few times (impressive!). The Newport is next to the campus of The Ohio State University (to which I am a graduate student) so the audience was mostly college-age and older. And we were all very,very eager and excited to see Silverchair.

Once Daniel, Ben, Chris, and Paul were onstage the place went crazy. One fan shouted, "I've waited 13 years to see you!" to which Daniel replied, "I'm sorry." It certainly had been awhile and the fans were really pumped to see the boys and sing their hearts out along with Daniel. The set list was (in no particular order):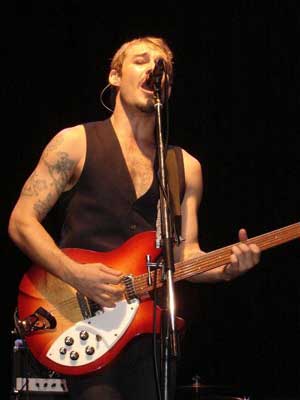 Young Modern Station
Reflections of Sound
Ana's Song
Israel's Son
The Greatest View
Emotion Sickness
Insomnia
Those Thieving Birds/Strange Behavior
Mindreader
Straight Lines
If You Keep Losing Sleep
and the encore:
Tuna in the Brine
Freak

It seems like the crowd enjoyed the new material just as much as the old. I sang so much (and so loud) that my voice was gone the next day! Ana's Song and Israel's Son were probably the favorites, but the surprise was Those Thieving Birds, because as Daniel admitted "It's been awhile since we've played this one." I think the three girls next to me holding up three pieces of paper that read "Those" "Thieving" "Birds" had something to do with that! My personal favorite of the night was Emotion Sickness which was absolutely gorgeous. Also appreciated was Tuna in the Brine, though Daniel said "Only 20% of you know this one...its about fish..." but the crowd knew it well...and loved hearing it!

One of the funnier moments happened when Daniel said, "We've been on the road for 8 months so I'd be lying if I didn't say we are getting sick of each other...no, no I'm joking!" which prompted some "tears" from Chris as he "wept" on his amp...Daniel proceeded to go over and pat Chris on the back... and grab his butt!!! The crowd laughed and laughed... Then Daniel requested we all hug the person next to us and the boys had a group hug. It was damn funny.

I was so impressed by the boys--they are so immensely talented. Listening to their CDs is one thing, but seeing them live is an experience all fans need to have. Next time I'll be sure to wear earplugs, as I had ringing in my ears for three days after the concert. But it was worth it! I hope that Silverchair returns to Columbus sometime soon... and not in 13 years please!! Sooner rather than later!
---
By RAY

Went to see them preform live on December 7th at The Newport in Columbus Ohio and it was amazing. The only thing that was out of the oridnary was Daniel stopped playing in the middle of "Tuna In The Brine." A security guard in the front row was questioning a guy in the front row who had a cigarette (its illegal to smoke inside in Ohio). So Daniel stopped playing and pretty much told the security to relax it was just a cig.