26-10-2007
Entertainment Centre - Newcastle, Australia
By HELEN
Photos by LAURA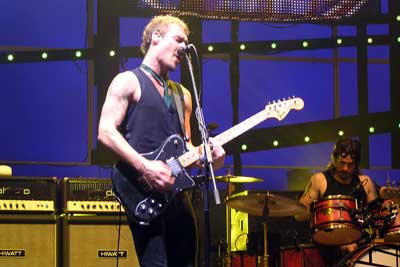 THE EVOLUTION OF THE CHAIR

Kinetic impatience crackled through the eager throng. Time sat on our chests, waiting.

Engulfing darkness throbbed to our heartbeats in synchronicity with the ambulance lighting. Waiting put on hold as they emerged through the haze of red. Kings of the stage – at last!

The pulsing swelling to a locomotive rhythm launches into Young Modern Station. Having enjoyed the CD so many times it still doesn't prepare you for the dynamism of such a compelling live performance. The immediacy of the stage sets us all on a higher plane; performers and listeners alike. This is the elemental essence of their songs; no studio tricks and extras, it all originates from them.

The evolution of their performance hits me immediately. Having been at the first Newcastle concert, it all seemed so wondrously evolved: the lighting and sets; the metamorphosis of old favourites from Frogstomp and Freak. Everything seemed tweaked and twisted into something reborn.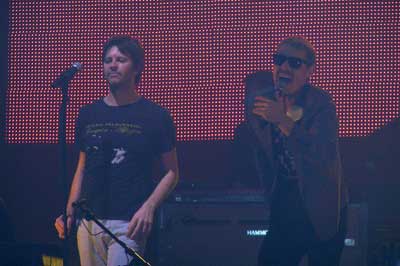 The band ripped through their pantheon of hits, but most importantly, for me, thrilled us with their new songs (though missing my favourite Thieving Birds). If creators aren't risking new concepts they're dying; there's no standing still, and Daniel Johns is not chancing that. We've come to expect it! He keeps challenging himself – that's why he's at the forefront of modern work.

With the power of a Svengali he bid us rise and we rose to our feet with rapturous unison. This was interaction not just entertainment. We fed off each other, us from them and them from us. And what an amazing feast!

Long may they reign.
---
By MARIA

Not to start on a negative note but so you understand the elation of what has happened to me in the last week, I have had a shit (oops!) crap of a year.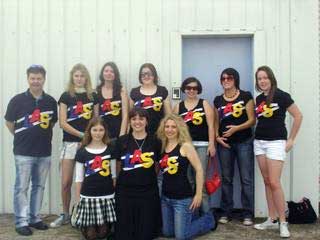 I was in hospital 4 months ago for a personal tragedy which I will remember in my heart for the rest of my life. During this time, and not to trivialise what has happened, the Across The Great Divide tix went on sale and I was in no mood to even try to get any. But I LOVE Silverchair and have been waiting a very long time for them to tour again.

When I was finally home I checked online for remaining tix and only seating was available so I bought 2 just to be there. But this was not good enough. When GA tix were released for the second time, my husband Ray rang Ticketek and out of the goodness of their heart (Thanks Ticketek Vic!) they swapped our tix for GA for the 9.09.07 show at Acer Arena Sydney.
I was anxious the whole day and had organised my mum to babysit my Angelboy who knew his mummy was not her usual self…

Ray and I got to Acer around 2pm and there was already a line but I still had to pick up the GA tix for the box office and was nervous that some mistake would be made and that I wouldn't be in the GA area etc so I was having internal panic attacks.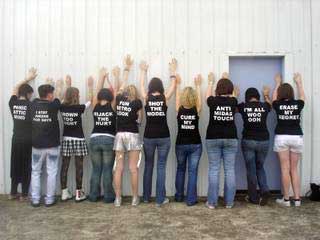 5pm and the box office opens, Im first in line and there is no mistake. I have the GA tix in my hand and race around back to Ray who is in the line saving our spots.

It would be an understatement to say that Acer had created a maze in order to get to the front of the line in the waiting area but leave it to trusty old Ray and he got us a prime position: Front row centre on the barricade. Next to me were some LASs (Official Silverchair fan club members of which I am a part of) of whom I got the pleasure to meet in Newcastle-that's for later, so keep reading.

I wont go into too much detail about the Sydney show but highlights were:
• Mexico
• Let me hear it 4 times
• Songs from Diorama (more than at the last Newy gig)
• Powderchair collaboration with Jimmy Barnes
• The 'Chair themselves

I had the time of my life with Ray as my bodyguard because the mosh was a bit wild for me but I got out alive!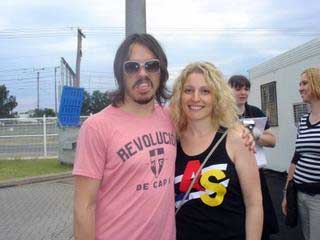 It just wasn't enough. I truly didn't feel that my 'Chair experience was well and truly over and all I could think about was that this is one time in my life where I truly have the opportunity to go out and get what I want. And I think I did just that!!!

After reading on the LAS member's forum and communicating with some members who had already been to some shows this tour, I decided to join them in celebrating/commiserating the end of the ATGD tour for the last show in Newcastle 26 October.

The husband thought I was joking, then the tix came in the mail and he had to rearrange work appointments but he also admitted that he was pretty excited!

Now to arrange the babysitter – my mum! Her comments: "Are you serious? Are you not over them yet? How old are you again? Didn't you see them enough last time and you just saw them a few weeks ago?".

Needless to say she did the babysitting and even she was excited for us by the time we left for our roadtrip up to Newcastle.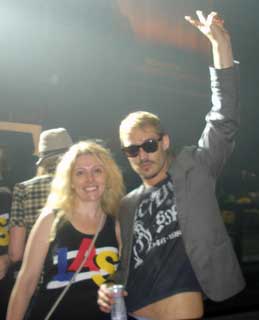 For those LAS members who were going we had organised T-shirts to be made in the YM colours on the front and lyrics on the back from their YM album.
We arrived at the Newcastle Entertainment Centre (NEC) at 8.30am after getting lost and touring the city unwillingly. There were 4 people already there – 2 of them fellow LASs' (Tez & Dini) in their trusty group T-shirt, I was already feeling the excitement of the day!

After a couple of hours some other dedicated fans came and we also met "Fanboy" Logan and his wife Julie who would be celebrating Logan's 50th Silverchair show!

At about 1pm a group of us went around to the backstage area of the NEC whilst Ray stayed at the front to save our spots. We just chatted and hoped that we would get the opportunity to see the boys and that the "soundcheck" would happen (more about this later).

After awhile the Powerfinger boys came in and waved and went inside to do their soundcheck. Meanwhile I get a call on my mobile from the husband, whom I could hardly hear from all the background noise, telling me he's just walked through the front door of the NEC into the main floor and is currently watching Powderfinger on stage going thru their soundcheck. I couldn't believe it but those of you who know Ray know that this isn't unusual, he usually gets to meet the "stars" and he is surrounded by "good energy"!

I told everyone with me and next thing he's walked outside in the back area on the other side of the gate of which we are hung to waiting for a glimpse of Silverchair, and talking on the phone to me saying that they think he's part of the roadie crew and has been moving equipment for them and pretending to check the lighting etc (he's an electrician by trade). We just told him to try not to get kicked out! So he was already having his "experience" – ours was yet to come.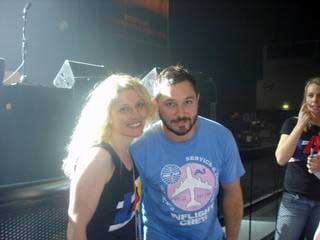 At 3pm a taxi rocks up and in the front seat is Ben Gillies in his "salmon" t-shirt! I truly didn't believe he was here in front of me – but where were the others? That thought was removed from my mind once he got out and casually chatted to us, took photos with his signature looks (see below) and received the book that we LAS's had put together about what Silverchair meant to us, "A Tribute".
This moment was over all too quickly but we had the remaining 2/3 of the Chair still to come! Meanwhile Ray's still inside and for the next hour or so Ben's walking in and out of the NEC on the phone and we're just stalking him through the gates.

We also met Jade, Silverchair's videographer who took some shots of us which may make it to their ATGD tour DVD which is due for release end of November so stay tuned!</P> class=MsoNormal style="MARGIN: 0cm 0cm 0pt"

During this time, Powderfinger came out after their soundcheck at 4.15pm and graciously stopped their car and got out and chatted with us, took photos, signed autographs. I was the unofficial photographer for Bernard and his 'fans' and he was most intrigued with the LAS T-shirts so in between takes it was explained to him – we were hoping that the 'Chair boys would be equally impressed! I got some brilliant photos and had him sign my JMag cover of him and Daniel (one signature to go!).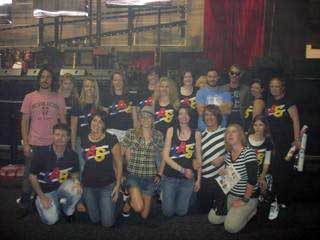 Once they had left, talk of the 4.30pm soundcheck had got negative. You see the gracious LAS crew had heard about our group T-shirts and tribute book and contacted the Silverchair management and had organised for us to be present at the soundcheck which was scheduled for a 4.30pm start – it was now 4.30pm and Dan and Chris were a no show.

Some of us were even contemplating that we should go back to the front of the line which was now building up as we still wanted our front row seats at the concert for which we had arrived early for.

Come 4.45pm and a rent a van drives up to the gates with Daniel in the front seat and Chris in the back. FINALLY! Daniel hand signals to Fanboy Logan 50 signalling his 50th show that night.

Ray calls me again and says, Silverchair are on their way. I say, I know-they are here!!!

Dan says hi to us through the gates and says he'll be back after soundcheck.Yeah right! I was excited to have seen him so close but I wanted more!!!

After about 10 mins of painful waiting the tour manager Jake, comes out and calls out the name of one of our fellow LAS's (Gerry) who has organised the soundcheck. We were all rounded up and in we went inside the NEC! We were on our best behaviour but were so excited inside. And who's the first person I see? Ray! There he is as if he is one of the crew waiting at the back and comes up to us seeing if we are ok!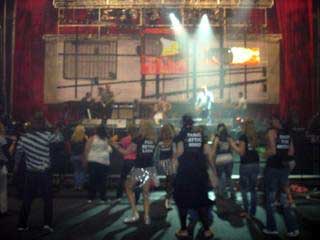 Some roadies were setting up the stage and I was saying to Ray that I cant believe this is happening, when I hear "Hi guys" its Dan, Ben and Chris walking over to us to say hello! OMG this was so much more than what any of us had expected and we quickly wiped the shocked looks from our faces and got ourselves together to talk to them.

I remember just staring at Daniel and waiting to talk to him after some others, then I asked him for a hug – and he said 'a hug, yeah sure' AAARRRRGGGHHH, Ray was also in shock so did not take a photo of this moment but I can tell you that it was a long lingering hug which Dan did not pull away from, I had to because I thought I really wouldn't let him go!

Then I asked him for a photo and he was most obliging. I had him sign my JMag so now I had both his and Bernie's sig on the front cover, he also signed my YM CD as did Ben and Chris whom I also hugged and got photos with. We also got group shots with the boys and I still cant believe this moment happened as I wipe away a tear whilst writing this. Dreams do come true.
The guys said goodbye after the photos and I remember saying to Dan all the best for tonight's gig and win big at the ARIAs! He said thanks.
Then it was time for the soundcheck – our own private concert!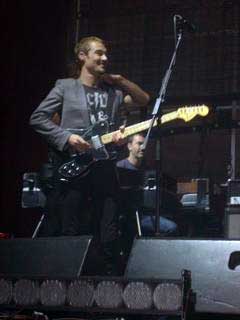 Whilst Ben was warming up, Ray asked him if he could have one of his drumsticks. Ben threw him one of his original used sticks and then everyone else wanted one too. So he threw us all some unused drumsticks that have his name emblazoned on them – too cool!

The guys were all on stage, and while Dan & Ben had a friendly hug, Ben accidently hits Dan in the head with his drumstick so he's walking around stage with a bag full of ice on his head for about 10 mins.

Then they start. From memory they played:
• Reflections of a Sound
• If You Keep Losing Sleep
• Mind Reader

We were all dancing around like crazy with no one else in the room, just us and Silverchair. I particularly remember us all marching with our drumsticks to IYKLS!

Dan said he wasn't happy with the sound and some of us scream out – "It sounds fine to us!" and while he was trying to stay serious, he laughed at this outcry from such dedicated fans!

Paul Mac came out during the sound check and we all cheered, Ray started to mimic his bouncing and he obligingly bounced on his chair for us! Go the Mac!

Some of the LASs had asked Chris whether he had seen the book we made for him and he said 'yes, you put a lot of effort into that, thank you'.

Then it was over and we were thanking them and were reeling from the experience that it really didn't bother me if we didn't go to the gig. Oh who am I kidding!

We told the NEC security that we were special guests at the soundcheck and had been in line since 8am and could not possibly lose our position in line.

And we didn't, they especially let us in first to line up and when those doors opened we raced for prime position and this time Ray and I were right in front of Dan's microphone. Most of the group had managed to get on the barricade which was our aim for that night so we could celebrate together.

About the gig itself, some highlights:
• For me personally, Dan did look straight at me a number of times during his set and Ray and the girl standing on my left confirmed this for me – so I kinda waved knowing he wouldn't wave back, just so he knew I knew he was looking at me LOL!
• During IYKLS there were drummer boy roadies on stage as well as Cogsy from Powderfinger just marching through the set!
• Cogsy made another appearance when Ben had disappeared from the stage and came back carrying Cogsy wearing only his little black briefs
• During Ben's absence, Dan dedicated the setlist to Fan Boy Logan and sang him Happy 50th (to Happy Birthday song)
• Dan got the crowd to say HOT very sensually, and he liked it! If you were there you know what I mean
• Dan set his guitar on fire at the end of the set
• Ben played drums for Powderfinger for Bless My Soul
• Powderchair collaborated with the song Substitute
• Ray caught a Silverchair guitar pick

At the end of it all, I was exhausted and had the best night sleep for a long time in some strange hotel bed!

The roadtrip had all been worth it.

This year has one definate highlight for me which I will never forget.

My dreams of meeting Silverchair had come true (THANK YOU LAS) and I have made some amazing friends in the process who share my passion for Silverchair.

Who could ask for anything more?
---
By LINDA
thought I would send in some of the better pics we took when we went the last ATGD Newcastle show. We've put together a bit of a story of our day that started well before breakfast in Adelaide.

Feel free to add all of or part of to the road reports... or not, up to you.......

Linda & Nat's Newcastle Odyssey 2007

Friday October 26 2007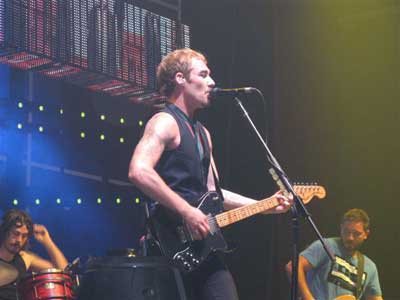 6.40am Linda and Natalie board flight from Adelaide to Sydney after getting up at 3.30am to (pick up Natalie and) get to the airport on time.

9.05am Land in Sydney. Swing past the information desk to work out the concept of the whole train system thing! Not much of a public transport service in Adelaide! Purchase a ticket that will get us from the airport and then onto Newcastle.

9.40am Arrive at Central Station from the airport. Become quite familiar with this station due to the amount of walking around we did to find the right platform.

10.05am Find the right platform with train there waiting. Ask a station worker that we are definitely going to get on the right train! We are. What a relief! Set our selves up in good seats. Go running back to the news stand to grab a drink and some magazines… Don't let the train leave without us!!

10.15am Train departs Sydney and we smile at each other that we are finally on the way. Yes!!! We did it… not long now!

12.00pm Can't believe there is still another hour of train travel left…

1pm Arrive at Civic Station with big excited smiles. YeeHaa!!
We had pre-booked the Clarendon Hotel without knowing where it was. Luckily it turned out to be right across the road from the station. 'I love this town' was a popular saying for the rest of our stay! Newcastle was very good to us.
Have lunch, go for a walk up main street and have a little rest, and prepare for the show of our lives.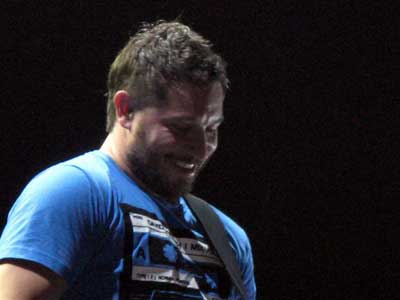 5pm We arrive at the Entertainment Centre and join the queue at door 2. At first the rain falls lightly... One girl gets soaked from the heavy rain storm that has now begun. After a while, and now being impossible for her clothes to hold any more water, security come out to change the direction of the line to run along where we had stood under the verandah to stay dry next to the line. Now we can all keep undercover and still have an orderly line.

6pm Doors open. We manage front row spots right in front of the stage. Ok, so they weren't actually dead centre, but we we're just off to the left a bit. We have the greatest view of the stage and that's all that mattered. All our travelling had been totally worth it. Awesome!! Had a shot at talking a security guy into letting us swap places with him with no luck of course. Had to give it a try though!

7pm Support band comes on. We worry our ears won't take standing right next to the speakers. I forget their name, but they were superb! They were really good at what they did, huge admiration of them for that.

8pmish SILVERCHAIR take their places on stage. Everyone in the Centre goes crazy! Already we can tell this show is going to be better than the first of the Adelaide shows. The playlist was pretty much the same as we had seen from our front row seats in Adelaide, but the experience was a world away from there. The Adelaide crowd was much quieter. We Adelaidians when gathered together to see a show do tend to be a less excitable more reserved bunch, not that I think that means we appreciate seeing a show any less. As a group, you'd probably describe us as being somewhat deficient in the area of outwardly expressing our enjoyment and appreciation.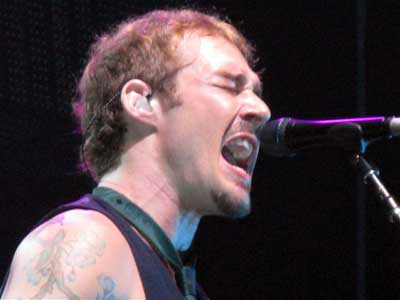 I don't need to say how super sensational the boys all looked up so close. Mmmm!! Emotion Sickness was a 'hit you for six' stand out, as was the deeply moving Ana's Song, and super fun The Door, Without You and Straight Lines. If You Keep Losing Sleep, Insomnia and Mind Reader were all wild. Every song was truly awesome, each were played to the max and we cheered and jumped and clapped and sang to the max. We loved sharing in the playfulness and friendship between the bands, like when Cogsy was brought out on stage by Ben to say g'day to us all dressed only in his jocks! Hehe.. love it love it love it!! The Chair finish in style with always impressive, Freak and surprise us with a little fire! Proving they really are hot!! We scream for more, but the time has come to wait a little again, as the faces around us change.

9.30pmish POWDERFINGER take the stage. How spoilt are we! The passion in the Centre for Powderfinger is no less than that for Silverchair. The Centre is going off once more! Our faves are Head Up In The Clouds, Who Really Cares, Lost and Running, My Happiness, These Days and the beautiful Nobody Sees. Again though, every song was sensational, it's hard to pick favourites. We were given a surreal treat when Ben took over drumming duties! When do you get to see that! What a night!
Then it all too soon seems to be over. We scream and scream and chant and stomp and stomp and scream and then do it all again and again! We are rewarded with a 'who could ask for more' encore which includes an acoustic version of Sunsets set right in front of where we have stood all night. WooHoo!! Yeah!

Then even after the 'who could ask for more' encore, we find ourselves being really demanding and asking for even more! Well, it pays off even better than we imagine a $20M lottery win to be! We are now being blessed with the classic Who song, Substitute, as performed by the fantabulous PowderChair. We and the entire Centre have never screamed so loud nor jumped so high!! There is no singular or grouping of words, no superlatives to encapsulate the feeling of seeing these two incredible bands having the time of their lives performing on stage together. It feels like it's all been over in an instant, but it's just after 11pm.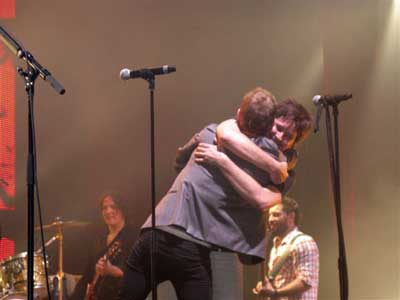 THANKYOU SILVERCHAIR AND POWDERFINGER for giving us everything you had and then some. Your music and words touch us deeply, your spirit drives right to our cores. We greatly appreciate and are very thankful for the sacrifices you made to travel our country and let us all share in this part of your lives with us.

12.05am On the train back to Newcastle. A big thankyou to the guys who helped us find the right platform! We would have been waiting a very long time for the right train without you. Newcastle was really good to us.

Take a walk along the harbour foreshore looking for a place to get a drink, find a bar across the road from the last train stop. Ahh, what a night! Our tired feet enjoy a well earned rest and we enjoy a couple of well earned drinks before heading back to our hotel.

Next morning, we wish we had the time to be able to look around the town and wish we were able to stay. We decide though to stop and have breakfast in Hamilton because a lady we had been talking to in the line last night recommended we go and have a look there.

We check out of the hotel, run to catch the 10.30am train. Panic sets in for a moment because we have no change for the ticket machine – why don't they allow for a 2 ticket purchase and why don't they take credit cards? Ahhh!! We get change from the guy behind the little window and the crisis is quickly over.

Enjoy a delicious pancake breakfast at the Eurobar & Grill restaurant in the main street after buying lottery tickets hoping for that $20M win.. Then its back on the train to Sydney. Our Newcastle Odyssey is over. We'd do it all again in a flash if we could Tomorrow.