05-10-2007
Darwin Showgrounds - Darwin, Australia
By CHRIS

As an LAS Member of 8 years living in Victoria, I purchased tickets to both the Bendigo and Ballarat shows. I was a little confused when I received a job offer in Darwin and couldn't attend either of these gigs! Well was I glad when I found the tour was to visit Darwin a few weeks later :-)

Alas I worked till 7 and as a result missed the start of the Chair's set...disappointing but nothing I could do. From the car park I heard Israel's Son, which was great becuase the Melbourne Diorama show ommitted this song, I hadn't heard it live in a while. Was a tad disgruntled with Daniel because as I walked towards the tent, he declared everyone outside the tent "ugly"!!! Damn you man :-) Entered the tent during Reflections Of A Sound, and basked in the glory of a band who keeps getting better and better.

My 5th time witnessing Silverchair live, and it was the most I've seen them ROCK. I mean really ROCK. Daniel was loving it and it showed. The complete opposite to seeing him when the arthritic knees were attacking at the '02 BDO. I've read about him embracing being in the band this album, but now I've witnessed it. The times he got the crowd to scream, the falsettos and guitar solos played by bottles....the guy was in his element. And it was good to see.

Ana's Song was great as always, Straight Lines received a great welcome, The Greatest View brought a tear to my eye, becuase it's such a brilliant piece of work. I think I decided listening on Friday that it's my favourite 'Chair song. Is the chorus a beutiful lyric? Or a "screw you all Ha Ha!" lyric? I love the ambiguity of that and all of Dan's lyrics.

The Door, Mind Reader, If You Keep Losing Sleep & Freak then completely blew Darwin apart. Sure Daniel was innebriated, but he had a whole lot of fun and that was passed on to the rest of the crowd. I was lucky enough to have a little grass patch which enabled me to dance during ...Sleep, had a nice twist and finger clicking motion :-) Disappointed local radio isn't giving it a go because I'm so excited for that as a single, if people get behind it, it will blow the country's mind.

Darwin hasn't seen many gigs like this and I applaud the company for playing here. Not just Darwin, but other regional cities, it really is a great thing to bring good times and rock'n'roll to people :-)

I'm so happy to see Silverchair at this point in my life completely embracing being a rock'n'roll band, and taking in just how important they are to Australia. Thanks for the National Anthem singalong!!! This tour proves and accepts so much form the bands' behalf. Daniel previously seemed to back away from convention, but this phase of the band's life is so accepting and as a result the shows are positive, the reaction is positive, and dammit I'm positive!!!

Let's hope the rest of the world, especially the US continue to be acceptive, and Silverchair continue to blow minds in bewtween and across many other divisions, for years to come.
---
By FELICITY

I attended the show on the 5th of october in Darwin. I just want to say thank you for coming, we felt so fortunate to have you guys there. Its such a rare occasion that we get bands as big as yourselves up in the Top End.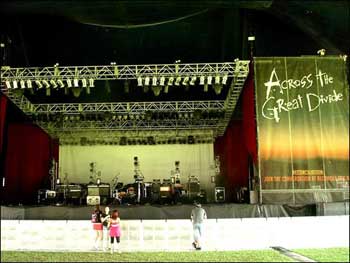 I'm known as quite a big fan of Silverchair around Darwin haha so of course i wanted to be right up the front. Right up front i was See picture. The three girls on the left are us, me being in the middle. After the show my friend left me a message after the show saying "Me and Trent were expecting to see you having convultions on the ground when daniel johns took his vest off" im not that bad..

The show was indescribable! Kisschasy rocked out and drove the crowd insane, especially my friend Michelle (right) i must mention. She was almost in tears After Kisschasy, i noticed everyone flock to the stage, literally crushing me against the barrier. I sure as hell wasnt going to move! The opening for you guys... deafening. Haha literally, the bass was insane! And when you guys came out, me and my mates went mental.

That mosh pit would have proved how hard Darwin can really rock out. I've been to many concerts here and it was probably the craziest mosh i've seen, it even beat Bass In The Grass (Darwin's version of The Big Day Out). We gathered about 10,000 people that night, and we sure showed our appreciation! Me and my mates took a few shots of us all together in the mosh. See pictures below.

Seriously I cant even think of the right words to describe how well you guys played. You proved that even though your albums have developed into something a bit far from your past heavy rock days, you still had it in you, and it showed. Pure legends.

So again thank you so much for sharing this amazing experience with Darwin, please don't be strangers haha. Oh and I hope the heat didnt scare you off.. its not usually that bad.