22-09-2007
Claremont Oval - Perth, Australia
By MICHAEL

What a fantastic start to the weekend! I was going to tonight's show with 3 friends, but only one could make it at the original time of 11am that I wanted to start queuing. As it turned out, we didn't get there until 12:30pm, but made queue friends fast. The event staff and security started to set up the front entrance around 3:30pm which is when things started to get exciting. We got let in a little later than the intended 4:30pm gate opening, but we ran like idiots (over the hill behind the gates) and reached the front of the stage.

Expatriate, the Sydney-based support band were fantastic. I had never heard any of their songs before but know they get quite a bit of airplay on JJJ – deservedly so! To me, I heard a touch of The Killers, crossed with a small hint of The Presets.

After they left the stage, it didn't take long for Silverchair to come out. Strobe lights flashed in sync with the 'chugging train'intro theme, ending with rotating police lights and a siren to signal the band were about to come on stage. The band launched straight into Young Modern Station – the crowd went nuts. The stage set-up was fantastic. The Young Modern'lines' theme filled the backdrop with 3 three-dimensional screens spread across it. For Young Modern Station, the screens were cleverly coloured red, blue and yellow to match the Young Modern cover art.

I had read that Silverchair had started to include Israel's Son on their set list, but wasn't sure if we'd be getting it or not. The bass lines from Chris that followed gave me the answer. Although the band may not enjoy playing Frogstomp songs anymore, they played Israel's Son with perfection. The crowd were extremely appreciative, and given the bad reputation of the previous gig's crowds, I think Perth were a very pleasant surprise (for both bands).
Emotion Sickness never ceases to amaze in the live setting. The way the lights flash in sync with Ben's drumming is something that can not be explained to someone that hasn't witnessed it personally. A guy next to me on the barrier had never seen Silverchair play live before, and he was eagerly awaiting this song. He couldn't get enough of it!

Another one of my favourites, Without You came next. One of the biggest surprises of the night was the crowd sing-a-long to Reflections Of A Sound. Being a digital-only release, I wasn't aware of just how many people knew the words to this song. Again, I'm sure the band were very surprised!
My personal highlight across both nights was Insomnia which followed.There is so much energy in this song that only a live performance can truly exhibit. The crowd went absolutely nuts and holding my camera steady was no longer an option!

Some fans have become bored with Ana's Song (Open Fire) over the last few years. To be honest, of all the times I have seen them perform this live, tonight's performance would rank as the best. The first verse and chorus were played by Daniel alone, dragging each line out for impact. We got abit of a hand sway going in response.

Next on the set list was Luv Your Life and The Greatest View. Luv Your Life got a great crowd sing-a-long response, and the three-dimensional screens displaying PERTH during The Greatest View was met with a deafening roar of approval from the crowd.

The hit single Straight Lines followed. Having heard the crowd go crazy at the album launch and the Perth May gigs, I expected a bigger reaction, but my ears were most probably numb by that point! It was a great performance none-the-less, with Daniel's vocals literally raising the roof of the big-top.
Concluding the set were heavier tracks The Door, Mind Reader (Daniel encouraged a huge clap-a-long from the crowd – it was almost difficult to hear Ben's drums over the clapping!), If You Keep Losing Sleep and Freak. By this point, the crowd were moshing and jumping along to every single song, and by the time the band left the stage… it was clear that Silverchair had gained many more fans. A couple of guys behind me that were mocking the band before they hit the stage, were cheering louder than I was.

Call me biased, but it is my personal opinion that Silverchair blew Powderfinger out of the tent. Powderfinger performed well, don't get me wrong, but they don't have the stage presence and charisma that Silverchair have perfected over the years. Even Ben and Chris who in previous years seemed to take a back seat to Daniel have really come out of their shells and proved to be as entertaining to watch as the front man himself. Their brief interactions and glances at each other proved that they were having a damn goodtime, and you know what… so were we!
---
By RUTH
I have to preface this review by saying that I am a Powderfinger fan. I went to the Perth ATGD show to see Powderfinger and figured I would spend the hour and a half of the Silverchair gig gritting my teeth.

So now for the humble pie. I have to take back everything I said about Silverchair. They were awesome. They completely blew us away. Far from being mellow and soft-cock-rock (as I have described them in the past) they were loud, heavy and full-on. I loved every minute of it. Their songs were edgy and gritty and had everyone jumping from the word go. I was worried that we were only going to hear songs from Young Modern but they showcased quite a bit of their earlier stuff which kept a forty-something rock chick like myself happy. Songs like Israel's Son, Ana's Song and Freak had me in a state of bliss.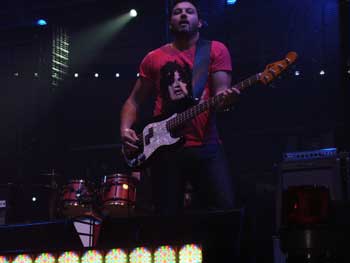 What surprised me most was how good the new songs sounded live. To be honest, I haven't liked anything I have heard off Young Modern so far. But hearing them live is a TOTALLY different story. Daniel told us to sing and I stood there like a total fraud because I didn't know the words to the new stuff. I think Chris sussed me out because he kept looking at me. Whoops.

Notable moments included Darren Middleton walking on stage during the show and handing Daniel a guitar, the crowd singing Happy Birthday to Chris, Daniel getting the crowd to shout "WHAT?" at regular intervals, Ben bouncing his drum sticks off the drums into the air and catching them, Daniel shouting "Local council, f--- you, f--- you, f--- you, f--- you ... Now thank you local council!" and Daniel saying that Perth was really "punk" and then proceeding to say f--- about ten times.

Silverchair played with real intensity. Their mellow stuff was far from mellow by the time they were finished with it. By the end of the gig my eyes were like saucers and I turned around and my friends' eyes were exactly the same. Well done Silverchair. You impressed the hell out of me.

There's a terrific review of the show (better than mine) with some great photos HERE. It includes the set lists for both bands.
Thanks for a great show Silverchair. I would gladly see you again.

Voice of Reason
Powderfinger Discussion Board Member and closet Silverchair admirer