19-09-2007
Rod Laver Arena - Melbourne, Australia
By AMY

After leaving school as early as possible me friend Mel and I made our way as fast as we could to Rod Laver Arena by train. Still buzzing from the excitement of the previous evening's performance and still wearing the mosh pit wrist band from the night before, we knew it was going to be one hell of a night.

Arriving about 4 hours earlier than the opening door times to secure a front position on the floor, we made t-shrits and talked about. Once doors were open we made a sprint up the stairs to collect our wristbands and line up for another hour, but getting front spots made it worth it.

First Expatriate came out and played a great set, but my anticipation for seeing Silverchair for the 3rd time this year seemed to distract me from their set. Finally it was time Silverchair began making their way onto the stage and with our glowing and flashing accessories held high we were ready to rock.

The first song out of Silverchair's blistering set was Young Modern Station which electrified the entire stadium. Following Young Modern Station was Frogstomp classic Israel's Son which had us head-banging till we could head-bang no more. The along came the familiar tune of Emotion Sickness which gave me tingles just as it had the night before. Then much to my own pleasure came Without You, my personal Silverchair favourite. By this time my vocals had had quite a work out. Then it was time for some more of the new with Reflections of a Sound and Insomnia which was well received by all in attendance. Then the mood turned silent as we heard the beginning of Ana's Song, with everyone getting involved by singing and swaying. The Greatest View soon followed creating an energized vibe throughout. Then came Those Thieving Birds and Straight Lines both proving to be audience favourites. If You Keep Losing Sleep came soon after ensuring everyone was out of their seats dancing along and singing it loud and proud. Then a trip down memory lane with The Door sending the crowds enthusiasm through the roof. Then came one of my favourites off Young Modern, Mind Reader, from the response it got I think it would be fair to say that there were others in agreement. Then came the end to the night, where Silverchair played the muchly anticipated Freak Show classic Freak. With close to everyone screaming the lyrics at the top of their lungs, you could tell it was the song that most had been waiting for.

Besides seeing my favourite band for the 3rd time this year, other highlights of the evening included; my friend and I throwing our home made t-shirts dedicated to Chris and Ben on stage and having Chris pick them up and read them Hoping that they both enjoyed them! Then there was the part where a few of us started bowing and repeating "we're not worthy, we're not worthy" (like a certain scene from Wayne's World) and having Chris notice us. Being filmed and photographed and being nicknamed "The Neon Kids" by the photographer due to our large collection of glow sticks and when I caught Haugy from Powderfinger's guitar pick at the end of their set, but that's another story…

Overall it was a fantastic show and well worth every penny. By far the Wednesday night was better than the Tuesday and now stands as reigning champion in the best night of my life stakes. I left Rod Laver feeling both happy because I had just had the time of my life and sad because I knew it would be a long time before I'd get to see Silverchair live again. Here's hoping for a new more astounding album being released in the not too distant future with another amazing tour to follow!

THANK YOU SILVERCHAIR FOR SUCH A INCREDIBLE PERFORMANCE!!!!!!!!!!!!!!!
---
Across The Great Divide Tour - Review..

Bendigo 15/9/07, Ballarat 17/9/07, Melbourne 18/9/07 & 19/9/07

By NEISHA
My partner Aaron and I were extremely excited when we heard Silverchair and Powderfinger were doing a tour together. Although not huge Powderfinger fans.. anything to see Silverchair play yet again! We had already seen them twice this year, at Push Over and also the first Melbourne Metro show (we missed the 2nd show.. but lets not talk about that! :( )

So being so excited.. we decided to go to all shows, somewhat 'close' to us.. Bendigo, Ballarat, & both Melbourne shows. We both took a week off work and booked motels at each place so we never had to go home.. just be 'groupies' as many of my friends had said!!

So ill start at Bendigo..Saturday.. 15/9/07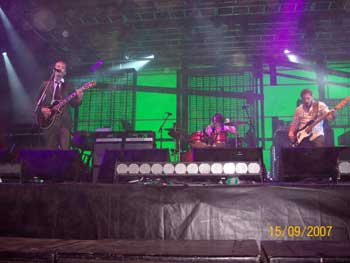 We got to the Prince of Wales Showgrounds at about 10:30am and besides form a few local girls who were going to the show wandering around, we were the first people there, and therefore first in line.. just to ensure that front row spot! We were so anxious waiting around for the show to come on.. not knowing what to expect! Although it sounds like a drag waiting around for so long it was actually alot of fun.. your surrounded by mostly great people who have a similar love as you. Silverchair!

So after waiting pretty much all day, it was a huge let down when 5 mins before the gates to open.. police came with sniffer dogs.. and took my partner away coz the dog had 'sniffed' him. I must add that he did not have anything on him, and had not done any drugs in months and months.. so i was furious..! We waited all day.. and then they took him!! Anyway i knew he did not have anything on him.. but was so upset we were gonna loose our spot by the time the police searched him. But it was all good.. he got back just in time!!
The show was awsome.. front row of course!!

I was very happy with the set list.. they played a great mix of new and old. They opened with Young Modern Station which i must say is a great was to start the show! They also played Straight Lines, Insomnia, The Man That Knew Too Much, Mindreader & Reflections of a Sound off Young Modern. Some of the other songs they played included Israel's Son, Ana's Song, Emotion Sickness, The Door, Luv your Life, Without You, The Greatest View and Freak. ( i think that is about it.. i may be slightly wrong.. way too excited to remember exactly!!)

Daniel played the guitar with his teeth which was just fantastic as always! He also played around with his pedals alot, which he loves doing!! All the things he says in between songs makes it so exciting.. one of my favorite lines being 'my guitar is a machine gun'.. as he shoots the crowd. He got the whole crowd into it really well, doing bits and pices that the crowd had to join in!

The Set up of the stage was amazing, with bits and pieces from the film clips or other bits and pieces playing in the background!

Also a huge highlight being when a fan got to propose to his girlfriend (who was in the crowd) up on stage! So gorgeous and romantic.. i even shed a tear!

Fantastic show, finished off with both band singing The Who's classic, Substitute.

So, we then travelled to Ballarat... Sunday... 16/9/07

We got to the Ballarat Showgrounds around 11am.. the second group in line.. there were 2 girls before us, Trish and Julia who had been there since 4:30am! Yet again another day waiting around to secure that front spot.. but yet again surrounded by awsome fans!

So it was not until about 2:30 that we heard the show was postponed..not happy! :(

Although i must say, it was not too bad for Aaron and i, as we had already booked 2 nights accomodation in Ballarat.. before off to Melbourne! So when hearing the show had been postponed to Monday we were just so happy that we could go!

The next day.. Monday.. Ballarat.. 17/9/07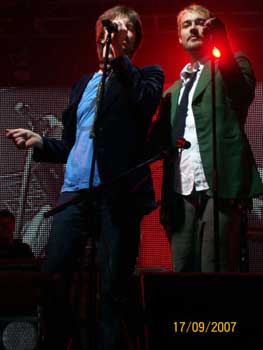 We just did the exact same thing yet again! Some of the people who were there the previous day could not make it on the Monday which must have been very disapointing because the show was FANTASTIC!! I think it was due to the delay of the show that they had to perform even better than other nights to avoid disappointment! Which i dont think there was any dissapointment in the shed whatso ever!

We were interviewed by a lady who was a reporter for triple j and also by a camera lady who tours with silverchair! Which was pretty exciting, being huge fans! I requested for them to play Those Theiving Birds.. but no luck tonight!

The set list was the same as at Bendigo.. just different bits and pieces thrown in by the band.

Than it was onto Melbourne.. Rod Laver Arena.. 18/9/07

So just as we did the previous days, we went in early to secure that front spot!

Daniel was wearing the blue vest he loves oh so much.. and his pants were so low.. my god i thought i was gonna pass out!
They played almost the same set list although they replaced The Man That Knew Too Much with Those Theiving Birds. I was ecstatic, i wanted them play Those Theiving Birds so bad the last few shows! I was crying when it came on.. so overwhelmed with happiness!!

I was also lucky enough to get Daniel's guitar pic when it was thrown into the crowd! So happy.. each night was just getting better and better!

This show was being filmed.. so the bands just went right off.. it was great!!

And than it was on to our last show.. Melbourne .. Rod Laver Arena.. Wednesday 19/9/07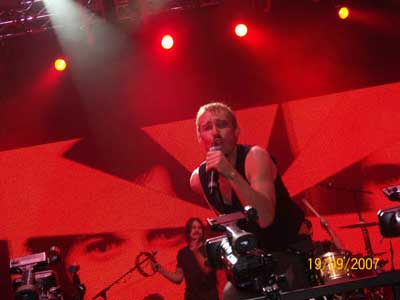 We lined up for front row yet again.. at about 10:30am..we knew it just would not be the same from far back after being positioned to the left of the stage every show to be dead straight in front of Daniel!

While waiting around for the show to start.. we saw all the roadies and film crew arriving at Rod Laver Arena at the side. So we kinda gathered that the bands must be due to arrive, this was about 1 o'clock in the afternoon, and still we were the only people in line! So we decided to head over to the side of Rod Laver where they must come in!

Sure enough.. they did! Powderfinger arrived first.. they were great.. really friendly.. posing for photos for us.. and the recognised us from the other shows.. and was bagging us coz of how daniel crazy were all are! Powderfinger were then being interviewed outside.. so we could watch it all..which was pretty cool.

TILL SILVERCHAIR ARRIVED!!!!

We all just started screaming.. it was so wierd.. like they were like right there! Just nomal people, but still sooo exciting fo us!

We had a chat to Paul Mac, and asked him if there was anything in Daniel saying the previous night that Paul Mac was sick of it so they may never get to play Those Thieving Birds again, he just said Daniel was joking although he does get sick of it a little.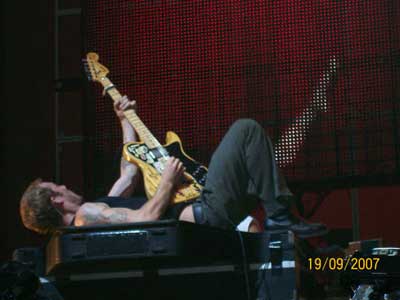 Natalie imbrulia was also there.. GORGEOUS as always!

Chiris and Ben sorta just waved and then went staight in side.

Daniel was so great though.. he was funny too!

Aaron asked him to sign our tickets.. he was like.. 'how am i gonna get them to u though?!' (coz we were up on like a bridge type thing above the car park) but it was so cute!
So Aaron just threw them anyway.. and Daniel signed them and gave them to security to bring up to us.. :D

It was great.. we were talking to Daniel a little.. mostly just samll talk about the show and that sorta thing!

He went inside but kept on coming out for a smoke every now and again.. it was great!

So of course.. after meeting them this show just kicked arse over all the overs.. it was just so great.

As soon as Daniel came on he looked at Aaron and I and did a head nod thingy.. then heaps of times throughout the show he looked over to us and gave us a huge smile! So exciting.. goes to show that following them to 3 different towns and waiting all day everday in line to get that front row in front of Daniel payed off!

He also blew kisses to our whole group.. was just SO UNREAL!!!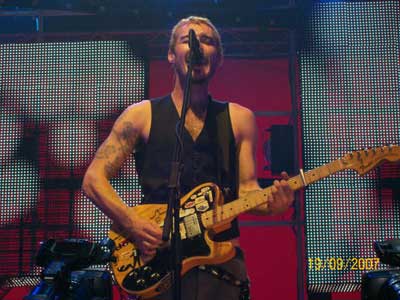 Bernard also played up to our group heaps... smiling alot at us.. (prob had something to do with the fact the first few nights we did not really like them but we have actually come around a little now!)

I was video taping a song for my step dad and Bernard came right up to my camera and fixed up his jacket and stuff as a joke.. like 'i hope i look ok for the camera.' Was cute.. considering i did not even really like them till i saw them the 4th time!

So what can i say.. that week was just the one of the greatest weeks of my life.. I am just so happy, have not stopped thinking about it and cannot wait till the next tour!!

Each night just got better and better!!

And sooooo in love with Daniel... AHHHHH!!!!!