14-09-2007
Ornamental Gardens - Mildura, Australia
By KRISTY
All photos by KRISTY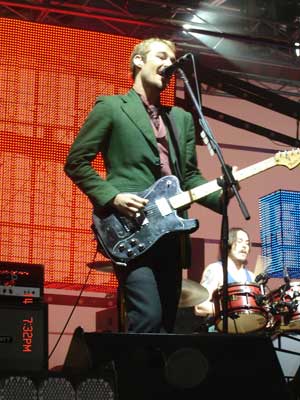 My name is Kristy am I am 27yo and like many many Chair Fans I have been since I was 13. It is hard to try and explain to someone the meaning of a Silverchair within your life when you have loved, followed & where their music has got you through some of the hardest times in your life. 14 years of being blown away by each song, each album and each performance.

So when I told people I was going to see Silverchair under the big top (because I live in Adelaide) . . . some people just didnt get it!! I didnt think it was that bad, I caught a plane to go to Brisbane for the Across the Night Tour!!! Whats wrong with that . . .

Anyways, the CONCERT, simply amazing!! I was lucky enough to get right up the front for the first time. Myself and my wonderful Powderfinger friend, Tash, lined up for a bit as I was certain I had to get up at the barrier!! Nothing in front of me except the stage!! YES!! I was very very excited as you could imagine.

The Beautiful Girls where on first and I was very impressed with them. They are a great band & I would suggest to anyone to check them out!

Then out came Silverchair!! The opening song was Young Modern Station and it just rocked!! The boys looked and sounded awesome! Daniel was always gesturing to the crowd for more screaming and I was dissapointed that he would even have do that!! I didnt think I could possibly scream anymore, but somehow managed a lot more when the boys were asking us for up to 7 screams fast and slow! If you were there, then you know what I am on about!!

I was very shocked to hear Israel's Son! I had not heard that live for a long long time. And honestly didnt think I would enjoy hearing it but as soon as I heard Chris playing that bass line I loved it!!

Another highlight was Daniel singing Happy Birthday to Paul Mac. That was great and made the show very special indeed for us fans of both Silverchair and Paul Mac.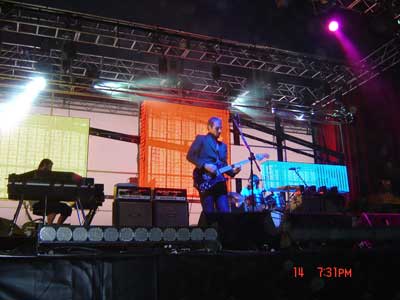 Ana's Song and Luv Your Life were just breathtaking and as per normal I cried during both of them (When I got married I walked down the aisle to Luv Your Life).

Mind Reader is now officially my all time favourite Chair song LIVE!! Its just awesome! I just completely lose control everytime I hear it! And they didnt dissapoint at Mildura thats for sure!! I think if you see Silverchair LIVE for any song . . . Mind Reader should be it!!

I personally felt it took a while for the Mildure crowd to warm up to the amazing concert that was happening right in front of them but with songs like The Greatest View, Reflections of a Sound, If You Keep Losing Sleep and especially Straight Lines that FINALLY got the crowd going! I certainly noticed a different in crowds from regional to city thats for sure.

I enjoyed the Across the Great Divide Tour and I am stoked I went to Mildura to see it. I was equally stoked with Powderfinger's performance so I have just brought another 2 tickets to the shows in Adelaide to catch both of them and of course Silverchair again (as if you could see them too many times!!)

The only thing I was real dissapointed about was with the Mildura Crowd when the Reconciliation Message at then end of the show was playing. I think about 80% of the crowd turned their backs on the message which I thought was a huge slap in the face. It made it especially harder as the friend I was with is Aboriginal and my heart just sank as we were there to support the message as Reconciliation. Maybe that message can be played at the start . . . just a suggestions :)

All in all I thought it was brilliant and I am happy to report that my friend Tash, has been converted into a Chair Fan aswell!!

Am looking forward to the Adelaide show thats for sure!!!

Much love and peace sent along with this message.
---
By PATRIZIA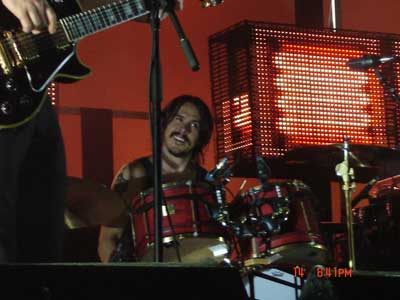 By the end of the Across the Great Divide i will have seen Silverchair 14 times. 8 times this year alone. Silverchair touring season is usually described by my friends as my 'silly season', which yes, maybe i get a little crazy but its worth every cent and the rest.

My Journey starts on the 14th Sept, Mildura. After only sleeping for four hours, me and friend Tara hit the road at 4am from Berwick (40 minutes from Melbourne)for a 6 hours drive to Mildura... or so we thought it would be 6 hours.
We pass the westgate....
we pass signs saying ballarat...
we get to GEELONG..
and realise we are going in the wrong direction... we maintain it wasnt due to our stupidity, but because it was the early morning. so our 6 hrs trip in fact took us nine hours... and how did we recover from this?More red bulls and buying a new outfit once we arrived in Mildura.

In mildura we were meeting people for the first time, we arranged beforehand and vis myspace to stay at the same caravan park, i wasn't sure if we'd all get along, but as soon as stephan barged through my door i knew he was a kinda cool kid.. haha. By the time we left it seemed like we'd known each other our whole lives.

I here Young Modern Station begin and we are still walking towards the venue, i had told the boys to hurry up but they wanted 'to sink a few drinks first'. Tara and i piss bolt automatically to the gate. i throw away my full can of smirnoff ice n guarna whilst running because obviously the drink wasnt the issue here. as we walk through i here Israel Son play.. and being a Silverchiar concert veteran this was an exciting moment for me as it's rare they play this, so with too much red bull in me n a few beverages i didnt need, i run off into the tent so quickly that the security whom was giving me my drink pass couldnt put it on me coz i ran off mid way. i didnt care till silverchair were over.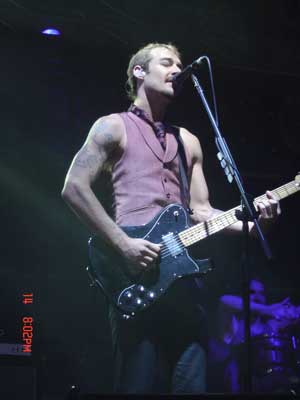 Of course the Silverchair show was amazing, it was awesome to here some oldies chucked in there, especially after the young modern tour. Silverchairs energy on stage just seems to get better with straight lines still giving me a shiver everytime i here it live.

My silly season had definetly begun with the rest of the night consisting of free drinks, trashing hotels and singin silverchair whilst driving through the Macca's drive through.

After a 6 hour drive home and a best friends 21st it was back on the road to Ballarat.. but this time my sister drove...but just as quickly as we got there.. we left again due to the show being postponed, because of bad weather causing a tear in the tent. i wont deny i wasnt disapointed, especially when the talk in the car was 'i'll just get a refund, instead of coming back tomorrow'...what kind of silverchair fans are they!! i asked. we went and saw hairspray instead at the jam factory to kill time..

SO Monday came, i was pretty certain i wasnt going to ballarat, and i was slightly shattered.. but i needed to let it go. on the trian home form uni i decided to give it one more shot, msged everyone in my fone...no deal... expect one... who loves silverchair as much as me,Rae, she had slipped my mind... and then it was back on.. she cut class automatically and we were on the road by 2.30 and on our way to ballarat.

We arrived relatively early in Ballarat..5pm in time to catch Epicure, but to be honest we werent paying to much attention the bonus was experienceing clean port-a-loo's. $5 chips not so much of a bonus.

We made our way to the front and then silverchair came on. And i was absolutly blown away, this was by far a better show then the Mildura show, i dont know if thats because i was intoxicated by booze n red bull in Mildura, but i was left speechless. From Start to finish Silverchair were extraordinary, the sound was perfect, and they seemed to give this performance 110%. Ana's song was a show stopper, with Daniels voice still filled with so much emotion. This would have to be one of the best shows i have seen silverchiar play and proves they really have become veterans.

2 more shows to go, both in Melbourne. i hope they are just as good as ballarat, which im sure they will be. The last 4 days have been jammed packed but amazing and i wouldnt change it for the world. Silverchair remain the amazing band i fell in love with when was in grade 4, but have grown to become a band that affects so many people on so many levels.. and a band that can bring people together to form new lasting friendships .... like i did in Mildura...

bring on the next silly season!!!!