08-09-2007
ACER Arena - Sydney Olympic Park, Homebush Bay, Australia
By JEREMY

I went to the Saturday night show of 'Across the Great Divide' at Acer Areana in Sydney, and I gotta say it is one of the best I have ever been to.

In recent years I have seen Clapton, Dylan, The Rolling Stones and Roger Waters. Ok these guys are the Gods of Rock, the authors of Roll, but the torch has been passed, Powderfinger and Silverchair rocked my socks off! They commanded the respect, attention and awe of the audience. It is such a generous offer to see two heavy hitting world class bands in the one night, history in the making, and the generosity expands literally to the remote areas that they graced. For those of you that attended different concerts around the country or that didnt get to go, at our one in Sydney, both bands got together for the final encore and played The Who's 'Substitute' it was Rock n Roll magic.

Our bands abound in natures gifts, of beauty rich and rare, Advance Australia Fair.
---
By CHRISTINE
I had been counting down the days to be able to buy the tickets, then I was counting down the days to the concert.
It was my first Silverchair concert (I am now cursing myself for waiting so long, when are you touring next??). I was on the edge of my seat while friends ate dinner, continually checking the time, wanting to take my seat. There was no way I was missing one second of this concert. Then they were there, on stage. Why didn't I get floor tickets and fight my way to the front. Daniel is an amazing performer, I was mesmerized by the way he played and moved about the stage, continuously adjusting equipment (sorry don't know the technical terms), the way he did this was almost like it was for his own enjoyment, we were just there, along for the ride. His voice had me under a spell. I was in love.
I was disappointed in the crowd, there was an overall hush in there that they let out when Powderfinger came on stage. I felt awful for Silverchair, how could the crowd do this to them. No one around me was up on there feet and me been me felt like I had to stay seated as well. Never again, next concert I will be on my feet from song go, bugger the person behind me. They played a fantastic range of their songs, the crowd did respond better with the older songs rather than Diorama songs and to an extent Young Modern songs. I was so sad when they finished, time had flown by. Was happy when they came back on stage for the duo but wished they could of played all night. To Daniel, Ben and Chris thanks for an awesome concert. My grievance, would loved to of heard Tuna in the Brine sung live. My salvation their CD's, DVD's and my dreams at night of Daniel on stage.
---
By RACHEL J

As the adrenaline started to pump and the lights dimmed it became obvious what was about to take place - one of the most memorable and meaningful concerts Australia was ever to experience. First up was The Scare - Australian rockers currently living in the UK. Their enthusiasm and eccentricity astounded the crowd. The lead singer (clearly intoxicated) did not fail to literally connect with the crowd. Many front row moshers were taken aback as this lively vocalist jumped at them. These guys certainly did not fail to excite the crowd with their eccentric set list and personalities.

As the crowd was now starting to get revved up for the next act the lights dimmed and they went wild – the exhilaration was felt throughout the whole arena as we all started to roll into Young Modern Station. Daniel Johns, Ben Gillies, Chris Joannou, Paul Mac and Adam took to the stage and drew the crowd in with the opening of Young Modern Station – Silverchair's title track from their most recent album (Young Modern). Gillies in stubbies and a wifey and Joannou in a white shirt and jeans were both sporting new hair cuts. Johns wearing a new waistcoat (pink this time) and his well known green jacket.

Their set list, surprisingly, had songs which covered all their albums from Israel's son (the title track of their debut album - Frogstomp), The door and the classic - Freak (from their 2nd album - Freakshow), Emotion Sickness and Ana's song (from their 1999 Neon Ballroom album), Across the Night, Without You and The Greatest View (from the 2002 - Diorama) and finally the new ones such as the hit singles, Straight Lines, Reflections of a Sound and the newly released If You Keep Losing Sleep (from Young Modern, released earlier this year).

Mac did an outstanding job at keys along with Adam. Gillies didn't fail to entertain the crowd as he did tricks with his drumsticks eventually throwing them into the crowd. Joannou played with such enthusiasm and revved up the crowd with his bass line for Israel's Son. Finally, Johns vocals were smooth and never failed to hit the notes along with his amazing guitar riffs and solos.

As Silverchair left the crowds wanting more the curtains were raised, sets were changed and a countdown started on a large screen – Powderfinger were to come. When the countdown finished the set glowed red and silhouettes of 6 men appeared – it was time for them to rock the house for the third time that night. Bernard also with a new haircut sung skillfully and with such clarity. John Collins, the bassist pumped out awesome bass lines along with the special guest pianist. Ian Haug and Darren Middleton's guitaring was faultless and more than exceptional. The crowd went wild when Haug pulled out a double neck guitar for one of the songs. Finally John Coghill possibly one of the most entertaining drummers, like Gillies, stuck his tongue out at members of the crowd, was constantly laughing and played outstandingly all night.

After playing a compilation of new and old songs from their albums, Bernard Fanning took to the stage alone to perform a moving Black Tears. The crowd fell silent as he sang this delicate song prompting an emotional reaction from all involved. In an encore Fanning, Haug and Middleton took to the stage to perform an acoustic version of one of their songs. This also evoked a passionate response from the crowd.

The lights dimmed and Powderfinger were gone, was this the end? Not if the two bands could help it, Powderfinger took to the stage one more time although, this time joined by Silverchair. In a first ever, Silverchair and Powderfinger (Powderchair) performed together. Ben Gillies and John Coghill alternated between drum kit and tambourine, Bernard Fanning and Daniel Johns sung and danced together and all members seemed to thoroughly enjoy themselves. Daniel and Bernard breaking out the chicken dance caused laughter throughout the whole venue.

Powderfinger and Silverchair have never been in such good form and touring together is something they should never regret. Two of Australia's top bands, once again, didn't fail to deliver an outstanding performance. A must see for all, hopefully we'll see some more collaboration of the two bands in the future!
---
By DAVID
Young Modern
Israels Son
Emotion Sickness
Without You
Reflections
Insomnia
Anna's Song
Happy Birthday Mr Cassey
Across The Night
Greatest View
Straight Lines
The Door
If You Keep Losing Sleep
Freak
Substitute (The Who) w/Powderfinger
---
By LAURA

First of all: I thought I was very lucky, because I had tickets for two of the gigs (Sydney 8 September and Newcastle for the final show), but after having assisted to the awesome show of Saturday night I knew that wasn't enough!!!!! Even my husband was speechless......He was so impressed that I didn't have to insist at all to convince him to go again on the following day.

Saturday night the show was fantastic, not necessarily better than the Sunday one, but I was closer to the stage, so I could appreciate and enjoy much more the interaction and the vibe amongst the guys while they were playing.

SATURDAY NIGHT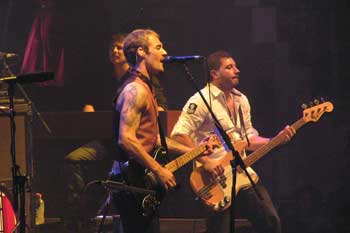 At 5.30 the doors opened; 1st stop: merchandise, 2nd stop: the program; 3rd stop: food and drinks.......I still have to wait for a couple of hours.....I'm so excited....At 6.45 I entered the Arena...I have a very good seat (but I would have preferred to stand....). When the support band (The Scare?) end their set it was just a matter of time, I knew that we simply had to wait for the "train"..........As they opened the set with YMS they took me into "Silverland". I had seen the band playing at the Enmore in May and what surprises me the most is what sort of "International Rock Stars" they have become.... Dan is a "Rock god".....

The rest of the set included Israel's Son (.....I didn't expect that...but It was a veeeeeeryyyyyy welcomed surprise), Emotion Sickness (great guitar solo and superb vocals), Without you (one of my fav).

Then Dan said something like "The next song is about me....but also about you.." and the entire arena became Reflection(s) of a sound. Insomnia followed (I love it live!!....A lot of clapping) and then the beautiful Ana's Song.

We had our "now-a-classic" Happy Birthday too....I think it was for the production (?) manager.... And it's here that I had my personal big surprise: Across the night....I LOOOOOOVE this song, it is always in my head (That would be replaced by "Those thieving birds/Strange behaviour" - my favourite from the new album - on Sunday).

At this point Dan tried to have a bit more crowd involvement and, using a hand-held stage light on the audience, said "Let introduce yourselves!!!"....A Mexican wave flowed through the arena (with a "I love Mexico" chorus on Sunday).

From this moment on the show become more and more exciting. After The greatest view ("I can see you" -Sunday night-) the band had almost all the arena singing along with Straight lines. Then Daniel introduced The door with "Let's party like 1997!!!"......It had been "Let's party like 1995" before, but I don't remember for which song.

When Dan's guitar introduced Mind reader ("dedicated to our friend Bernard Fanning" - Sunday night -), I was excited and a bit sad at the same time...I knew that we were almost at the end of the set.....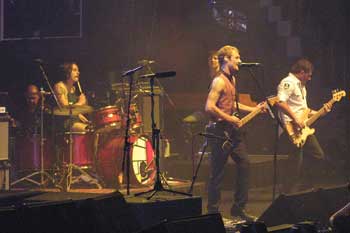 Then it was "crowd participation" again, with the 20.000 (?) people in the arena screaming for the band "...1 time.....2 times......3 sloooow times" We screamed up to "4 times" (thanks Chris) on Saturday and "6 times" on Sunday.........I'm wandering what the screaming will be in Newcastle for the last gig......

They ended the set with IYKLS and Freak, two of my favourite songs live. Very exciting but unfortunately over......or maybe not?.....The Chair were back at the end of Powderfinger's set for a joined performance of Substitute (by the Who). Another great, important piece in music history.

As the guys are better and better at every gig I think will have "fireworks" for the last night.....

Other special notes from Sunday performance:
1. Too many "Vegetables" around me......Come on, it's a rock concert, not a funeral!!!!......
2. Dan starts to sing "Reflections of a sound" right while Chris is drinking.....funny.
3. Jamming during Mind reader
4.Jimmy Barnes, surprise guest, sings with Silverchair & Powderfinger