18-08-2007
Pukkelpop - Hasselt, Belgium
By NELE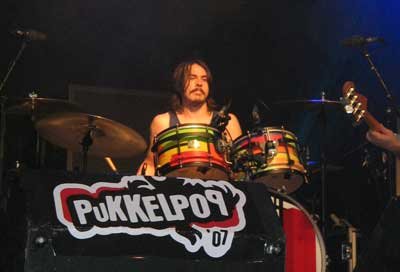 The only thing I remember about yesterday is that Silverchair were simply amazing and breathtaking. After not having seen them in concert for 8 years, they just totally blew me away. I'm still all hyped up about it actually!

They were planned to play at 4.45PM in The Marquee which is an intimate roofed over venue. Even before I was glad they got to play there instead of on the Main Stage because this venue suits their music better and they would be closer to their fans. And man, was I right!

I got to The Marquee venue really early, right before THE SHINS finished at 3.55PM. Because after not having seen them in 8 years and after never having stood in the front row the past 5 SILVERCHAIR gigs, I just wanted to be really close to them.

When I arrived there were already quite a lot of fans waiting in the front row. I have to admit I was rather surprised to see that many people there so long beforehand because SILVERCHAIR fans are a rare species in Belgium. After only 15 minutes (around 4.15PM) more and more people came to the stage, and right before SILVERCHAIR came on (at 4.45PM) the place was packed with people.

I have to add that in general, the Belgian public is always very positive and enthusiastic towards bands playing at the festival. Belgium is a very musical country with loads of festivals and concerts. I always get the impression that bands at PUKKELPOP are pleasantly surprised and excited by this. But I honestly did not expect this same reaction during SILVERCHAIR's set, and it seemed like they did not either!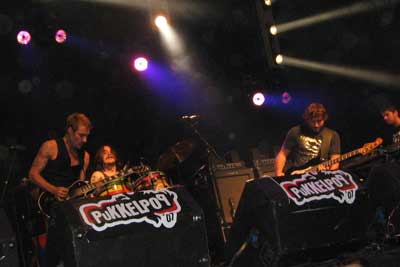 So at 4.45PM when the intro tune kicked in, the crowded went mad. Everyone was clapping their hands, screaming "wooh", whistling, … When Daniel, Ben and Chris came on stage you could see their reaction was like "whoah!". They immediately set in with "Young Modern Station" (that and "Freak are the only songs I know the correct order of) which is such a passionate and fast song. Everyone was clapping their hands to the beat and singing along to the chorus. You could see the band was really surprised and thrilled by our response. And it only got better. As they played more songs (again, sorry I don't remember the correct order) the crowd just partied even harder. Everyone was jumping, dancing, clapping and singing along. The guys loved it. I noticed Daniel and Ben constantly looking and smiling at each other like "Can you believe this?!". Daniel got that same reaction from his roadie when he switched guitars during the first songs. They really seemed so surprised by our positive reaction towards them and their new songs. And Daniel, being the charismatic front man that he is, responded to us with some amazing guitar solos, playing the guitar on his knees, with his teeth, … He even played the guitar while lying on top of Paul Mac's keyboard haha. He also spoke quite a lot to us, telling us how beautiful we were, how beautiful our country is and our planes (WTF?) haha. He also let us sing along to their old stuff. In the end he asked us to scream for him to the beat and clap our hands to the beat. He even performed a few smooth dance moves for us.

Overall I think you could say this was more of a fun rock show with them mainly playing new stuff, which is so rock & roll baby! It was just one huge party with everyone dancing and clapping. And although I missed some of the old songs, I wouldn't want it to have been different. It was the best SILVERCHAIR concert I've been to so far, and to me the best concert ever: the vibe, the rock&roll music, the interaction with the band, just "Oh my god!". I had so much fun. Really had the time of my life and I won't forget this for a long time.

Thank you SILVERCHAIR for your truly amazing performance and for providing me with your wonderful music for the past 11 years!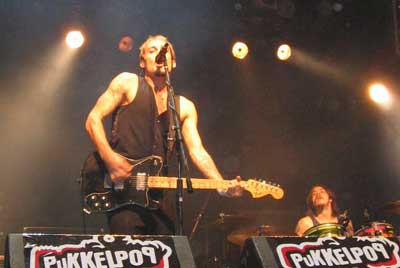 PS: Below you'll find the set list but please note that the order probably is not correct …
Young Modern Station
Emotion Sickness
Insomnia
Ana's Song
Straight Lines
If You Keep Losing Sleep
The Door
Mind Reader
Freak