12-08-2007
Primed and Polished
By CARY DARLING (Star-Telegram - Ft. Worth)
http://www.star-telegram.com/music/story/198671.html
Eight years ago, three Aussie teenagers -- whose biggest claim to fame not long before had been winning a local demo-tape competition -- found themselves in an unlikely position: riding the grunge wave up the American Top 10 with their debut CD, Frogstomp, and its hit single, Tomorrow.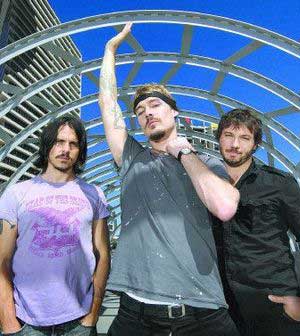 The high school trio, known as Silverchair, served up a reasonably rockin' facsimile of the Seattle sound with singer/guitarist Daniel Johns' fragile, blond surfer looks even echoing those of Kurt Cobain. It was not for nothing that some derisively called Silverchair "Nirvana in pajamas."

A follow-up CD, Freak Show in 1997, did reasonably well. Then, boom, as far as much of the U.S. was concerned, the band -- which also includes bassist Chris Joannou and drummer Ben Gillies -- seemed to evaporate into oblivion. But there was more going on than chart numbers would indicate.

Johns was battling anorexia, wasting away to a skeletal 110 pounds. There was one upside: His condition, and subsequent treatment, gave him time to reconsider his music.

"I had been dealing with disorientation and depression. I was on a lot of prescription medications. I stopped listening to rock 'n' roll music. I started listening to cinematic, orchestral music and electronic music," says Johns, 28, by phone from a Detroit tour stop.

This was the first time he didn't feel he had to please his rough-and-tumble hometown of Newcastle, an industrial city about 100 miles up the coast from Sydney. "I realized I could extend my horizons," he remembers. "In school, I didn't want to do something outrageous that would get me beat up."

The result was the 1999 album Neon Ballroom, an eclectic mix of polished pop and orchestral ambition -- classical pianist David Helfgott, who inspired the movie Shine, contributed -- that had critics taking notice. It seemed Johns was starting to owe as much to Brian Wilson and John Lennon as Eddie Vedder.

Though Ballroom wasn't a hit in the U.S., it was a smash in Australia, and Johns was emboldened to be more adventurous for the next set, the striking and ambitious Diorama in 2002, a CD that reportedly had Bono raving, "Swim to Australia to hear them if you have to." Once again, though, American music fans ignored it.

But then two major life events interceded: Johns was struck with reactive arthritis, a crippling disease that landed him in a wheelchair and seeking treatment in the U.S., and he married singer Natalie Imbruglia, who had the 1997 hit, Torn.

"I met my wife and she's responsible for getting me better," Johns says. "Without Natalie, and without my mother, I'd still be looking for doctors. It was really quite horrible."

(Through it all, he found time for a more electronic and experimental side project, the Dissociatives, a 2005 collaboration with techno producer Paul Mac.)

These days, Johns -- who now calls London home -- is back on his feet, his craft and confidence radiating through Silverchair's just-released ebullient new disc, Young Modern. Once again working with producer Nick Launay (Talking Heads), mixer David Bottrill (Muse, Tool) and longtime Beach Boys arranger Van Dyke Parks, Johns has turned out one of the year's most refreshingly optimistic albums.

"I listen to the vocals [on Neon Ballroom] and I can hear how sick and anxious I sounded. When I started getting better during Diorama, I can hear the joy in the music," Johns says. "Then I got sick after Diorama and Young Modern is the best example of how the illness affected me. [It] has a real sense of gratefulness and appreciation."

With Young Modern just entering the Billboard charts at No. 70 and Silverchair touring the U.S. (no Texas dates yet), Johns hopes that American pop lightning will strike twice. "We feel really lucky that we're not a nostalgia act. [Crowds] aren't yelling 'play Tomorrow.' [But] we would like for people to reassess their perception of Silverchair in America. Mainstream America remembers us as the band with the frog on the cover," says Johns. "It's not a question of how big we become. It's a question of being known for what we are instead of what we were."