10-08-2007
Crossing The Divide
By Patrick Donovan (The Age)
http://www.theage.com.au/news/music/bmusicb-bernard-fanning-and-daniel-johns-sit-down-for-a-chat/2007/08/09/1186530488850.html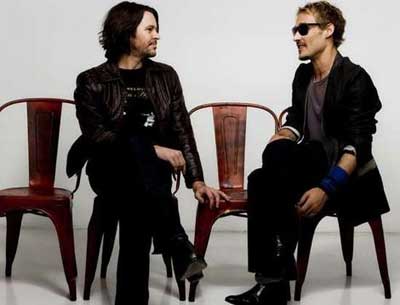 Across the Great Divide is at Rod Laver Arena on September 18 and 19.

In the lead up to the national Powderfinger and Silverchair tour, Across the Great Divide, EG's Patrick Donovan talks tunes with Daniel Johns and Bernard Fanning.

JOHNS wears army pants, an emerald-green suit coat over a white T-shirt, a pink scarf and black Blundstones. His eyes are smeared with blue-green eye shadow, his chin adorned with a manicured goatee.

Fanning is dressed in blue jeans, black T-shirt and a messy three-day growth. His recently washed brown hair frames his face.

The interview begins with a discussion about technology and compilation tapes.

EG: If you could make a compilation tape for each other, what would you put on it?

BF: The best of Pantera, because that's how we met, when we were both supporting (heavy metal band) Pantera in Newcastle in 1994. Some Gillian Welch, some Lightnin' Hopkins, because he's got so much mongrel. And because my wife is Spanish I've gotten into a lot of Flamenco singers from the 1920s recently.

DJ: Are you visually going through your CD collection, or are you scrolling down your iPod list?

BF: I was actually going through my record collection.

EG: How about you, Daniel?

DJ: I always assume that Bernard's already heard what I like. I would also put my best of Pantera on one side, and the rest would be great singers, because Bernard's got a killer voice, like William Elliott Whitmore. His voice is as damaged as Tom Waits but as beautiful as Thom Yorke's.

EG: How important was a band like You Am I to both your groups when you started out?

DJ: When we were coming out of the gates we all looked up to You Am I. When Sound as Ever came out I thought, "This is the future", it was like the Replacements. There were only a handful of bands when we were really young that were actually nice to us. It was like Powderfinger, You Am I and the Meanies, they didn't make us feel like little arseholes who stole their thunder.

BF: Because they didn't have a nice tidy bow at the end of their songs, like both our bands did, commercial radio didn't play them much. You Am I often had outros and spaced-out jams at the end of their songs, and apparently people from Triple M didn't think that people listening in the factories liked that. It may have been a lost opportunity and they may have replaced one of our bands, but then again, if it had been flogged on the radio it might not have worked.

DJ: Yeah, there's only so much room (at the top).

EG: What kind of politics is involved when two bands go on the road?

DJ: As a musician, it's not a question of being a "senior" band. We just finished a tour with Dappled Cities Fly who have sold no records, but they inspired me every night.

BF: When we both started playing, that hierarchy thing in Australian music, where the support band had to load up and the crew got treated like shit, started getting chopped away.

DJ: When you're overseas, there's a bit more attitude. But Australian bands just want to hang out, drink beer, smoke pot and talk about music.

BF: You see it at the Big Day Out. Overseas bands are so used to having a hierarchy. That's why Nic Cester did the (Stevie Wright tribute band) the Wrights: to get musicians to play together as well as drink together. To foster some camaraderie. It shouldn't feel like a rivalry, because you can't compare music, as it's purely about personal expression.

EG: What do you think about reviewers?

BF: Some reviewers say they don't like an album, but they are trying to be destructive. It's uninformative. It would be fine if they said "the structure of this song is crap".

DJ: It's fine to read a bad review if it's obvious they have listened to it and they're not just being vindictive.

EG: Do you feel uncomfortable about the ARIAs, then? I know you felt uncomfortable about winning the best blues and roots prize, Bernard. Surely that prize should have gone to a blues artist who can't afford a new pair of shoes?

BF: That's exactly right, but we don't have any control over it. It's just a lottery with the ARIAs.

EG: You share the record number of ARIA awards - 14. Will there be a rivalry at this year's awards?

BF: Silverchair and Powderfinger have never gone up against each other in any year.

DJ: As long as the wins are split evenly so we come out with the same amount, I don't care what the award is. (Johns laughs.)

EG: Your two bands have been playing about the same length of time, yet Bernard, you are 10 years Daniel's senior. What advice do you wish you were given a decade ago?

BF: It's hard to tell, because 10 years ago Powderfinger were really determined to crack Europe and America. The way you approach your career really affects how you are as a person, and your relationships. And that in turn determines how your career goes. I've never had to deal with paparazzi, though. What's that like, Daniel?

DJ: It's just ridiculous. I never had it that much until I married Natalie (Imbruglia) and we moved to London. The first 18 months was like, "You're kidding?" You'd just be getting a coffee and photos would end up in New Weekly or something. It's weird, because you never agreed to being in these magazines. I hate the idea that you don't have to approve these things.

EG: Are you embarrassed by it?

DJ: I used to be, but I've come to just accept it.

BF: I'm more comfortable now with autographs. You're in a public place and someone comes up to you so you sign something for this one person that knows who you are and what you do. But there's all these other people who are going "Who's this wanker?" They're the people that I'm embarrassed about.

EG: You also both used to be shy on stage. How did you accept becoming the showmen that you are today?

BF: It's just growing up a bit and getting more confidence. I always liked really extravagant performers like Bowie and KISS, but Powderfinger used to be very dour and "Don't be a wanker, keep your head down". As we got more successful and people started to show confidence in us, we realised that it's fun to perform. It's more fun for you and it's much more fun for the audience. People are paying to come and see you play. And unless that's your thing, and you're not supposed to engage, like Morrissey or Sonic Youth, then you are charged with a certain responsibility to be a bit more extroverted.

DJ: When we started in the early '90s, you weren't supposed to act like a rock star, it had to be the music and nothing else, so it backed you into a corner. You get more confident and then you see people responding, and before you know it you're an out-of-control wanker drinking bourbon on stage.

BF: Playing guitar solos on your dick.

EG: Do you feel a personal kinship with people who buy your albums?

BF: Not on a personal basis. Someone buys a record and gets out of it what they want. They don't have to feel what we feel when we're writing the songs. I know emo's very much about everyone feeling the same way, but I feel the opposite. Live shows are different and that's why we are excited about playing shows in towns we haven't played before. And we're taking the full show to every town we play. Wodonga will be the same show as Sydney.

EG: You've both undertaken side projects to get your creative juices flowing. But when you are looking at a long tour, do you want the backing of your old trusted band mates?

BF: Yeah, it's totally different to my solo thing. We've got a lot more material to choose from. Any tour can become a bit routine and boring, but we're going to try and mix it up.

DJ: The Dissociatives had only one album to play every night - we could never do nine weeks of that. But coming back to your old back catalogue is really exciting.

EG: You both made political statements at the last ARIAs, seemingly frustrated by an era of political complacency among Australian musicians. But the industry seems to have been awakened in the past eight months.

DJ: I don't think it's as a result of anything Bernard or I said or did.

BF: (Midnight Oil's) Rob Hirst gave everyone the biggest kick up the arse. What he said didn't change my point of view about writing songs, but I think it's given the media a bit of awareness to start poking people about it. It's just a reflection of the complacency in society. Once you write a song like Black Tears, you are expected to repeat your views ad nauseam, that's part of our job, talking to you guys. And if it's not something you have a lot of conviction about, it becomes completely trite. I know that when I made my solo album, I wasn't in a very good emotional state, so I wasn't in a position to publicly comment on political issues. I think that's something that people, including Rob when he said what he did, don't consider.

Across the Great Divide hits Gateway Island, Lincoln Causeway, Wodonga, on September 12; Ornamental Gardens, Mildura, on September 14; the Prince of Wales Showgrounds, Bendigo, on September 15; Ballarat Showgrounds, Ballarat, on September 16; and Rod Laver Arena on September 18 and 19.