05-08-2007
Silverchair Makes Triumphant Return to Chicago
By CHRISTIAN POWILLS (luminomagazine.com)
http://www.luminomagazine.com/mw/content/view/2109/4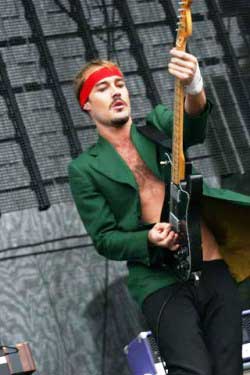 What exactly is a great start to a show? Well being a big band, with an established name and a sure craving from the crowd to see an electric performance is a big help. Before Silverchair even came onto the stage the crowd was shouting the popular Australian chant of "ausie ausie ausie oi oi oi." This popular Australian band had the crowd pumped and ready even before they came out onto the stage.

Anticipation is huge, especially when its at Lollapalooza and Chicago hasn't been privileged to your band in forever. Silverchair had the perfect setup for its second day early afternoon performance.

Frontman Daniel Johns has definitely used his Australian accent to his advantage, echoing out a unique sound that not too many American bands are able to produce, and should be jealous of. Why is it so often that musicians not from the states can usually sing better English sounding lyrics than we can?

For Silverchair, their fame continues to grow, which seems fairly consistent for bands that make it past the 10-year mark as a band. And it always helps that you know you've obtained fame when you can throw a guitar pick in the crowd and have over a hundred people scurrying and pushing to try and grab it – including myself.

With two keyboard players, that's right, two keyboard players, this just shows another unique aspect that adds to the whole creation of the experience of Silverchair. As the melody flowed over the audience, individuals are put into a trance of listening to great rock and roll – thus prevailing this band back to the top of the fans love.

With impressive lyrics and an impressive classical rock sound, Silverchair is able to capture many fans.

Silverchair received a great attendance regardless of the numerous of other bands and groups playing at Chicago's Lollapaloza – they were the day's early headliners and grabbed a spot among the select few bands the crowd would have happily given a later slot on the big AT&T stage. So give it to the Ausies again for producing a favorite band of many Americans. Ausie Ausie Ausie oi oi oi.