04-08-2007
Lollapalooza - Chicago, USA
By MARINA

The following could be considered an "epic novel," but the read is well worth it: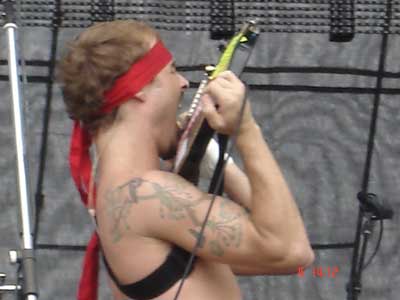 Most girls dream about becoming princesses or their wedding day. I am definitely not "most girls." For 8 years, my goal has been simple: see Silverchair in concert. This wasn't just any personal goal of mine, but rather a dream that I had hoped with all of my heart to come true. Disappointment temporarily crushed my dream when "Diorama" was released since it could not be followed up by a tour. However, on April 14th, 2007, the dark clouds parted, and this dream that I had been having was finally about to become a reality.

113 days later (it was only fitting that I keep count), the day had finally come! Once I arrived in Chicago and entered through the giant gates of Lollapalooza next to the gigantic, beautiful Buckingham Fountain, I couldn't do anything but walk as fast as I possibly could to the AT&T stage where Silverchair would be performing only a few hours from then. After waiting for a long while at the stage, beaming with happiness that I was in the front row, and making new friends thanks to our shared love for Silverchair, Ryan Manno, a DJ for Chicago's radio station, Q101, comes out introducing Silverchair as "the best hour in the entire three days of the festival," out comes Chris, Ben, Paul Mac, and Daniel Johns! Chicago was definitely an enthusiastic crowd chanting "Silverchair! Silverchair!" incessantly. The performance that followed was rivaled by none that day.

Every single song was strong, and had a beyond positive response from the crowd. Everyone began jumping from the get-go with "Young Modern Station" leading off the show, followed by "Emotion Sickness," where the crowd went absolutely nuts, and "Without You," a favorite among many.

Everyone could tell that the guys were ecstatic to be there, and Daniel Johns' charisma and sense of humor shined bright. He would crack little jokes here and there introducing songs like "this is dedicated to Oprah..
And Steadman," "this song is dedicated to everyone. except you," "this song is all about me," or "Chris wants me to tell you guys that we're not gay, but you can judge for yourself."

I have been to so many concerts, I have lost count, but Silverchair was by far the best because, unlike many, you could tell these guys love it, and they're doing it not only for the fans, but for themselves.

Lollapalooza was also a special occasion for a band member as well. Daniel announced that it was Paul Mac's birthday. He proceeded to sing Paul "Happy Birthday" with the crowd backing him up tremendously, and concluded with "Happy Birthday, Paul. May you have 26 more!"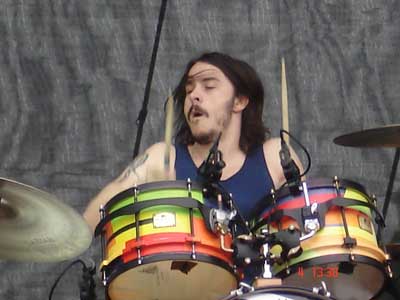 My mind was a bit clouded from the excitement, but the set list went a little something like this (it's more or less the order it went by):

Young Modern Station
Emotion Sickness
Without You
If You Keep Losing Sleep
Reflections of a Sound
The Greatest View
Insomnia
The Door
Ana's Song (Open Fire)
Straight Lines
Mind Reader
Freak

It was a brilliant performance that could have not been any better because it was already at perfection. The guys were enthusiastic with Paul Mac jumping in his seat and, according to Daniel "breaking his keyboard, but he can manage since he's a professional," Chris and Ben's undeniable chemistry on all of the songs, and Daniel jumping up and down on stage like a madman, writhing on the floor, and climbing on top of Paul Mac's piano.

More than 24 hours have passed since this performance, but I'm still shaking in excitement and happier than ever to have had one of my dreams and "things I need to do before I die" completed. Now, a new dream is born: I GOTTA DO THAT AGAIN!
---
By MB
Silverchair's set at Lollapalooza was certainly the highlight of the weekend for me. I have waited eight years for the band to come back to Chicago, and it was a spectacular performance. Daniel did a good job of working through some technical problems and getting the casual fans involved. Setlist-wise, I would have loved to hear Tuna instead of The Door, but I understand they have to play certain songs. Throwing one or two from Frogstomp would be cool too.
Afterwards, I was watching Muse from the back of the field and I spotted Daniel walking by. I thanked him for coming back to Chicago and said that I had been waiting a long time. I also asked for a quick picture and he and his friend were kind enough to oblige even though it was drizzling.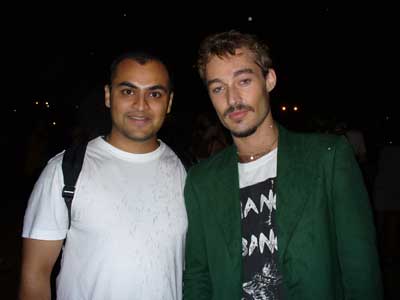 Great show, and great to have you back on this side of the planet, finally!
Young Modern Station
Emotion Sickness
Without You
Greatest View
Insomnia
Reflections
Straight Lines
The Door
Mind Reader
-Happy Birthday to Paul Mac-
Ana's Song
If You Keep Losing Sleep
Freak