01-08-2007
Phoenix - Toronto, Canada
By NATE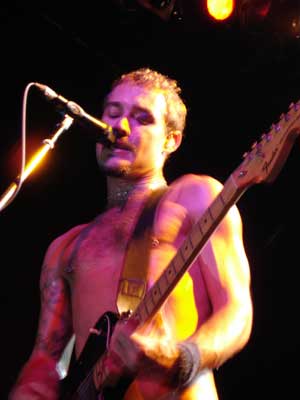 Without a doubt, Silverchair's performance at the Phoenix in Toronto on Wednesday night was not only the best of the tour so far, but a show so flawless it will go down in the annals of Silverchair history as one of their finest performances to date.

Toronto has always been friendly territory for the band. The city has been home to many memorable stops from the SARS scare of 2002 to the unforgettable monsoon performance at Edgefest '99.

Wednesday's show was short, clocking in at 13 songs, since "Low" was dropped from the list but lead singer Daniel Johns' voice seemed completely recovered from a long bout of Laryngitis. There were no signs of struggle, which is good considering the band will be performing at one of their biggest U.S. gigs ever, Lollapalooza on August 4th.

From the booming sound of the Phoenix to the unbelievably humid conditions, the club was ripe for an unforgettable show and Silverchair delivered. Diorama producer David Bottrill was in attendance and the guys from down under hit the stage like a hurricane.

"Insomnia" continues to kill in the live setting and "If You Keep Losing Sleep" may be the most intricate and rewarding song off "Young Modern."

"Ana's Song" swayed with a beautiful heft and "The Door" came off as positively electric. There was no rain Wednesday night, but Silverchair captured lightning in a bottle.
---
By MARK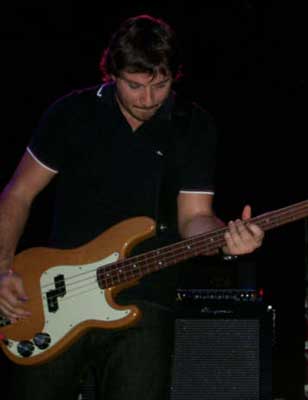 The Silverchair train pulled into Toronto's Phoenix Concert Theatre on August 1st and boy, as usual didn't let the faithful down. Arriving in line (around 10am) about 9hours before doors were supposed to open to esure we had one of the greatest views in the house...there were about 10 people who arrived before us so the 9hours went by fairly quick with food runs and washroom breaks a plenty during the wait. I was in shock and filled with jealousy when I found out one of the girls in front of be had been to every show on the tour and was also attending the rest of the shows...this took me from thinking i was one of silverchair's biggest fans to being just some guy in line early...and to top it off she is doing this by herself...this girl all about Silverchair...during the wait in line Silverchairs bus showed up and ben hopped out and was on his phone and turned to walk up the path where the line was and the look on his face when he seen people were in line already was one of shock...thankfully everyone in line with us were grown up enough to not run after him and let him talk in peace.
Later on in the wait we got a chance to see Paul Mac try to hail a cab...his 1st few attempts failed but he eventually got to where he was going...followed by Ben and Chris who also hailed a cab. after hours of waiting the scalpors showed up and with an extra ticket to sell i went to see what the were asking for a ticket so i had a price range to go on...they were selling them for $100 and when I asked for face value he offered be $10 I'd rather lose the $40 than give one of these dirtbags a chance to make anymore profit then they were that night...
Now onto the show...We Are The Fury opened and well...thats about all the mention the deserve in my opinion...I don't think Silverchair even require an opening band. Then the boys came out throngs of screaming and clapping and wasted no time busting into "Young Modern Station" Behind the kit Ben was rocking a pink wig, which was halirous...i think he must have stolen it from the singer from "We Are The Fury". Young Modern Station was followed up by "The man who knew too much" Although I was aware of the acoustic songs being taken out of the set due to Daniel's laryengytis battle he sailed through a beautiful version of ana's song without flaw (a day off probally helped the cause) which was one of the nights stand out songs...Emotion Sickness was done amazing and as always was a stand out song...I hope this song never leaves the set list because I can't get enough of it.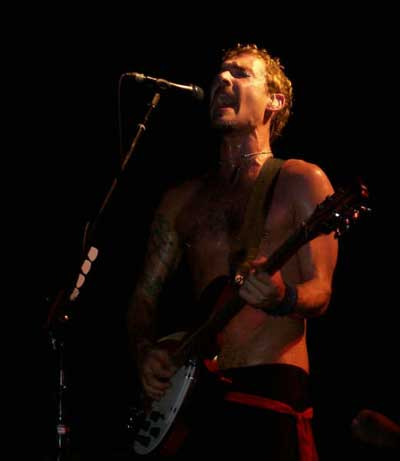 After busting through more songs form the young modern and diorama years out came Daniel with his green sticker covered PRS...and any chair fan knows that guitar means one thing...its time to rock...daniel quiped into the mic "were gonna go on a little stroll through memory lane" and the crowd just went nuts as Daniel ripped through another nightly highlight "The Door" and even giving Chris some time to do a little solo action. After The Lever the boys left the stage where chants of "SIL-VER-CHAIR" started up almost before the band was completely out of view...after a few minutes the boys were back and played one of my favourie songs "If You Keep Losing Sleep" which was done amazingly, and even through in some sing alongs for the crowd.
After a quick guitar switch I knew what was next...it was time for the closer...it was time for "Freak" Although Daniel admits to not liking this song very much the crowds reaction to it everytime makes it worth playing for him...Daniel even got the crowd singing "bosy and soul i'm a freak...i'm a freak" a few times before busting back in to the song. After the band left the stage I was covered in sweat and once again left in awe and wanting more...i stuck around hoping for a set list/drum stick/guitar pic...anything...and when it all seemed hopeless i walked towards the mearch but seen a tech guy at the side and i asked him if he had a pick or anything...he said he didn't think so but would check...and true to his word after a quick search he came across a pic and gave it to me...which was a perfect way to end the night...I along with the other 900ish people at the show can't weait for the next time the Silverchair Train rolls into Toronto for a stop...but unlike most I will be the when the Train rolls into Detroits St. Andrews Hall...
Cheers boys, to another amazing show!!