29-07-2007
Paradise Rock Club - Boston, USA
By NATE
Photo by CRAIG S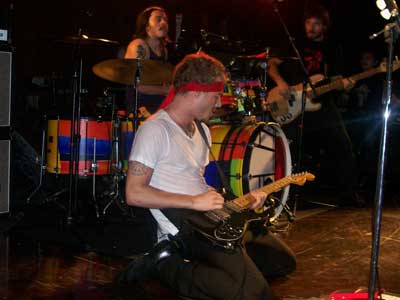 In a much more intimate setting than the previous three shows, Silverchair's Boston performance at the Paradise was perhaps their most restrained but ultimately most rewarding show of the tour so far.

Things got off to a rocky start when Daniel Johns' guitar cable shorted out during the climax of opener "Young Modern Station," but trusty guitar tech Bailey Holloway quickly remedied the situation. "That's never happened before," quipped Johns a few songs in.

The sold out crowd was mesmerized by a near flawless rendition of "Ana's Song," and a blazing rendition of "Emotion Sickness." Still, night after night, one of the live highlights continues to be "Insomnia" which is tucked away deep in Young Modern but sounds so big live. The live version has more of the soft/loud dynamics that put Silverchair on the map and the mid-song breakdown that leads into an extended groove has been a highlight of each show on this tour.

As opposed to Philadelphia, Johns and company were more restrained. He refrained from telling his parrot or koala joke, genuinely thanked the crowd and kept the banter to a minimum. On this night it was all about the music and the music spoke for itself.
---
For All The Right Reasons
by Paul Letendre - PaulLetendre@hotmail.com
Silverchair is currently halfway through their first full-scale North American tour in eight years. It's one of many triumphs the band is currently riding. Their latest release, 'Young Modern', is the fastest selling album of their career in their homeland of Oz. Like their four previous releases, it debuted at 1 on the ARIA charts (the Aussie equivalent of the Billboard charts), giving the band bragging rights as the only band down under to have ever debuted five times at the top of the charts. Not AC/DC, Midnight Oil, or even INXS ever achieved such a feat. With such a remarkable success story overseas, the question now being posed asks if Silverchair can recapture the success they enjoyed on American soil over a decade ago. Although nothing can provide an answer as accurate as time will, tonight's sold-out show at Boston's Paradise Rock Club could provide a partial glimpse into the future.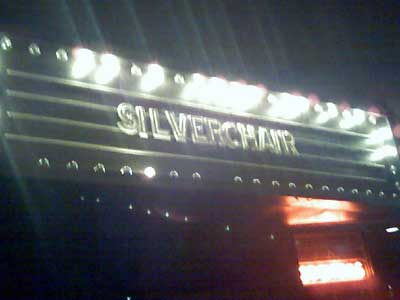 As the unfamiliar sounds of a newly renovated Silverchair descended upon downtown Boston, yesterdays fans of 'Tomorrow' had no choice but to live in today. Eight of tonight's fourteen songs were lifted from the bands newest release, 'Young Modern', and despite the lack of familiar tunes, the crowd responded with the warmest of welcomes. Well, at least for the most part.
"Play some old shit already" shouted one patron during mid-set, to which singer/guitarist Daniel Johns chuckled and replied, "We're about to you impatient c*nt." Such a statement couldn't have been better timed as the band launched into a funky rendition of 'The Door' from 1997's Freak Show. It was one of only two songs to be lifted from the former grunge trio's early catalog, and hardly anyone could argue with that decision.
In addition to the bands latest and most adventurous material, fans were treated to some of the group's most timeless classics, such as 'Emotion Sickness' from 1999's Neon Ballroom, and 'The Greatest View' from 2002's Diorama Silverchair's latest single, 'Straight Lines', was one of the best-received numbers from the evening with a passionate sing along. It was only part of the evening's proof that 'Young Modern' is a multi-dimensional album offering sweet, psychedelic ear candy reminiscent of the Beatles' late 60's era.
The most die-hard fan favorites, such as the six-minute falsetto opera/rocker 'Tuna In The Brine', had to be omitted from the set due to a slight case of laryngitis that frontman Daniel Johns has been trying to fight off since their appearance three weeks ago on The Tonight Show with Jay Leno. Acknowledging his noticeable rasp, the frontman lived up to his 'modern' optimism when he told the crowd, "I still have laryngitis. That's why I sound extra sexy."
Silverchair have become one of those rare bands, like The Flaming Lips, where song quality is increasing as record sales (at least in America, so far) are decreasing. The band is clearly capable of giving the American music industry what they want, but they'd much rather maintain their artistic integrity. Possessing that admirable musical mission, it's easy to see why Silverchair has earned such a loyal fan base. They're doing something that few artists can summon up the confidence to do They're playing music for all the right reasons.
'Young Modern' is out now through Eleven Music/Warner Bros. Independent Group. You can stream the entire album online for free on Silverchair's official website, www.chairpage.com. Posted below is the set list from the Boston performance.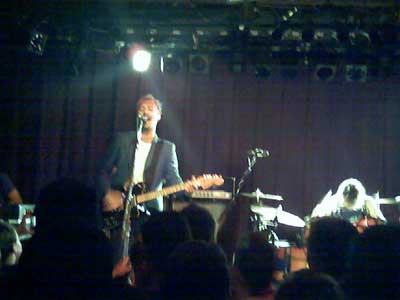 Young Modern Station
The Man That Knew Too Much
Reflections Of A Sound
Emotion Sickness
The Greatest View
Ana's Song (Open Fire)
Insomnia
Low
Straight Lines
The Door
Mind Reader
The Lever
(Encore)
If You Keep Losing Sleep
Freak