28-07-2007
Fillmore at the TLA - Philadelphia, USA
By NATE
All photos by JENNIFER

Building on the momentum of Friday night's raucous New York City performance, Silverchair headed a little over a hundred miles southwest to put on the most entertaining of their last three east coast shows.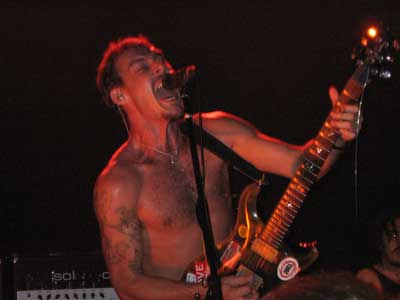 The Philly fans, who sold out the Fillmore, were eager and not shy about singing along or indulging the crowd participation whims of lead singer Daniel Johns.

Dropping his head wrap and eye patch, Johns went shirtless for the majority of the evening, only wearing his green blazer for the first few songs and then donning a pink low cut women's shirt for set closer, "Freak," after an adoring female fan through it on stage.

The music seemed a bit tighter on this evening and although he once again acknowledged his laryngitis struggles, Johns' vocals seemed to hold up better throughout the set, perhaps a sign his voice is improving.

"Without You" was dropped from the set on this evening and replaced by "The Greatest View." Fans of the epic triumvirate "Those Thieving Birds (Part 1)/Strange Behavior/Those Thieving Birds (Part 2) " will have to patiently wait for the track to return to the set.

For those traveling between the east coast dates, it's apparent that the group's performances have become quite physical in nature. For someone that was at one point debilitated by reactive arthritis, Johns is more active than ever onstage, perhaps more immersed in his music and grateful that he overcame that obstacle.

The rhythm section of drummer Ben Gillies and bassist Chris Joannou kept the ship steady while keyboardist Paul Mac's presence has given all the songs he plays on an added boost and level of nuance that keeps their live renditions fresh.

All in all though, the group is showing a tremendous level of road stamina and the performances seem to be getting better each night. Despite vocal issues, each of the last three shows has been an improvement on the prior, so forecasting the next shows on the tour, things are looking good, really good.
---
By ANONYMOUS
Great show, the crowd was completely into it and so was the band. Daniel said his voice was still bothering him and asked everyone to sing along and everyone did for every song. Great setlist, they played for almost 2 hours. Got to hear the stoned koala joke, lots of interaction with the audience. Before "Freak" some girl threw her top on stage and Daniel put it on (with some help from Chris) and wore it through out the song. During "Insomnia" Daniel climbed up on Pauls keyboards, quite entertaining. "If You Keep Losing Sleep" was nuts everyone sang every word and they started it back up 4 times cause everyone kept doing the harmonies once they stopped. "Ana's Song" and "The Door" were great, lots of energy. "The Lever" was awesome as well, very heavy live. All in all best concert i've ever been too. Can't wait till they come back.
Setlist:
Young Modern Station
Man Who Knew Too Much
Reflections Of A Sound
Ana's Song
Straight Lines
Insomnia
Low
The Greatest View
Mind Reader
Emotion Sickness
The Door
The Lever
Encore:
If You Keep Losing Sleep
Freak
---
By BRAD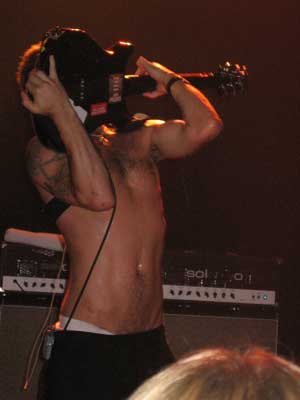 I thought I had seen it all Thursday night in NJ. I thought could Silverchair, with Daniel still somewhat sick, possibly top the previous 3 shows I've seen (2003 Bowery, 2007 Webster Hall and Thursday in NJ). Well, they did. Playing the same set list, except substituting Greatest View for Without You, Silverchair came to Philly and reminded everyone why they are simply one of the greatest live bands ever! I think they proved tonight that Young Modern may be there greatest album to play live. The Energy that was released was incredible.
I got there at 3:30 (8pm doors) and there were already 10 people in line. The wait seemed forever, but nobody complained or moved for fear of losing there spot in line. When the doors finally opened everyone made a mad dash for the entrance and rushed up to the stage. I positioned myself right in front against the baracade. To my right was my friend Mike, who still couldn't believe we were about to see Silverchair again! To my right was a kid, who came from Missouri, to see Silverchair for the first time. We Are The Fury came out and rocked solid for a while, definitely one of the better opening bands I've seen. Then the lights went out and the sounds of the train rolling into Young Modern Station came over the speakers and the crowd went nuts! Daniel, Ben, Chris and Paul Mac all combined to put on a spectacular show. Daniel was his usual crowd friendly self, which makes the show that much more enjoyable. He told the Koala joke, which was accompanied by Paul and Ben's sound effects. Its so funny watching Daniel act out the joke too.
Even better, before he played the closer, Freak, some girl threw her tank top shirt on stage. Myself along with many others immediately yelled "put it on," and Daniel without hesitating threw the shirt on. It was hilarious. Its just so awesome to see those guys up there smiling away having a good time and just sending waves of incredible sound into our ears. This was my second show and personally I wanna see more...maybe all of them! Silverchair is simply the greatest, most entertaining band out there right now!
---
By ANDREW
I've waited 8 years to see a certain band I greatly admire. My first attempt in February failed when I got kicked out (don't ask), but I got a second chance, and this time it was in my city Philadelphia. So on July 28th, I waited patiently until I heard the train start moving (cue sound fx) and they came on stage.
The band was in such a great mood, reminding me of Homebake 06'. The only word to describe Dan that night was "playful". He acknowledged he was sick but I thought he was spot on all night and he did alot of cool change ups with the melody at times. Chris moved around alot and Ben seemed happy. Paul was hard to hear at times and pushed to the back but he was still rocking out and I could see him exchanging glances and smiles with people. And piano player #2 (I'm sorry your name escapes me) was cool too and should get more love.
ALOT of highlights that night:
"Emotion Sickness"- the crowd went nuts and I got shoved halfway across the room (i've been in worse). There was alot of interaction from then on with the crowd singing "get up" to Dan, which was amazing.
The crowd singing "Straight Lines" when Dan said "Cmon Philadelphia make me famous" haha
The Koala joke FINALLY got told again. It was referred to as the "classic". It took forever to tell since Dan kept laughing and Paul and Ben added in sound fx for it. Definately a bootleg to get.
"Low" got torn up. Couldn't believe how great it sounded live and the guitar pose on top of Paul's keyboard was such a perfect ending.
"IYKLS" was by far a thumping song to rock out to. It is so fun live. The "shot the model" part, everyone just leashed out screaming that line. The energy was just amazing from this song. The ending just kept going. The crowd did not want it to stop obviously making Dan laugh.
They decided to pull out "Freak" saying we deserve a prize. haha. At that moment a girl throws her shirt at Dan so he takes the guitar off and decides to put it on.
And the whole song he's singing, rocking out, wearing it. Haha. Perfect for that song.
By far the greastest experience of the night for me was "Ana's Song". Who said that this song doesn't have emotion live anymore?!?!?!?!?! This tune gave me chills. It was spot on perfect. In the beginning Dan tried to quiet the crowd down (Boston 99' gig anyone?) He began a really cool intro, playing around with the chords a bit but the crowd got out of control when he was about to sing the first note. He burst out laughing and it took one more attempt before he could actually start. And when those words came out, I could feel the crowd just melt and I felt all that emotion through his voice. It gave me chills. And the whole song I couldn't sing along. I stared in awe. This was what I was waiting for. This was the greatest moment. The first song I heard from the guys way back in 99' that got me to where I am today as a musician and as an avid music lover.
The crowd seemed to be in high spirits all night though a little pushy. I've seen bands at the TLA before and never have I been there so packed. I first off couldn't believe that they were all over radio, (all my friends have told me), and to have a sold out show here in Philly was wayyyy cool.
Yea so there was no "Across the World" , no Frogstomp tunes, and only "The Greatest View" for Diorama lovers but really it was a great concert and the band was top notch. They've never been this strong and the new tunes are all amazing live. If you haven't seen this band yet, this is the time to see them.
Alls I gots to say to Silverchair and crew: Yo dawgs, you made my night and summer. You've been the biggest influence on my own music and to finally see you guys perform at the best point of your career, it's just a blessing. Thank you and keep on rockin'.