27-07-2007
Growing up in public
By Sarah Rodman (The Boston Globe)
http://www.boston.com/news/globe/living/articles/2007/07/27/growing_up_in_public/
Growing up in public
Silverchair has aged out of the teen angst of its first CD. The band's new disc is full of sunny pop.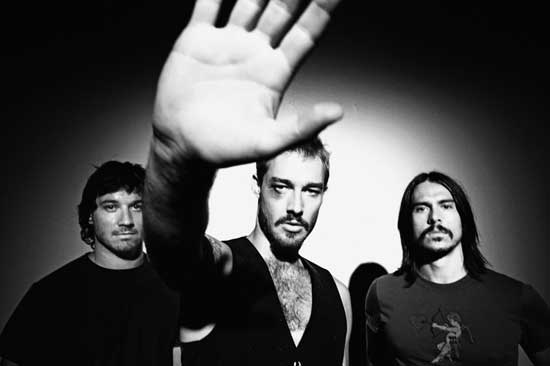 By Sarah Rodman, Globe Staff | July 27, 2007

Remember that poetry you wrote as a shy teenager that earned praise from the English teacher for its maturity? How about the high school musical performance that prompted a standing ovation?

This is the world of Silverchair.

"I think a lot of people in the States still associate Silverchair with being a teenage grunge band because our first record was really successful over here," says the Aussie trio's singer-songwriter Daniel Johns.

Indeed, when the band hit these shores in 1995 with the debut album "Frogstomp," the junior Nirvana show they were peddling didn't just smell like teen spirit, it walked, talked, and embodied it. The trio of scrawny 15-year-olds -- Johns, bassist Chris Joannou, and drummer Ben Gillies -- came authentically to their teen angst, and it paid off well as cathartic rockers "Tomorrow" and "Pure Massacre" became major modern rock hits. With his stringy blond locks, woebegone demeanor, and anguished wail, Johns may have been aping heroes Kurt Cobain and Eddie Vedder but he was doing a very good job of it. Or at least as good a job as older peers like Bush.

"We wrote our first record when we were about 13 or 14, so I didn't really know what my voice was, to tell you the truth," says Johns. "I was trying to sound like people that I liked." He's on the phone from Portland, where the band was launching its first US tour since 1999 after a four-date postponement due to laryngitis.

Silverchair subsequently released several well-received albums in Australia and other parts of the world, but for many above the equator, the story ended in '99 with the minor hit "Ana's Song (Open Fire)," which dealt with Johns's battle with anorexia.

Those attending the sold-out show at the Paradise Sunday may be in for a big surprise. Not only does the band eschew its early hits, but the songs on its recently released baroque pop disc "Young Modern" are a dramatic shift from the bash and dirge drone of the Silverchair of yore.

Legendary Beach Boys collaborator Van Dyke Parks dresses up the proceedings with string arrangements, and the influence of Beach Boy Brian Wilson can be felt in the exuberant pop melodies. Johns has deepened his pool of inspirations, too, swimming from David Bowie glam to Roxy Music art pop. In total, "Young Modern" is as bright and lively as "Frogstomp" was dark and angry.

"I think if you listen to the whole catalog you can hear the progression, particularly how Daniel has grown as a writer," says Dave Bottrill, who mixed "Modern" and produced the band's last album, 2002's game changer "Diorama." "He's an extremely young musician just learning his craft and over the years has grown and developed into what I think is a major songwriter. He's gone through lots of changes, because that's what people do when they're growing up.
Oddly enough, Johns decided to lighten up after an intensely difficult period that would have sent most songwriters lunging for their best pitch-black metaphors.

Following the commercial failure of 2002's "Diorama" in the United States -- it sold less than 100,000 copies here while going multiplatinum and garnering awards in Australia -- Johns says he argued vociferously with his record company. "Then I ended up getting really sick, it was a really dark time. I had about two years of being hospitalized, and I was in wheelchairs and on crutches."

Johns had developed reactive arthritis, hastened, he believes, by the anorexia.

"It was definitely brought on because of stress. But I think it was present in my body because of all the damage I did over five years of not eating. . . . By the end I couldn't move. That was not a very fun two years."

The moment he regained the use of his hands Johns began to play music with a new mission. "I started writing and I just thought whatever I do, from now on I want to do it for good and not evil," he says with a laugh.

His outlook was bolstered by his 2003 marriage to fellow Aussie pop star Natalie Imbruglia. A side project with friends, called The Dissociatives, and reconnecting with Gillies and Joannou at a tsunami victims benefit in 2004 helped as well.

Johns's sunny disposition winds its way through even the most solemn corners of "Young Modern." Given his hospitalization and recovery, lyrics like "waking up strong in the morning, walking in a straight line/ lately I'm a desperate believer in walking in a straight line" have an earned bittersweetness that is offset by Johns's soaring vocals.

"Being away for so long, I think this album will actually reach a whole bunch of new fans that really don't know much about what Silverchair was about before," says Bottrill.

For those who have kept up, Johns is grateful but flummoxed.

"I'm always shocked when people say I've liked you right from the start, because I can't imagine someone liking 'Frogstomp' and then liking 'Young Modern.' Because even me personally and the band included, we all listen to the first two albums and we like them or whatever, but we would never listen to that kind of music. That's the kind of music we listened to when we were 14 or 15."

Amazingly, the band has yet to come across a fan hollering out requests for the old songs.

"We're in a really fortunate and blessed situation where the people that are into Silverchair now are actually into the future and they don't want a lesson in the history of grunge, or to be overly sentimental. They just want to hear what's going on and what's going to happen as opposed to what happened 10 years ago."

But, Johns concludes with a laugh, "Now that I've said that, it will happen."