21-07-2007
Last Night: Silverchair at the Showbox
By Michael Alan Goldberg (seattleweekly.com)
http://www.seattleweekly.com/music/blogs/reverb/2007/07/last_night_silverchair_at_the.php
Silverchair
July 20,
The Showbox
Better Than: "Post-grunge."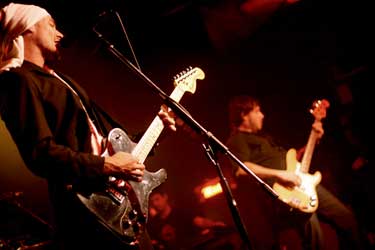 For me, seeing Silverchair rock the Showbox was a little like running into that scrappy kid from high school — the one you were kinda friends with, but lost touch with years ago — at a reunion or something, and seeing how far they've come and how successful their life is. I suspect I wasn't alone in feeling that way: Although they've been arguably the biggest band in their native Australia for the past decade-plus, most American music fans think of the trio of Daniel Johns (vocals/guitar), Ben Gillies (drums), and Chris Joannou (bass) as the energetic 15-year-olds who led the post-grunge charge back in 1995 with their debut, Frogstomp, and its massive hit, "Tomorrow."

Since then, with the exception of 1999's "Ana's Song (Open Fire)," Silverchair has been pretty much MIA on U.S. airwaves, but over that time span the group has reshaped their attack into something much richer, expansive, and melodically sophisticated, without sacrificing all the potent, crunchy guitar hooks, and that impressive sound was put on display last night for a sold-out, all-ages crowd that was one of the most rabid I've ever seen at the Showbox.

Augmented by a touring keyboardist, Silverchair took the stage just before 10 p.m. — the magnetic Johns entering with a white headwrap and broad smile to ecstatic cheers. The 90-minute set that followed was heavy on the glammy, power-poppy new Young Modern, which came out in Australia in March and gets its U.S. release on Tuesday; the band opened with a ripping version of "Young Modern Station," and subsequently played nearly every one of the disc's 11 tracks. Current single "Straight Lines," which features an irrepressibly catchy melody, came off triumphantly, as did "Insomnia." Johns, voice clear and strong, worked the crowd like the seasoned pro he is, though he hardly had to beg for fans to clap along or make noise, and coaxed plenty of chewy riffs out of his guitar, occasionally playing it with his teeth and singing into the pickups. Joannou and Gillies seemed happy to cede the spotlight (quite literally) to Johns, though the powerful anchor provided by their tight grooves proved invaluable, especially when Johns would fuck around with his pedals and generate squalls of feedback.

In a buoyant mood throughout the night, Johns repeatedly thanked the crowd for coming to the show and even remembering the band (I think he said it'd been seven or eight years since Silverchair last played in Seattle), and kept things light with numerous jokes (Sample: "What's orange and sounds like a parrot? A carrot." Yeah, the one about the koala smoking a joint was funnier, but too long to recount here). And while there were plenty of shouts for "Tomorrow" and other tunes from Frogstomp — an album Silverchair has all but disowned — the furthest the band reached back was for "The Door," from 1997's Freak Show. Yet based on the deafening adoration hurled at the band for the duration, I don't think anyone was disappointed.

Reporter's Notebook
Personal Bias: Unlike Beavis and Butt-head, I always liked "Tomorrow" and never really thought it sounded like Boston's "More Than a Feeling."
Random Detail: When they returned for their encore, Silverchair brought a fan onstage who proposed to his girlfriend. She said yes, of course (see slideshow for a photo of the happy couple after the show). Said Daniel, "That was soooo romantic! I wish I'd proposed to my wife onstage." (He's married to pop singer and fellow Aussie Natalie Imbruglia.)