21-07-2007
Commodore Ballroom - Vancouver, Canada
By KYLE BORN
Tonight, my friends, I had the honor of seeing the world's greatest band ever perform before my eyes. There comes a time in everyone's life where they decide that there are things they want to do or accomplish in their lives before they die. This was one of them.
Ever since I first heard Frogstomp in my brother's car at the age of 10 I realized that this band was special. To this day I still firmly believe that. I also believe that Daniel Johns is the most talented and gifted person I've ever seen. Now, on to the show…
The show took place at the Commodore Ballroom in Vancouver, BC. It's the best venue I've ever been to with a pretty good atmosphere.
The opening band was freaking amazing. I don't even know the name of the band but I'm definitely going to find out who they were because they really surprised me. Most opening bands are a waste of time and should be quickly ushered off of the stage to make room for the headlining band. But, I didn't mind these guys.
After about a 35 minute wait or so Silverchair finally came out from hiding and took their rightful place on stage. They opened things up with Young Modern Station which is one of the best songs on their new album. Next was Low, which quite honestly is probably their weakest song to date, but still decent live.
The next few songs are what defined the concert for me. Tuna in the Brine is a brilliantly written song and very unorthodox but no other band could possibly combat this song with anything better. Before the show started I said to my friends that if there was just one song that I could hear tonight, it would have to be Emotion Sickness, which was song #4. This song absolutely blew me away. This is when I stopped and realized that I was witnessing Silverchair playing Emotion Sickness, incredible. I love the extended version of this song. Without You came afterwards which is a great song from Diorama.
Reflections of a Sound was next, followed by Insomnia. This song stuck out to me a lot, hearing it live. I got really excited and jumped all over the place clapping with the beat. The second and final song from Neon Ballroom was Ana's Song, which was executed very nicely, especially with the lights and the moody tone to the song. Those Thieving Birds, which is probably the best song on the new album, was played well, and it is much heavier live than what you hear on the CD, very nice! Straight Lines and The Greatest View came along followed by the lone Freak Show song, The Door. Mind Reader was the final song before the band left the stage for the first time. You can tell Daniel really likes to play this song, he seemed very enthusiastic about it.
The band returned for an encore and played If You Keep Losing Sleep and The Lever. These are fun songs to move around to and again, are much heavier live than on the studio versions of the songs.
So that was the show…my thoughts? It was great…but I cant help but wish that I could have heard at least one Frogstomp song. I bought a Frogstomp style Silverchair T-shirt at the concert so it seems strange to sell that when they don't play the songs from that album anymore. Silverchair's first three CDs are my favorites so I would've chosen more songs from these to vary the selection a bit but I guess the guys got a bit tired of playing them. Too bad.
All in all it was a great concert and I had a lot of fun. I wont ever forget this day and hope that I get the opportunity to see them again someday soon.

The Song list is as follows:

Young Modern Station
Low
Tuna in the Brine
Emotion Sickness
Without You
Reflections of a Sound
Insomnia
Ana's Song
Those Thieving Birds
Straight Lines
The Greatest View
The Door
Mind Reader

-break-

If You Keep Losing Sleep
The Lever
---
By ANONYMOUS
Just got back from the Silverchair show at the Commodore Ballroom in Vancouver, BC and it was amazing. With my ears still ringing I can't believe I finally got to see Silverchair live. The boys outdid themselves big time! We are huge fans of the young modern album. What impressed me so much was that even though the album has not yet been release in Canada most of the audience knew the words to the new stuff. Very Cool!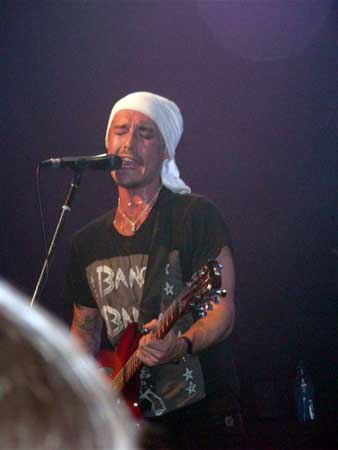 As Whistler, BC seems to be Australia of the North it was fitting to see an enourmous amout of Aussie pride in the audience. Daniel even graced us with his koala joke accompanied by great sound effects by Ben, Chris and Paul!
Thanks for a fan-freakin-tastic night!
Set List in no particular order:
Young Modern
Low
Tuna in the Brine
Emotion Sickness
Losing Sleep
Theveing Birds
The Door
Mind Reader
Insomnia
Without You
Ana's Song
Relections
Straight Lines
The Lever
Luv your life
---
By NICOLE

This was my fifth time seeing Silverchair. It was definitely their strongest performance to date. The growth and maturity of the band really shined through the multi-layered songs. The band seemed be comfortable in the spotlight and enjoy themselves, which was a pleasure to watch.

All the songs were well done, the highlight was :"Those thieving birds". Paul Mac really added the extra dimension to the sound. Daniel had a very impressive range to his voice.(thank god no sign of laryngitis) Ben and Chris were excellent.

I felt Daniel really connected with the crowd, even though some people needed to be told to chill. It was a pleasure to see Silverchair after such a long hiatus, but please don't take so long to tour again.
---
By SARAH
Yesterday morning, I woke up at 6:00am, frantically searching local buy and sell sites on-line, hoping, praying that someone would have an extra ticket to the silverchair show at the Commodore Ballroom. My prayers were answered, by a guy living in Burnaby, who had two extra tickets to sell. My friends, it was worth the half-hour train ride out of town, 3 times the ticket price, and a two-hour wait in the Vancouver rain, to see the greatest band ever to grace a stage.
The opening band (whose name nobody really seems to know) were pretty good, and certainly helped hype up the crowd for the show; every time they mentioned "silverchair are going to be on this very stage" the excited buzz permeating the venue errupted into screaming cheers. The cheers didn't stop throughout the stage set-up, but grew in anticipatory intensity until Daniel, Ben, Chris, Paul and _________ hit the stage, and created a wave of excitement the volume of which I have never heard before.
When I was able to draw my eyes away from the musical genius on-stage, I saw faces of people being moved- some to tears, some sporting ear-to-ear grins, most singing along to the lyrics of songs not yet even released in Canada!
Since I had arrived to line up in the morning, I was one of those fortunate enough to stand in the front row, and could physically feel the emotion of the crowd - where there was comfortable standing room during the opening act, I was being pushed into the barrier from behing, and squished to the point of immobility by those on either side of me from the beginning of silverchair's set, right until the end of the encore. For a few minutes during the ever-popular The Door, I thought for a while that my ribs may actually have broken from the pressure- or from being kicked by a crowd-surfer, but that it would have been so worth it!
The only moment of rest was during Daniel's incredibly moving accoustic introduction to Ana's Song, when even the pushers and shovers stood still in
(comparatively) silent awe. Of all the concerts I've attended in my 22 years of life on this planet, I have never been amongst such an enthusiastically thrilled group of people. There was a sense of true appreciation in the air.
On another note, the band surpassed even my increadibly high hopes, and hit every song they played with an intensity and passion achieved only by individuals truly committed to their art. In Daniel's aura, I could see the verse "... we are found to be reflections of a sound..." materialized; if music were a church, he would be the high priest.
A high priest, indeed, but with a sense of humour! When he tried to quiet his fans for a few seconds to tell an admittedly lame joke about Michael Jackson (How does Michael Jackson pick his nose? From a catalogue on-line.) I doubt the majority of us could hear the punch line on account of the sore-throats-in-the-making refusing to quit verbalizing their ecstacy. When those of us who did hear the punch line laughed out loud, Daniel wryly said something along the lines of "Come on, it wasn't that funny." Maybe not on paper, but coming from him- it was unexpected and f***ing hillarious.
They played a set rich with some of the greatest songs ever written- Young Modern Station, Low, Tuna in the Brine, ("A song about fishies- that's all" is how Daniel introduced it.) Emotion Sickness, Without You, Reflections of a Sound, Insomnia, Ana?s Song, Those Thieving Birds ("...just about birdies...")
Straight Lines, The Greatest View, The Door, and Mind Reader. The lights were turned off, and the crowds cheers- escalated yet again, into a frantic chant of sil-ver-chair, sil-ver-chair, sil-ver-chair, until they came back out and played two more songs: If You Keep Losing Sleep and The Lever, and Daniel told another great joke- this one about a koala, a little lizard and a crocodile smoking up in a tree; he acted it out, and the sound effects were hillariously played by Paul Mac. I won't spoil the punch line in case he tells it at another show!
All in all, I'm thinking of taking some time off university in November to see the in San Francisco, as I see there are still tickets available to their second show there...