22-07-2007
Boys to men
By Tiffany Bakker (The Sunday Telegraph)
http://www.news.com.au/sundaytelegraph/story/0,22049,22109552-5006011,00.html
July 22, 2007 12:00am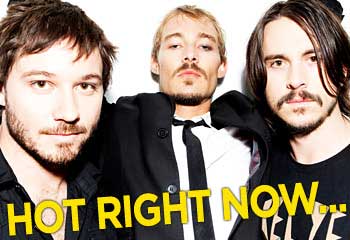 DANIEL Johns, who has been, for want of a better word, "famous" for half his life (he's just 28), is talking about acceptance.

"But not in a Dalai Lama, peace, love and understanding way. We just feel that we've accepted our past," he says with a smile.

"This album (Young Modern) is the first record where I reckon we're embracing everything that's happened to us… Of course, it took about 13 years for that to happen."
It's a past familiar even to those whose interest in Australian music extends simply to listening to Seekers records. (On that note, readers may be interested to know that Seekers singer Judith Durham performs on a bonus iTunes track from Young Modern.)

Two Newcastle schoolmates, Johns and Ben Gillies, start playing music together at Gillies' parents' house at the age of eight. Another friend, Chris Joannou, joins them and, at 11, they form a band.

At 14, they send in a demo of their song Tomorrow to a national TV music competition on SBS.

They win the contest, sell millions of records, one of them marries a famous Aussie pop star, and they all live happily ever after. Well, sort of.

Along the way, there have been struggles, not only in dealing with growing up in the – as Joannou puts it – "unforgiving" public eye, but even more seriously, in the effects that such an adolescence had on Johns' health: he suffered from anorexia, depression and a debilitating bout of reactive arthritis that left him barely able to walk, let alone contemplate picking up a guitar.

As Johns admits, it's a past that at times he's done his best to forget.

"I've always been trying to escape the perception of us being the teen grunge sensations from Down Under," he laughs.

Still, spend some time with singer/guitarist Johns, drummer Gillies and bass player Joannou, and the overriding sense you get is that they're all grounded and refreshingly down to earth.

It's quite an achievement, really, considering the extraordinary circumstances of their teenage years.

"I think our parents and our schooling had a lot to do with it," says Gillies. "And just being from Newcastle – you know, it's a small town. You don't want to get ahead of yourself.

"We were lucky to have gone far enough and to have developed our personalities far enough that the industry didn't rub off on us too much, you know. We were already level-headed kind of guys, but now we know we're amazing," he jokes.

"A lot of people would beg to differ (with the idea) that I've stayed normal," grins Johns, again, when I ask how he manages to cope with fame.

"I don't know any different, really. I guess when I was a kid, and on the first and second records especially, there were definitely times when I wished I was still just in Newcastle, playing my guitar. All of a sudden you're famous and it's just weird, and it affects you."

Depression compounded Johns' agoraphobia and he felt completely unable to function, with even a trip to the local shops an impossibility. "I mean, we always appreciated it, but back then, I was very freaked out and scared."

Now, in person, Johns is undeniably fit, tanned and healthy. A hint of make-up enhances his piercing blue eyes. And he laughs – a lot.

But he admits it took a while to get to this point.

"I felt after (the 1999 album) Neon Ballroom that I was getting a lot better with the whole thing, and then I got sick. I was like, 'This is really unfair.'

"And then, after (2002's) Diorama, I was playing and writing and walking. Again, I'd just accepted it, I suppose. When you get sick like that, it puts everything into perspective and makes something like being a celebrity who's married to another celebrity (Johns wed Natalie Imbruglia on New Year's Eve in 2003) and gets 'paparazzied' or whatever it is you call it, seem like a pretty minimal kind of problem."

Despite all this newfound acceptance, when asked whether he might pop on a Silverchair album while kicking back at home with Imbruglia, Johns cringes noticeably.

"No," he groans. "I can't listen to Frogstomp at all," he says of the album that was recorded in nine days back in 1995 and sold more than 2.5 million copies around the globe.

"It just feels like a few teenagers in the studio who don't know what they're doing. Some of the songs I feel like, what the f**k was I doing? I don't know what I was thinking. I can't even relate to any of that. Ben and Chris listen to it for a laugh. I just can't... I don't know why. It sounds really weird, after I've just said all of that stuff to you about acceptance. I still can't look at it."

When I meet up with the band on a mild winter's day, Johns, Gillies and Joannou display an ease in one another's company that can only come with time. There's no hint of the competitiveness that can occasionally cripple bands who've spent years together, but rather a lot of ribbing and a heck of a lot of laughs.

"Maybe it's because we've known each other for so long," says Joannou, when I ask what connects the three so closely. "We're pretty aware of each other's personalities. I think maybe in that crucial age where you're growing up and developing as a person, we've done all of that together."

Adds Gillies, "Who knows if we would've stayed friends after school if it hadn't been for the band? Because we're all getting along so well, we've realised that this is something pretty cool. I hope we're still doing Silverchair when I'm 50, you know? I really hope so."

Watching them interact now, it seems impossible that they came close to calling the whole thing off.

Consider this: prior to Young Modern, Silverchair hadn't released an album since 2002, a lifetime ago in the music business.

Not only have many bands gone by the wayside, but whole genres, from the garage rock of The Strokes to Wolfmother's 1970s-inspired guitar blitz, have risen and retreated. So there were some who wondered where in the picture Silverchair would fit.

Not that Johns, Joannou or Gillies had been idle. During the break, Johns hooked up with his 'musical soulmate' Paul Mac and released a record as The Dissociatives, married Imbruglia and subsequently started spending most of his time with her in London.

"I just have a short attention span," explains Johns. "I'll write something like Diorama, and straight away I'm sick of that. I just get bored, and I suppose I was a bit bored of Silverchair."

Meanwhile, Joannou had retreated to his home studio on the NSW Central Coast, where he produced tracks for the likes of The Mess Hall, while Gillies formed a new band, Tambalane.

"We always knew we had a good chemistry between us and we've always been friends, but we hadn't really talked much because I'd moved to London with Nat and was doing The Dissociatives with Paul, and they were all doing their own thing back in Australia," explains Johns. "We weren't fighting – we just weren't talking."

It would take a natural disaster for things to change. The Boxing Day tsunami of 2004 provided the impetus for those three fellas from Newcastle to relive the magical musical quality they possessed together – and they found they weren't prepared to give it up as easily as they'd thought.

"Over a period of time we just forgot how special it was and how much we enjoyed it," recalls Johns. "And as soon as we did it again with (the Tsunami benefit) Wave Aid, we were just like, 'Yeah!' I remember thinking, I don't want to go back to London and break up," he laughs.

"Doing Tambalane made me realise what Silverchair has," adds Gillies. "It made me think, 'You can't just go out and get a keyboardist and a bass player and expect it to be great.' Silverchair was the only band I'd ever been in, and we just had no perspective, nothing to compare it to."

Returning after such a break, did they ever feel as if their audience had moved on?

"I think we've been really lucky with fans because it feels as if they've grown with us," says Gillies. "It's almost as if they expect us to do something different to what we've done the last time. It's a good position to be in, because they don't just think you're going to do a repeat of the last record. So that makes putting out an album that's different a little less scary."

"But we wondered how this was going to go, being that long out of the public eye," adds Joannou. "Tastes change so quickly."

They needn't have worried. Upon its release in March, Young Modern went straight to number one, the fifth consecutive Silverchair album to do so – a feat that not even INXS, AC/DC or Silverchair's heroes Midnight Oil ever managed. But Johns says he never doubted that the masses would want to hear new tunes from the band.

"You can call me delusional," he laughs. "Actually, I'm delusional and optimistic."

Johns rationalises it this way. He reckons Silverchair have never carried the burden of expectation of, say, The Vines, who took off so quickly that it has since proved difficult for them to live up to the subsequent anticipation.

"We've never been the kind of group that's the hippest band to like – we've never been the band of the moment," he says. "I feel like we're the sort of band that's constantly avoiding having an identity, as opposed to searching for one. I've never tried to find that Silverchair sound – ever. I don't ever want to have a musical identity. I just want it to keep changing."

Now they're about to embark on a nine-week cross-country odyssey with Powderfinger. ("I didn't know you could tour Australia for nine weeks," smiles Johns.)

The last time the two bands played together, things were very different. It was 1994, and Johns, Gillies and Joannou were all 15 years old, playing their first big shows.

Granted, the location for the gig happened to be the boys' hometown of Newcastle, but the headliners were metal goliaths Pantera and, well, the crowd wasn't overly supportive, despite the trio being locals.

"It was pretty hardcore," recalls Joannou. "Powderfinger were saying they had problems with the crowd every night."

Gillies remembers, "We came offstage and we were a bit freaked out. We were like, 'God, that kind of sucked.' Between every song, people were chanting, 'Pantera, Pantera.' And I think we were a bit bummed out about it and the Powderfinger guys were saying, 'Don't worry, it happens every night, and usually they throw stuff.'"

Appropriately enough, the first stop on this tour will be Newcastle (they played there for the first time in many years last New Year's Eve, an event that Johns describes as "incredible – it's like they gave us a little hug and then we all drank tequila").

Strangely enough, all three reckon playing Newcastle has caused them more headaches than happiness in the past. "It was never really enjoyable to play there, was it?" says Joannou, nodding to Gillies.

"No," replies Gillies. "It's just classic Newcastle – I mean it's classic Australia, really. There's always a bit of the tall poppy syndrome, until you prove yourself. But I think it was probably around the time of Neon Ballroom that things started to change. It's almost like if you prove yourself, then they'll claim you. Now it's great; we really enjoy playing there."

For Johns, the thought of going on tour for such a long stretch is a happy prospect.

"I spend a lot of my time in London, but when we're touring, I'm never anywhere. I've got two suitcases and that's it."

Indeed, Johns says that he and Imbruglia manage their relationship easily because they have the means to meet each other wherever the other happens to be.

But ask him to look into the future – personally and professionally – and he says he's happy to stay in the present, thanks very much.

"As long as you're enjoying things and, if it's passionate and it's legitimate and it's not forced or put on, then I'm happy.

"But you know, I've been in a band with Chris and Ben that we started when we were 11 years old and I've never actually had to get a job," he laughs.

"It's really weird. People ask me what's the first job I ever had and I just go, 'Same one.' I haven't been fired yet, so I think it's going all right so far."

Young Modern is out now through EMI. Silverchair tour with Powderfinger from August 29. Check www.acrossthegreatdivide.com.au for details.