30-11-1997
Southport Parklands (Springboard Festival) - Gold Coast, Australia
silverchair, Gold Coast Parklands

By JEREMY SHEAFFE, Metal Hammer magazine
Photo by TONY MOTT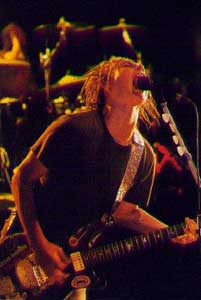 More reminiscent of a horse racing course than a park, Parklands was the home of the Big Days Out nonetheless, and judging by the size of the crowd when local outfit the Melniks were on, the home of yet another big day out today. Being the last day of spring in South East Queensland, rain was predicted. What wasn't predicted, however, was the impromptu, massively spectacular and colourful show courtesy of the surprise guest, Mother Nature. She pelted the moshpit with rain and graced the horizon with enormous lightning bolts that lit up the sky (which was good because the stage had been struck by a bolt earlier on and all the power was cut).
Bad weather ate into the time allowed for the headliners' sets, so silverchair shortened theirs but heightened the intensity. To say that this band killed it today would be an understatement; they were powerful, direct and interesting. Playing only a handful of songs, they mixed up hits and memories with two new tracks, one being their titular contribution to the Spawn soundtrack, which is raw to the point of bleeding.
But the highlight was their rendition of [the] Freak [remix]. Ben Gillies bought a stripped-down kit to the stage floor, Chris Joannou thumped at his bass while a sans-guitar Daniel Johns stalked the stage, climbed the rigging, rolled on the floor and screamed along while his guitar track thundered out from a backing tape. The power Gillies hit his [drums] with almost matched that of the thunder storm in the background and, as far as new directions go, this looked like a great path to follow.
The Offspring were on next and for all their punk roots, punk claims and punk friends, sounded a lot like the Cult -- bloated, tired and boring. Which isn't to say they didn't go down a storm, but after something as exciting, fresh and unexpected as silverchair had just delivered, very little would have kept me there fighting for a lift home at the end.
---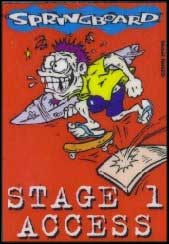 Set List:
Freak
Slave
Roses
Pure Massacre
Abuse Me
Daniel: "Thank you very much. [singing] Thank you very much for your cooperation. I'm not gonna talk long because... um... yeah, thanks for putting up with all the inconveniences 'cause... yeah, fuck it, ready?"
The Door
Daniel: "This is a love song. It's a love song about... yeah, it's about love."
No Association
Daniel: "This is a song from a movie soundtrack. It's about animal liberation and orgasm during fucking a cow."
Spawn
Israel's Son
Advance Australia Fair
Freak remix
---
By JILL
In waiting for a total of two hours just to get into the venue, we were even more hyped than ever. I was just one silverchair fan among many to try and catch a glimpse of Daniel, Chris and Ben, the bad boy of the band!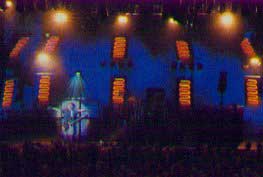 After many bands including Lantern, Grinspoon and Magic Dirt, Frenzal Rhomb were the act before silverchair. Unfortunately the show had to be put on hold for about two hours. When Frenzal Rhomb came on stage the mosh pit was already filling for silverchair. After their set I waited anxiously close to the stage friend in tow. In an explosion of guitar riffs I got my first ever live glimpse of them. Daniel walked on stage casually in the same grey pants and T from the Brisbane gig. The crowd went wild!
Daniel went off, growling like the guy from Korn and Kurt Cobain. He occasionally missed words because he was puffed or just let the crowd sing it.
Every now and then Daniel made a grunt. The Freak remix made the mosh pit go into a total frenzy, with Daniel climbing up the scaffolding near where I was. He rolled on stage getting feedback through the amps. I thought that it would have been hard to climb and sing at the same time but he pulled it off, it was wicked! Daniel went into an orgasm of sounds! (Who knows where that microphone went?)
Shortly after the squeaky guitars had stopped, silverchair left the stage. A lot of people left the mosh pit too. silverchair went off more than Offspring!
I had been waiting for this concert for over two months. I will see them again for sure!
---
By TRACY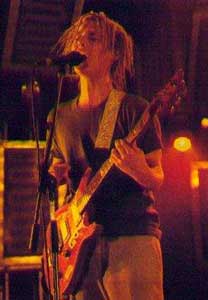 I went to Springboard on the Gold Coast last Sunday and despite the electrical storm and two hour delay, silverchair rocked. Most people were just there to see silverchair and there would have been a riot if their management cancelled.
It was worth the two hour wait. With the lightning adding to the light show, it looked awesome. They started with Freak and ended with the dance version of Freak, which I thought was very bizarre. They didn't do an encore, probably because everyone's time got cut back. Also, Daniel didn't play Cemetery and they didn't play Tomorrow but I'm not complaining.
The sound was so crystal clear, and little Daniel is very sexy on stage and knows how to put on a show. It rained a little while they performed, but that didn't stop everyone from having a great time in the mud. The only thing I will complain about is the organization of the venue for the day. Only one bar and an hour wait for a drink, luckily we had VIP tickets, but only found out where that was at 6:30pm because none of the security guards could tell us where the VIP area was. Did I down some vodkas and tequilas when we finally found that bar. Bloody oath I did!!
I attend a lot of concerts and silverchair has to be one of the highlights of the year. I got more enjoyment out of seeing them for and hour than watching other bands who played at Livid. About 5000 people left after silverchair finished, so it goes to show they should have been headlining, not Offspring.
On the Sunday 30.11.97 one sunny day on Australia's Gold Coast, my sister and three of our friends went to a fantastic concert at Parklands, not only with Silverchair, but with Offspring, Frenzal Rhomb, Grinspoon, The Melniks, Something for Kate, and Lantern. It was sick!!!!
The gates opened at 12:30 and we got there at about 10:30 so we could get a park and be first through the gates. The time went fast while we were waiting and we saw some friends there so we didn't get very bored. Finally the gates opened, but we didn't even bother lining up early, so we all just jumped over the bit of plastic blocking off the line and pushed in!
As soon as we got in the first band had started, The Melniks. They were pretty shit, especially comparing them to silverchair and The Offspring. It got really really hot so some legend broke the firehose and we all got soaked. At about 5 I cruised down to the mosh, and went off!! Just our luck, black clouds came over us, then the bands went off and the stage got covered. It was an electrical storm and it stuffed everything up. Frenzal Rhomb was the next band on, so we just stood in the mosh screaming "Frenzal, Frenzal".
A big fat security guard came on the stage and got dirt and beer thrown at him, and the whole mosh pit just started yelling out "tosser, tosser". It was wicked!!! Finally the rain was just spitting, the stage got uncovered, Frenzal came on, and on went the concert.
It was dark now, the crowd went silent, we were sitting on the hill and then we saw these big lights and heard the start of Freak! We raced down, pushed everyone out of the way. There were hardly any girls in the mosh, so all the guys move for you. We got through by screaming "chick coming through"!!! Almost everyone moved and I didn't stop moshing the whole time they were on. They are mad live and Daniel Johns was looking as hot as ever.
When they went off I got pretty pissed off because I love them sooo much. I just walked up the hill yelling "I love Daniel Johns!!". It was filth. The Offspring came on next and that was a hell moshpit and they were mad live too. I just wanna say if ya ever get the chance to see the 'chair live, do it!!! They go off!!! This is my second day off school after it, I've done way to much moshing, but I'd kill myself for silverchair!!!
---
By DAVID
I thought the quality of the music was excellent, I realize that the band was under pressure due to the delay but in the time we did have to see them they could have made it worthwhile. Daniel didn't say much between songs, it was like 'lets just play some songs and leave.' The whole band though, worked together well on the stage and they deserve the credit for being at that stage in their career and still very young.
I thought the idea of doing "Freak" first was good as this is the song that began my interest in the band. "No Association was excellent as well, and of course "Israels Son" pumped. But a dissapointment not to hear "Tomorrow," "Cemetery" or "Suicidal Dream." I think they did a good job at playing the techno version of "Freak."
All in all, it was a good concert though, worth sitting through a storm for and I look forward to a new album and to see them play again next time.
---
By JERRY
And the rains came down!! I was sitting on the hill having a beer waiting for the Chair and Offspring when the the biggest black cloud you've ever seen rolled over and just dropped it's guts. I don't know what happened but after about 2 minutes of spewing about the rain, me and seven friends just went insane, we started mudsliding and then some legend brought a bin lid over and we had a crowd surf on it. When I saw that I knew the mosh was just going to go sick when silverchair came out. And sick it went.
After two hours of freezing our balls off, Frenzhal Rhomb came out and belted out a couple of pretty wicked tunes, butt-naked drummer and all. Then it began, Daniel came straight out and went psycho on Freak. After that it was just a blur of banging heads. I got dropped on my head while I was crowd surfing in Israel's Son and that hurt a bit but you get that. Daniel was singing like it was a Pantera concert towards the end. He just went off.
After 'chair I went and sat on the hill absolutely wasted. After about 20 minutes of people telling me Offspring had cancelled I heard the lead singer of Offspring come out and say "Ahhh it's time to relax, but you didn't come here to relax, you came here to fuck some shit up..." and that's when I knew I was going to be real sore the next morning. I threw my saturated doc's back on and went out for more. Now I don't know why everyone's bagging Offspring, I though they were pretty filth. Probably not as good as chair but hey, silverchair are the best band since Nirvana. I also went to the Festival Hall concert on the 19th of June and while it was a kick ass concert I enjoyed Springboard even more. Overall I got dropped on my head 3 times, kicked in the face more times than I can count and completely buggered a new pair of doc's but it was still one of the best nights I have ever had.