23-09-1997
ARIA Awards - Sydney, Australia
silverchair opened the 1997 Australian Record Industry Association (ARIA) awards ceremony, performing Freak from their Freak Show album.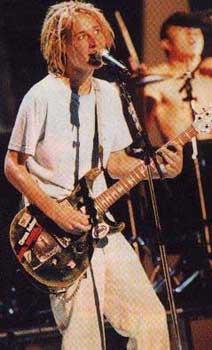 Later in the evening, the band was presented with the only award decided by the public rather than voters from the Australian music business.
silverchair was chosen as Artist Of The Year by viewers of Channel [V] and readers of Australian music magazines and newspapers who voted by phone, mail and e-mail.
The Artist Of The Year prize was presented as part of ARIA ceremonies at Sydney's Capitol Theatre.
Three weeks earlier, the public chose silverchair as winners of the MTV Video Music Award for Best Australian Video, so the ARIA ceremony marked the second time in a month that fans elected the band as winners of a major award.
silverchair were nominated for six ARIA awards in 1997, including best Australian group and best album. The award for best cover artwork went to silverchair, John Watson, John O'Donnell and Kevin Wilkins for Freak Show.
The ARIA awards are Australia's equivalent of the U.S. Grammys. The event was televised nationally on Australia's Network Ten.
In 1996, silverchair were presented with an Outstanding Achievement Award at the 10th annual ARIA ceremony. It was the first time since 1990 that the association had presented such an award.
The year before, silverchair were nominated for eight ARIAs and won five: Best Australian Single, Best Australian Debut Single and Highest Selling Australian Single for Tomorrow; Best Australian New Talent and Best Australian Debut Album for frogstomp.
The appearance at the '97 ARIAs was the 'chair's last public commitment for two months prior to their Summer Freak Shows '97 tour across Australia.