27-08-1997
Race City Speedway (Edgefest) - Calgary, Canada
By CHANTEL VARGA (mvarga@cadvision.com)
We got there at noon, which seemed to be a good time considering there were no lineups and bag check was quick and easy. Once in, we didn't know exactly what to do, so we wandered the area with all the merchandise. There was hippie stuff, food lines, ticket lines for food, body piercing and jewelry -- it seemed hard to get bored just looking around.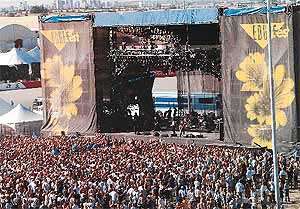 At about 12:30 p.m., we started migrating to the main stage. On our way we stopped and bought merchandise (T-shirts, posters and stickers) which was a good idea considering they sold out not long after. Being that it was still quite early, we got ourselves prime seats in the front. Actually, they weren't seats because we were standing in front of the mosh pit.
The first band on was the Philosopher Kings. They played a 20-minute set which I quite enjoyed. Next was Dodgy, a English band that sounded decent. They also played a 20-minute set. And finally, about half an hour later, at 3:25 p.m., silverchair hit the stage.
People were going so crazy even before they got on the stage that one of their techs had to tell us to shut up because they couldn't hear. So silverchair got on and immediately made the mosh pit the biggest of the night. Even the big Canadian bands after them didn't get the mosh pit going like that. silverchair played a 55-minute set which included No Association, Freak, Tomorrow, Slave, Abuse Me, Israel's Son, Suicidal Dream, The Door and more, including the new tune from the Spawn soundtrack.
"This is our first time doing this live, so if we fuck it up, it's your fault for pressuring us," Daniel told the crowd. And it kicked major ass! Because I was in front of the mosh pit at the start, I ended up getting thrown up top and crowd surfed my way to the back, which sucked. So I went to the side stage and took some pictures, then bulldozed my way through the teenies with "I love Daniel Johns" written all over their bodies, and held tight to my spot at the front.
Daniel talked a lot. He tried to get the venue personnel to hose the crowd with water because it seemed as if many people were getting heat stroke. When they said no, Daniel said, "Sorry, they won't give you water -- die!"
He stopped at one point and said "Calgary!" Naturally, the crowd screamed at the top of its lungs.
"I'm going to make up a song right now," he said. "Usually it's easier but today's not a good day. Calgary... is fun for me, to have a tea... or take a pee!" And the crowd went crazy again. He dedicated a song "to all the babes in the crowd, and the next to all the studs." Chris then laughed, which was good to see. And Daniel definitely gets the award for most profanities in a set!
Even though it was quite obvious that Spawn did a number on his voice, they were the best band out there. When it was over and Ben and Chris left, Daniel stayed on stage and played something that sounded like "O Canada" and some other stuff, and then he left.
Since I'd never seen silverchair live before, I came to the conclusion that if I'm going to die any time soon, I hope it's in the mosh pit of a silverchair concert!
---
WHAT A GIG! FANS JAM RACE CITY FOR EDGEFEST BASH
By MICHAEL PLATT and LISA WILTON
Photos by KEVIN UDAHL
Calgary Sun
It was the biggest jam Calgary has seen in years -- on the stage and in the parking lot.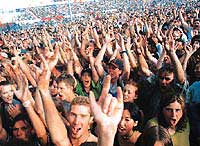 More than 23,000 people packed into Race City Speedway last night for the Sun-sponsored Edgefest concert -- making it one of the most successful Calgary shows in years.
"I thought it rocked -- it was amazing how everyone was together," said Christine Talbot, 19. "It was like a complete gathering of people with the same mindset."
Sarah Homan, 18, said the concert was hectic. "Edgefest was awesome, but the mosh pit was a little crazy," said Homan. Several fans were taken to hospital with mosh pit-induced injuries, but none were believed serious.
For many concert-goers, the sea of bodies in front of the stage was the highlight of the show. "The mosh pit was the best and the bodysurfing was awesome," said Landon Flynn, 17.
However, the show's success was its only drawback -- the rush of people tangled traffic for more than 4 km leading to Race City, forcing many to desert their cars and walk. "There were tons of cars and quite a few people walking -- it was the smart thing to do," said Rachel Campbell, 16. "It was crazy but it was worth it. It was awesome."
Some fans said it took more than an hour to make the trek to centre stage. Police scrambled for hours to control the monster traffic jam, directing cars and opening extra lanes to increase the flow along a street where many people chose to park. "It's a zoo -- there weren't any real problems but traffic was a nightmare," said Insp. John McFadden.
---
KIDS IN MOSHING MOOD
AT ALL-DAY ROCK FESTIVAL
By BLAIR S. WATSON
Calgary Sun
Yesterday's all-day rock extravaganza at Race City Speedway showcased 12 acts on two stages before 23,000 young rock fans.
However, since these bands have plenty of gold and platinum records on their walls, the concert was far from being the alterna-social event of the summer.
It was, however, a darn fine rock show.
Taking the main stage to a blaring intro, Australian teen trio silverchair proved they paid apt attention during their Rock Music 101 classes. Searing guitars, wailing vocals and driving drums were the order of the day.
---
SUMMER VACATION ENDS WITH A BANG
By LISA WILTON
Calgary Sun
The kids came out in force. And for about 23,000 young rock fans, yesterday's Edgefest concert at Race City Speedway represented summer vacation's last hurrah. Classes may be just around the corner, but at least the festival-goers will have fond memories of a hot, dusty and windy day spent listening to music and trying to get close to their idols.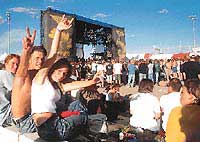 Hundred of teenage girls were trying to barge, charm and buy their way into the backstage area. "But I really do have a cousin in Our Lady Peace," one woman kept telling a security guard.
The venue staff had their hands full, especially with one over-zealous and persistent blonde who clung to the fence and claimed: "silverchair is my life!"
The fans were an eclectic bunch. The hair was pink, blue and bleach-blond. There were guys with tattoos, and libido-driven teenage girls waiting for those Australian cuties silverchair to take the stage.
And they were all busy shielding their eyes and noses from the waves of dust kicked up by trampling feet and some mighty strong gusts of wind.
As with most festivals, Edgefest had its fair share of cool art, jewelry and clothing tents. Yes, the long-flowing hippie dresses that were sold in abundance at Lilith Fair last week were present but maybe not to the same extent. As well, there was palm reading, reverse bungee jumping and skateboarding demonstrations.
---
Review: Edgefest
By JAMES MURETICH
Calgary Herald
They endured traffic jams to get to Race City Motorsport Park. It wasn't as bad as the several hours-long crawl to Another Roadside Attraction in Camrose, but many a music fan decided to abandon their cars by the road and walk to Edgefest rather than crawl along in their vehicles.
The young fans mostly shrugged off the delay. They endured a blistering sun all day long that turned bottles of water and large cups of Coca-Cola into prized commodities.
And, of course, they endured lineups -- for food, drink, buying tickets in order to get food and drink. They also willingly stood in line for the FanFest tent where certain acts, like Age Of Electric, showed up after their sets to sign autographs.
Edgefest was a decided hit with the 22,000 to 25,000 people who turned out to take in nine hours of music by a plethora of major Canadian acts and bands such as Australia's silverchair, England's Dodgy and Collective Soul from the States.
While the lineup may not have been as edgy as fans of more "alternative" music would have liked, Edgefest was a crowd-pleaser for those who enjoy the newer acts that now populate radio and MuchMusic as well as some up-and-comers who have earned a solid following thanks to endless touring (like Econoline Crush).
The music was, by and large, big, loud, hard-edged rock 'n' roll -- which is why AC/DC could blare over the sound system at one point between bands and nobody minded.
The two definite crowd-pleasers of the day were silverchair and I Mother Earth. silverchair's post-Seattle rock sound was swallowed whole by the crowd, especially thousands of younger female fans for whom guitarist-vocalist Daniel Johns (all of 18 years old) is a poster pin-up favorite.
Johns also took top honors for most profanities uttered in the course of a set.