13-08-1997
The Water Festival - Stockholm, Sweden
Report and photos by MIKAEL KARLSSON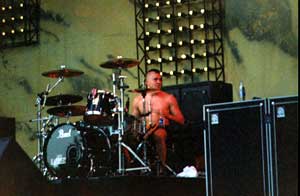 My girlfriend Emma and I went to Stockholm to see silverchair perform at the Water Festival. In a shop before the show, I saw Chris Joannou and talked with him briefly. He was a really nice person.
We arrived at the show an hour before silverchair began to play. I was really excited to see them. The crowd was very anxious to see them as well. When they came on stage, the crowd went crazy!
They started to play Slave as usual and the crowd was freaking out. The song was played very well and the sound was great. After Slave finished, Daniel tried to talk some Swedish with the crowd, and the people really liked it.
Next was Leave Me Out, after which Daniel started to scream to the audience, "Take off your clothes!" Some people actually did take their clothes off. Some girls screamed very loud to Daniel and he just laughed.
During Tomorrow, Daniel's guitar string "died" but he didn't worry about it, he just kept on singing and after a while Bailey came on stage with a new guitar. After that Daniel said to the audience, "Now I'm going to sing solo for you."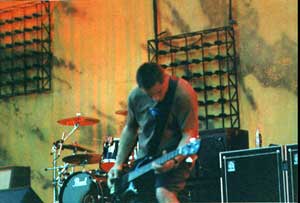 Ben and Chris went off the stage and Daniel started to sing Cemetery, and the crowd sang with Daniel the whole song. After Cemetery Daniel started to sing a little song that was really funny. The crowd just laughed and thought it was cool.
The last song was Israel's Son. It was a really good performance and the sound was great. The audience jumped and people tried to do stage dives. When the song was finished it was time for Daniel and Chris to make some weird noises. Ben went off the stage quickly. Daniel made a really freaky sound by scratching his guitar against his Marshall stack. The crowd freaked out, and then Daniel stopped and went off stage.
The crowd just screamed as loud as they could and everyone was very happy. The show was really good and every song was well performed.
Set List:
Slave
Leave Me Out
Faultline
Suicidal Dream
Freak
Abuse Me
The Door
Cemetery
Pure Massacre
Findaway
No Association
Israel's Son