22-06-1997
Univeristy of the Philippines - Manilla, Philippines
All photographs by Cristina Castillo, courtesy of Mony Romana and Sony Music Philippines.

Special thanks to Bernice Roldan and Arlyn Romualdo.
By DAVID GONZALES
Philippine Daily Inquirer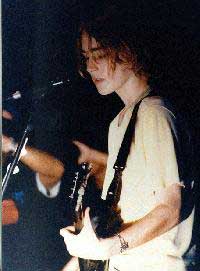 "It was great. The audience really reacted well. It was wild," said Daniel Johns, vocalist, guitarist and songwriter of world-famous Australian rock band silverchair, commenting on the band's gig at the UP [University of the Philippines] Theater on Sunday, June 22.
Johns had many other things to say during an interview at the Manila Galleria Suites the afternoon following the concert.
silverchair first made Australian headlines in 1994 when, at the age of 15, the trio won a nationwide TV contest with the song Tomorrow. The following year, the band's first album frogstomp, sold approximately three million copies worldwide.
silverchair's second album, 1997's Freak Show, has also done well on the charts, defying the notorious sophomore slump that has afflicted many '90s acts whose follow-ups sold poorly in comparison to their prior massively successful albums.
As noted in advertisements promoting the band's concert here, Manila was the only Asian city to host a concert by silverchair (actually it was Quezon City). That was because, according to Johns, "This is the place where we've been selling the best (in Asia), and getting played on the radio."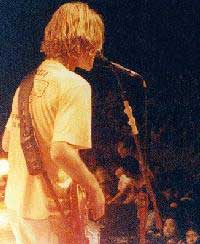 Speaking in composed, measured tones, Johns also said the band wasn't concerned about whether or not Freak Show would sell as well as frogstomp.
"We weren't worried about that," he said, "we don't care about money. Anyway, Hootie and the Blowfish are different because they depend on a lot of radio airplay, and we don't depend as much on radio airplay. We're not just radio."
According to Johns, writing the songs to the band's first album was more of a "friend thing," and he and drummer Ben Gillies did much collaboration, except for three songs entirely written by Johns (Johns writes lyrics for all silverchair songs).
On Freak Show, however, Johns wrote over half of the album's 13 songs, and attributes that to his growth in songwriting. Still, as on frogstomp, many of the lyrics have dark overtones.
"On the first album, the lyrics were more personal, with songs like Suicidal Dream. On Freak Show, I also wrote dark lyrics. Some of it comes from real-life thinking and things, and then you have to elaborate on it."
For example, in Freak Show's Slave, Johns writes, "Lived too long/Now you've come to take me to/A place where I can die/Lost my soul/Lost my confidence in me." Johns says he won't be writing about cheerful things anytime soon.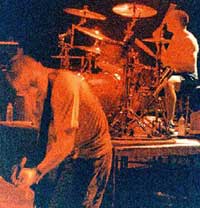 "The dark issues I write about are what I'm feeling at the moment, a reflection of what I'm thinking, and I won't change the subject matter until I no longer feel this. I'd rather write about it than take it out on everyone else."
"But I can't write songs while on tour, there's too many distractions. I write at home, and I prefer to be in the solitude of the house, but I also want to experience real life and get an open frame of mind," he said.
Aside from also being a bestseller, Freak Show has more depth and is a more varied album than frogstomp, and contains ethnic Indian instruments on Petrol and Chlorine, for example, as well as the beautiful use of a string section, including violins, viola, and cello, on Cemetery.
In that regard, it resembles Jar of Flies, an album released in 1993 by Alice in Chains, one of the best albums of the '90s, which also utilizes a captivating use of a string section at times. Johns acknowledges an affinity toward tender music, and said he enjoys listening to an Australian group called Slint that also uses strings and plays "pretty music."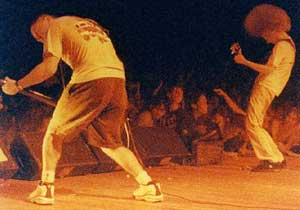 Still, the bulk of Freak Show and frogstomp are built on heavy-guitar riffing in the manner of the former Nirvana or Soundgarden, and the riffing isn't likely to change, Johns said, though he does envision more musical evolution for silverchair.
"Each album is more experimental, and we're going to explore different themes and different styles and instrumentation. We will still keep the heavy-guitar riffs on some songs, but move away from the traditional 4/4 groove, and explore different time signatures and odd meters," he said.
When 1995's frogstomp was first released, it was compared to Pearl Jam, a band also heavy on Nirvana-styled riffing at that time (Pearl Jam has since changed directions). Johns insists, however, that silverchair's influences go back to such '70s bands as Led Zeppelin and Black Sabbath. "Even my dad, who really likes Pearl Jam, said we were more like Black Sabbath and Led Zeppelin," Johns said.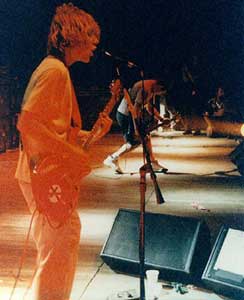 When asked, Johns said he also likes black American music from the '60s, most especially Otis Redding. One thing, though, that Johns does not consider silverchair's music to be 'grunge.' "Grunge is just a stupid word for alternative," he growled.
Being in a successful rock band has allowed Johns to see and do many things, and one of his fondest memories is meeting Ozzy Osbourne, the former frontman of Black Sabbath. "He's my all-time idol," Johns enthused.
He also has memorable memories of playing a concert in Brazil with the Sex Pistols, Bad Religion and Mexican-American rap band Cypress Hill, where the 30,000-strong audience was wildly "synergetic."
All this from someone who will graduate high school, along with his bandmates, at the end of this year.
---
By BERNICE ROLDAN
My friend Arlyn and I were the first people at the UP theater, arriving there at 12:30 p.m. We heard silverchair's soundcheck and although I couldn't really hear the guitars, I recognized the drums from Roses. They then Slave.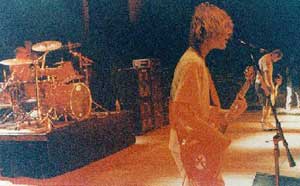 Around half past 7, we were finally allowed inside for the 8 p.m. show. We brought along presents for the band because we really appreciated their coming to Manila. I recognized silverchair's manager, John Watson, from a picture. We gave him the presents and talked for us for a little while before he went to give our presents to silverchair.
When we ran in to get our seats (we were in the second row, away from the violent and packed mosh pit), I noticed Watson on the stage, seeming to look for someone in the crowd. We all jumped and waved at him and he climbed down and said to us, "I know this isn't much but we hope you appreciate it." He handed my friend Marcia some light blue and white guitar picks that had the silverchair banner.
Hangar 18 opened the show, then two local bands (Wolfgang and Razorback) played before silverchair. We had seats but everyone seemed to be standing on them, headbanging and jumping. Blown-up condoms were being tossed around like plastic balloons, there were rolls of tissue paper tossed onstage, and there were mineral water bottles flying around as well.
The usual circus music was played and the band came out. I didn't know that Daniel had cut his hair. It was above the chin but parted in the middle and long on the back and shorter on front. Daniel looked thin and pale. He wore black Airwalks, light blue jeans, and a light cotton yellow shirt. Chris wore white sports rubber shoes with black accents, short white socks, dark blue shorts and a light blue shirt. Ben had no shirt, wore dark shorts and sneakers with no socks. They played 13 songs and the set last just over an hour. The set list consisted of: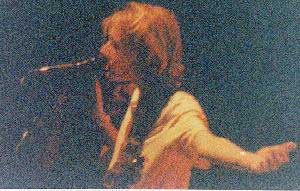 Slave
Roses
Findaway
Abuse Me
Pure Massacre
Suicidal Dream
Tomorrow
The Door
Faultline
No Association
Freak
Madman
Israel's Son
I was very annoyed and bewildered that they didn't play Cemetery and Lie To Me, two of my favorite songs. Daniel mentioned Cemetery several times, but played other songs after talking about it.
Daniel was very witty, he said stuff like "Manila rocks harder than any other place we have ever played in! The place was packed, people were singing along and jumping up and down, everyone was going nuts, they were really into the music. There were no big circles in the mosh pit because the place was so crowded.
After Tomorrow, Daniel said in a sing-song voice, "Man-nil-la, tastes like vanilla, someone tried to kill her, 'cos she stole my pillar!" Then he said, "That was a song called Manila, about this girl I picked up round the corner for 15 dollars." He introduced Bailey Holloway before Abuse Me as a guy from Black Sabbath who still rocked even though he was old already.
Chris looked SO serious. He rarely smiled, although he did jump every now and then. He laughed a bit when Bailey said something to him during Abuse Me, but often he'd look over the crowd as if surveying it.
The crowd really responded well to Tomorrow. Maybe it was because silverchair didn't visit Manila during the frogstomp tour. Many people were singing along and waving their arms in the air.
Daniel did three Christ-like poses (arms spread out horizontally, head bowed) during Slave, Roses and Pure Massacre. The mosh was most energetic/violent during Slave, Freak and Israel's Son. Daniel stopped chatting later in the show because there were technical problems going on. People from the mosh pit were trying to get on the stage and got tangled up with cables.
Daniel acted crazy during parts of the show. He leaned his body over the crowd but they couldn't reach him, and he drew wavy lines over the heads of the moshers with his guitar pick. During Madman he did three quick, awkward-looking but funny punches in the air, stomping his feet at the same time. He put his hand to his eyebrows and narrowed his eyes and looked over the crowd as if he was looking for someone.
After Israel's Son, Daniel threw himself over his amplifier stacks and stayed there motionless. All you could see were his rear and the backs of his legs. Ben stood up and played drums a bit and Chris kneeled and messed with the higher notes on his bass. I later heard that the wooden stage in the UP theater got cracked because silverchair were really stomping and running around.
It was a really good show and it was nice of Daniel to say that Manila rocked! Except for the fact that some songs were missing in the set list, it was an awesome show.