25-04-1997
Arrow Centre - Toronto, Canada
By KIERAN GRANT
Toronto Sun
silverchair's Daniel Johns may not be his own worst critic, but he tried last night as his band stormed through a set in the newly-opened Arrow Hall, at Mississauga's International Centre.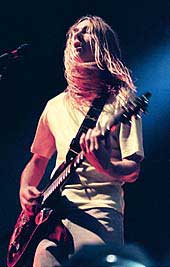 "Playing that one is getting monotonous," the ever-cynical Johns drawled mid-show, after tearing off a version of Tomorrow, his Australian power trio's first hit from their 1995 debut album frogstomp.
For the record, the song was a smashing success with the youthful crowd of 6,000, for whom silverchair could do no wrong. Neither could catchy angst-rock openers Local H and Handsome.
But Johns himself had a pretty good handle on things.
The band seemed uncomfortable with most of the set's frogstomp selections, which were recorded when they were just 15.
Conversely, they found their feet on numbers from their current disc Freak Show. This made for an unpredictable show that repeatedly shifted in and out of high gear.
From the first tremendous kick from drummer Ben Gillies' kit on opening track Slave, it was clear the band would have no interference from the new venue. It has great sound and sightlines -- not to mention an out-of-the-way holding pen for parents chaperoning their kids to the gig -- for what is esentially a gynormous gymnasium.
Not ones to get all uppity in the spotlight, the stand-off-ish silverchair bore down and stayed faithful to their album.
It paid off on upbeat power pop like Findaway and The Door, the raucous Faultline and Freak, and Johns' morbid solo number Cemetery.
While painfully awkward when not singing and playing, the drole Johns displayed infectious likability as an anti-performer: Lethargically raising his fist as if to say, "For those of you about to rock, up yours." Glumly introducing the young guitarist who joined the band for a flawless version of Abuse Me as "Tony Iommi, from the legendary rock group Black Sabbath."
The crowd cheered, knowing it wasn't Tony Iommi.
In all, Johns proved there's nothing like the sarcastic haze of teen apathy to a light up modern rock concert.
Unfortunately, the band frequently gravitated back to the dreariness of songs like Pure Massacre.
Now that silverchair have come into their own as a band with Freak Show -- it's good timing, now that Johns' is 18 and the group is officially exempt from criticism (excuses?) that they are premature rockers -- it may be only a matter of time before they can produce a consistenly strong setlist.
---
silverchair rocks teenage masses
By JENNIE PUNTER
Special to the Toronto Star
Folks over the age of 30 attending silverchair's thoroughly satisfying, sold-out concert at Arrow Hall -- that is, those not hanging in the Parent's Waiting Room at the back - may have paused to recall their early days of pop music appreciation. While the majority of the 6,000 wildly enthusiastic souls in the spacious venue Friday night hovered around the same age as the Australian power trio -- that is, late teens --there were also many pre-teen fans enjoying their first big rock show. Ashleigh Gamelin, 12, and her pal Krystle Legge, 12, passed the binoculars back and forth, to watch Silverchair guitarist and frontman Daniel Johns and crew charge through a solid, tight set of tunes from their platinum albums, 1995's Frogstomp and this year's Freak Show. Others displayed a more visceral response to the performance, which came complete with a simple but dazzling light show. Budding rockers John Weir, 11, and his pal Kevin Wilson, 10, bounced continuously with arms held high to the trio's energetic and polished heavy rock, as older kids meshed closer to the stage.
One couldn't help contrast silverchair's sound and scene to the here-today-gone-tomorrow hysteria connected with a couple of the massively hot pop groups (say, Backstreet Boys and Spice Girls) that also attract a large pre-teen following. Silverchair proved they are a band definitely bound for some kind of musical longevity. And even though the angst in their music and lyrics -- in hit songs like "Abuse Me" and "Israel's Son," which closed the show -- may be a reflected sentiment, it nevertheless felt sincere and completely their own. Songs like Johns' solo ballad "Cemetery" and tunes like "Suicidal" and "Freak" were high points in the 18 song set, which included several instrument switches for guitar-addict Johns. The concert opened with the driving, dual guitar hard rock of Brooklyn quintet Handsome, followed by Chicago duo Local H (drums and guitar only!). The latter band delivered an awesome set of electric guitar rock that teetered on the brink of power pop, with enough panache and volume to fill the room. The title of Local H's next single, "Eddie Vedder," elicited a few screams, but the catchy, staccato chords of "Bound For the Floor" had the crowd pogoing en masse.
---
Review by KEVIN EICHELBERGER (eichel@buffnet.net)
Ok, well, I will sum it up this way, best concert ever. I'm not gonna explain the events leading to the concert, but when we finally got in, I could tell it was going to be madness. The Arrow Hall International Centre was like one huge warehouse, with a stage at one end. Handsome opened up, and Mike (Amburn) and I (Kevin Eichelberger) were a little disappointed with their act. But, we were extremely impressed by Local H, a two man band where the lead singer's guitar is set up so that it also plays two octaves lower to act as a bass, and the drummer was incredible! I definitely recommend going out to buy the cd.
Well, with a short intermission, silverchair opened up with the usual Slave, and then jumped right into Roses, I'm not exactly sure what the set list was exactly, I think I had a few too many kicks the head in the pit. I made my way to the front of the pit and got a pretty good spot, but as Findaway started up, I headed back to the soundboard where I was supposed to meet up with Mike. While I was waiting they played Pure Massacre and Abuse Me, and as soon as Mike came we started to push our way to the front of the pit. As we made our way up, we were a little disappointed with the lack of crowd response. So we decided to get things going. We eventually made our way to the middle of the pit about five rows back from the front gates.
As Faultline started the crowd finally began to get into it and the crowd surfers were getting ready. At first, no one was doing a very good job of keeping them up, everyone that went up would come down right away, and be dropped to the floor, which, might I add, the crowd was very courteous in that they helped to pick them up. But that soon changed, I think they just needed a warm-up. They played a flawless version of Cemetery, which of course, the group of girls screaming were louder than the band.
The period of rest for the moshing crowd continued with Suicidal Dream, followed by Tomorrow (something like that) and Freak. Then a great version of The Door was played followed by No Association and Madman, which by then, I was extremely tired from holding all the crowdsurfers up, but something kept me going. The lead singer from Handsome came on stage for the encore to sing Minor Threat with the band, and then they moved onto Israel's Son, where Daniel repeated "Put your hands in the air" what seemed like forever! An unusual abrupt ending after that, not much playing with the effects pedals, but Daniel unsuccessfully tried to climb onto the amps, and after two attempts, he gave up.
The show was great, the moshing was great, and crowdsurfing was great (after a little while), except for a few times where someone would enter the wrong section of the crowd, mainly a bunch of 12 year old girls, and get dropped like a rock. And for all of you younger fans, there was a parents waiting room in the back of the place, although some parents went out in the crowd much to the dismay of their children, who will probably never be to another concert for a while, hehe. A couple of points:
Daniel added a Minor Threat sticker to his silver PRS, personally, I would've liked it better if he would've left it clean, that is a sweet ass guitar.
They all seemed more into it than what I've heard from the past shows, and Daniel said "you guys are fucking loud!" They of course did their little "the water in ______ (town of venue) is very hard to drink!"
Daniel made a great crack during the show about the snack express, it was fucking hilarious.... now if only I could remember exactly what he said, something like "all of you at the snack express, get your asses over here for some rock (?) express.... fuck food.... fuck food........ but if you're anorexic, food is good, food is good."
---
By LINDSEY POETZ (ia262@worldchat.com)
We got to Arrow Hall at 4:00. from the line up we could hear the soundcheck, I heard No Association, and a few other things that I couldn't recognize! It seemed like forever before the doors opened! But they finally did! I bought a t-shirt (the one w/the tattooed guy "snaz" on the front) and a poster... then it seemed forever before Handsome came on, but they finally did and they rocked!
I was in the mosh pit for all of handsome, it wasn't too rough, I crowdsurfed for my first time! It was weird, I found myself being more aggressive then I have ever been! After Handsome I was soooooo hot so I left the pit!
When Handsome was finished with their set, Local H came on! I was really looking forward to them, because I have some of their cds and stuff! They rocked! I went back in the pit for them, I had to! They were really heavy... I loved it!
There was a long wait between Local H and silverchair... but the circus music finally started to play, and out came Ben, Chris & Daniel! I could hardly see them when they first came on, because I was in the middle of the pit, squished and sweating! They played Slave (as usual), and it sounded soooooooo AWESOME! I didn't really like the mosh during the first few songs (Slave, Roses & findaway) because people were just being stupid... there were so many people, and they were all trying to get to the front, nevermind who was in their way! Instead of going to the front, I was trying to get out! I needed AIR!
I kind of lost track of the setlist after that!! I can remember the songs but they are probably not in the right order!
Slave, Roses, Findaway, Abuse Me, faultline, Pure Massacre, No Association, Cemetery, The Door, Suicidal Dream, Tomorrow, Madman, Freak
Encore: Israel's son (I think that they played something before israel's son (minor threat), but I didn't hear it 'cause I was in the bathroom, but it was pretty short... I thought they were going to play the closing!! I was looking forward to it! And they didn't play it!)
I thought it was soooooooooo short! they play from 9:00 (exactly) until 10:08 (EXACTLY!)... when I went to see bush (they weren't bad, but Veruca Salt were AWESOME!) they played from 9:45 - 11:30!
Oh well! It was still REALLY ROCKIN'! I was in the pit for most of the songs, but sometimes I just needed air! I liked the pit better for Local H... I don't know why! I got pretty close to the front, I was on Daniels side so I didn't see Chris too much... my friends (who I lost right away!) were at the front when silverchair came on and they said that Ben and Daniel looked at them... one of my friends got kicked in the face so many times! She has like ten bruises on her face! I have bruises, but they are all over my body!
Daniel sung different lyrics to Tomorrow! And I think Ben was laughing at him!! Daniel talked a bit, but half the time I couldn't understand what he was saying! One time he just kept babbling on, it was cool! He made me laugh a few times... he said we "fucking rock" a few times, and he told us to get off of our feet too! Daniel did that groove thing he does so well, and Chris was jumping all over the place!!! I think the best song was No Association... i LOVE that song... and every other song they do!!
For those of you who care what they were wearing, Ben had no shirt on, Daniel was wearing that yellow shirt, and chris was wearing some blue shirt...
At the end of the concert, ben threw his drum sticks into the crowd! And Daniel was pretending to smash his silver guitar!
I was surprised that there were no teenies screaming "I LOVE YOU DANIEL!" but there was this chick who had "I love daniel" written on her arm... and this girl with a shirt saying "freak me daniel," but that was all I saw! I was glad there was no teenies, I would have pulled their hair out!
---
By ROBYN CAIRNS (terry_cairns@qmail.newbridge.com)
My 3 friends and I left Ottawa at 6:00 am to make the 5 hour drive to Toronto. We arrived in Toronto around 11:00 am, and did our sightseeing beforehand. At around 4:15, we arrived at Arrow Hall, and to our surprise there was a HUGE lineup!! When we found our place, people started screaming and we could hear silverchair warming up inside. It was so loud it literally shook the ground! There was a guy with a camera going around, and some chick with a shirt that said "Freak Me Daniel Johns" was screaming into the camera and saying "I want you, I love you," etc. I thought that was pretty pathetic. At around 6:15, people were slowly allowed in. I bought the maroon t-shirt with "snaz" on it, a black beanie with the banner logo and a poster.
At 7:00, Handsome came on and played a half hour set(they rocked! I bought the cd the next day) Local H came on at 8:00 and played a 40 minute set(they rocked too!) And finally, at 9:00 the circus music began and silverchair took their spots. This being my first 'chair concert I was pretty excited!! I can't remember the order of the whole setlist, but I do remember it went Slave, Roses, Findaway, Abuse Me, Cemetery. When Daniel announced Abuse Me he said that the second guitarist taught them "various masturbation methods." Other comments from Daniel were "You guys are fucking loud!" "You guys rock!" "Hey you guys back in the snack bar, get your asses out here and mosh! Food is bad. Unless your anorexic, then food is GOOD," "I wanna see you all jumping, and don't fucking screw it up." He also said something about not having anything to say, so we'd have a moment of silence for his green PRS. He waited about 10 seconds then said "Okay, that's enough time."
During Madman, Daniel's strap broke or fell off, so he had to balance it on his knee. At the end, he just dropped it and then there was an encore. They came back and played Minor Threat with Jeremy Chatelain from Handsome on vocals, then Israel's Son. Daniel did his usual crazy act at the end, rubbing the guitar along the mic stand and tipping the amp. Ben got up and was throwing water and bottles and his drum sticks. Over all, this concert TOTALLY ROCKED!!!! As hot and sticky as the moshpit was, I refused to leave!! Daniel was wearing a yellow shirt, and beige khaki style pants, Chris was wearing a blue shirt and blue shirts, and Ben was shirt less and had shorts on. It was the best concert I've ever been to and I will definitely be going again in the future!