29-03-1997
Adelaide University - Adelaide, Australia
By MICHAEL OWEN
Adelaide Sunday Mail, March 30, 1997
One of the world's biggest rock bands -- silverchair -- sneaked into Adelaide yesterday.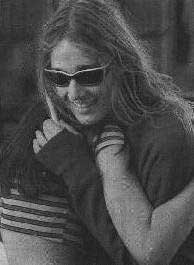 But the teenage rock 'n' roll millionaires announced their arrival loud and clear when they took to the stage at Adelaide University late last night.
Before more than 3,000 screaming fans the Newcastle trio -- Daniel Johns, Chris Joannou and Ben Gillies -- played for more than an hour, belting out hits from their second album, Freak Show.
Yesterday afternoon the band gave the Sunday Mail a sneak preview during a relazed soundcheck, Johns taking time to sign autographs for two 14-year-old fans lucky enough to beat tight security. Five hours before the band was due on stage, hundreds of fans queued up outside.
The sold-out concert was the second of four Australian dates, with the band playing Victoria's Offshore Festival today and Sydney on Saturday.
It is silverchair's first Australian tour since the release of the follow-up album to the smash 1995 debut, frogstomp, that made them superstars.
In the first month of its release, Freak Show sold more than one million copies worldwide.