13-06-2003
Shepherds Bush Empire - London, UK
By SEAN
Photos by Jamie and Elisabeth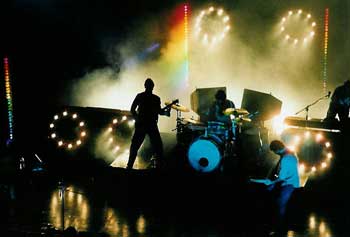 You know what? I cant describe how fucking good Silverchair were tonight. If you wernt there, you wont understand the show they put on. Im still in disbelief at seeing them, ive waited so long to see them. 4 odd years since their last UK show.
Made my way to 'Bush' which is local to me (well a 30min train journey), and i go to college just down the road from there. Dan, Ned, Kev, Steve, Amy ... and myself, made our way to the empire knowing that we were gonna see something we wont forget in a hurry. So many friendly Aussies about, everyone was so friendly, even the staff at the place.
The thing about Shepherd'ss bush empire is the venue is so perfect. The sound and acoustic puts London arena to shame, and the atmosphere is unbelievable. The support band "Nu" came on to quite the overwhelming applause they may or may not have deserved (i was too busy going throught every chair song in my head trying to think what they were gonna play). There set was just right, finishing with a nice medley of one of their songs. Off they went, and we all knew it wernt going to be long before we were graced with the 'chair.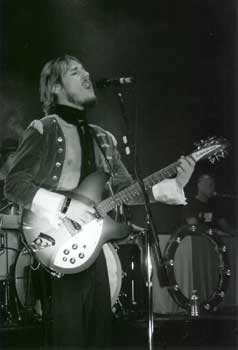 Lights out, its show time. The crowd go crazy! Everyone spots Dan's Girlfriend Natalie Imbrulia and his family sit on the first balcony with the rest of that band's close friends and relatives, and as soon as the lights rise on stage is Dan, Chris, and Ben, waiting eagerly to get things on the move. Im afraid this is where the gig becomes quite the blur. Being utterly mezmorised by the lights and smoke, it was like being at a fun fair with all this amazing colours and streams appearing everywhere.
The best thing is there on stage, looking so happy as a band. Silverchair have gone through a lot, but when you see them on stage smiling and joking as they rip through many of the songs on 'Diorama' and 'Neon Ballroom', its nice to see that there still the same kids they were when they first broke through with "tomorrow" and 'Frogstomp'. Ohh things are getting interesting. Dan asks the crowd to thank the keyboardists and backing mixers who made every song sound like it was playing from the actual CD, with the harmony and melodies of a full orchestra, from one or two mixers with samples...
"Thankyou London ...", Dan softly says ... "... but forget about the first half of the show... " And wham, straight into the chords of Emotion sickness. It sent a shiver down the back of my neck and the whole atmosphere changed in an instance. It was the old Silverchair that we all love so so much! I read the last few Reports from the London dates previous, and i noticed the sets had been very mellow, very 'Diorama'. But this was their last European Date, and my God they were giving it their all!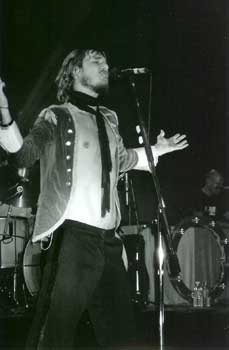 "We dont like this next song, we hate playing it, but you all seem to love it, so whatever ...", and Daniel goes into an extended intro to Freak. No one expects it, but as soon as he strikes the first power full distrotion chord, the plays errupts. Chris and Ben play it as they always do, but Daniel seems bored of the song and really sings half heartedly. But when he drops out and the whole audience sings the main chorus, he smiles and says "Thankyou so much" before ripping out into the second verse, screaming and shoiuting aggressively, jumping all over the place. Really enjoying the song, seeing the reaction from the crowd just made him give it his all, and you could tell he was pretty wordless after.
But before the audience could gasp another breath, he screams "If you think that was heavy wait till you hear this one mother fuckers", and they go straight into Anthem for the year 2000. This was the Silverchair we all love. They were playing songs we really dint expect them to bother playing, it was like going to two different silverchair concerts. The first half, musically brilliant with unbelieaveable harmony and backing, and crazy lighting. And the second half, just silverchair as we know them best. Grunge Rock Kings!
It was an amazing gig, thankyou so much Silverchair. One thing that hit me though was half way through after another amazing applause and response from the crowd after finishing Ana's Song, which i dont even have to tell you was jus so perfect and brilliant, was what Daniel said ...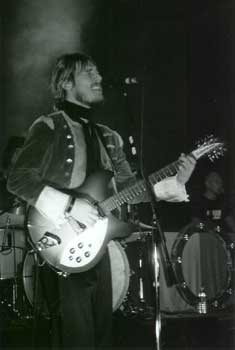 "Thankyou London. You dont realise how momentus an occassion this is for silverchair, but you probly know about that all already..." Are the rumours true? Is this the 'chairs last European concert? Is this their last ever gig? Are the 'chair no more? If the rumours are true, which i really hope there not, then i dont think they could have finished off what has been an amazing few years and albums since the 'Frogstomp' days. The concert was perfect, and although lasted so so long, ended so so soon. Every song they played, just seemed so right. Everything about tonight was right, if there was a night to finish everything, then there wouldnt be as fitting a night than tonight.
We hung out until 12.15am outside the place, and saw Silverchair leaving after trying to get backstage several times. (Big hello to those security guys who just wouldnt listen), they left together pretty hastily which was a shame, but they could have done or got away with anything after a performance like tonight. My two friends Dan and Ned got Ben's drumsticks, one each, lucky b**tards, but i was still pretty awe-struck by the gig id seen to really care, although now i think about it, they both have a drumstick from what could be Silverchair's last UK gig, Europen Gig, Ever Gig...
If the chair remain, then they better not wait another 4 or 5 years to head on over to jolly old england again, and if they dont, then i along with many other silverchair fans will be absolutely gutted. If your reading this Dan, Chris, and Ben ... You guys are just fucking awesome. Your music is so diverse, yet just so, well i cant even begin to describe it. I just hope n pray the rumours are all bullshit.
Rock on Silverchair, no matter where or what you do from here on.
---
By NAOMI
I have been a Silverchair fan for about 5 or six years now and this is the first of their live shows I have had the privilege to see. And what a privilege it was. It was so refreshing to see a band who threw themselves so thoroughly into all their songs, even when Daniel tailed off in the middle of Freak it was great to see the bands smiles when the audience finished the chorus for him. And can I say, the boy knows how to whip up a crowd! Rocking through Diorama tunes with gusto made for a excellent first half. But I have to admit that the second half did it for me, classics such as Emotion Sickness, Anthem for the Year 2000 and even Israel's Son ( I nearly exploded when they played that!).

The lighting was brilliantly done, and built up atmosphere superbly, which probably peaked when Daniel played 'Anthem' and had everyone yelling "We are the youth". I thought the vocals at the start of the show were a little muffled, but that seemed to correct later. All in all it was a night I will never forget – and I would like to end by thanking Silverchair for a night of great entertainment and above all quality.

NEVER STOP PLAYING GUYS!!
---
By PARADOX
O.K. So let me just begin by saying that watching Silverchair perform last Thursday and Friday at Shepherds Bush Empire, was the most amazing inspiring experience of my life. You see, there's a difference between a show that rocks and a show that truly changes your whole outlook on the impact of music. And yes, after the first show, I could'nt resist, but to grab myself a ticket for the second and final show of the tour. Myself and Mike (my brother) travelled over from Ireland, to witness 'The Chair', as unfortunately, they never have and never will grace Irish shores.
Being a Silverchair fan, who is in awe at the whole 'Neon Ballroom', 'Diorama' era, I sang every word, which was kinda hard, as Daniel kept on changing the Melody, but none the less amazing. I'll focus on the second show here (June 13th). Stuck like a sardine, two rows from the frony of the stage, I still got shivers down my spine, when I heard the orchestra, from 'Across the Night', come through the P.A., watched the lights dim, and then witness Daniel for the second time, stroll across the stage, dressed differently from the previous night, in part of the outfit from the 'Across the Night' video, nipples pierced, sit at has piano, a gracefully open with 'After all these years'.
Ben and Chris appeared, after this outstanding opener and the band flowed through amazing versions of 'World upon your shoulders', and 'Tuna in the brine', most of the first set, being off 'Diorama', which was more than fine by me(I personally dig the new stuff better), and an incredible 15 minute version of 'Emotion Sickness', especially the intense scream Daniel gave off in the middle of the song, and the extended outro. I was pleasently surprised to hear 'Do you feel the same', and the hilarious version of 'Y2K'. For those who did not witness the show, they played the last verse in slow motion, with Daniel singing in a mix of a slow record and an old man, changing the lyrics.
The old school fans, I think, were pleased to hear some early classics, 'a trip down memory lane', as Daniel put it, like 'Israel's Son', and 'Freak'. Some how I think Daniel was slightly bored of the song. He also proceeded to play his guitar with his teeth, mentioning that this was for his girlfriend.(this could mean two things...)
One thing I noticed, was how much fun the band were having, Ben never stopped laughing, and Chris was rocking out by the kit, during the heavier set, and continued so, even when Daniel was patting his ass(that was funny). The keyboardists, both of them, done an incredible job in recreating the sound on 'Diorama'. Every note was to a tee, well done guys...
After 'Israel's Son', Daniel arrived back on stage, performing 'Asylum', on the piano, a track that only the true 'Chair' fans would know, not sounding soppy, but it is the type of song that would nearly put you in tears, and it was played with awe inspiring passion. Thanx Daniel. Last but certainly not least was 'The Lever', it sounded so heavy, especially the slow part at the end, Ben's drums were so chunky. This was followed by another hilarious jam, in which Daniel told a story of his mate 'Steve', with a funny American accent, some phone conversation, something like 'Hello Steve' repeated, 'It's Daniel', one of the keyboard players immitating 'Steve'.
It was just the whole vibe onstage from the Band, the energy between the audience and the theatre type venue, that made this night and last night utterly inspiring. Being in a band ourselves (Paradox, got my plug in), but seriously, I was just blown away. And to make things better, on the first night, we saw Ben, Chris, Manager, and some road crew types stroll past 'Shepherds Bush Green', how cool was that, no rockstar bullshit. Silverchair are just normal guys, who are exceptionately talented at what the do.
There are very little bands at the moment, playimg real music, the record industry destroying that, but Silverchair shine through like no other, playing directly from the heart, making their music really make a difference in peoples lives. I know it did in mine. Thank you for the influence and inspiration guys, please keep writing and playing, it would be a crime to stop...
Any hardcore Chair fans out there, that want to exchange pics or whatever, e-mail us at paradox@paradoxrock.com
The set for June 13th, is as follows:
1. After all these years - Beautiful & Inspiring
2. World upon your shoulders - Intense
3. Tuna in the brine - Unbelievably tight
4. Emotion sickness - Very Emotional version
5. Without you - Extremely well performed
6. Luv your life - Lush, with extreme musical ability
7. Across the night - Magical and orchestral
8. The Greatest view - What can I say ???Brilliant
9. Ana's song - Sad and straight from the heart
10. Do you feel the same - Pleasently surprising
11. The Door - Funky with a hint of Hendrix
12. Freak - Daniel seemed bored, rockin...none the less
13. Y2K - Funky and hilarious
14. Israel's son - Loud and heavy
******Encore******
15. Asylum - Inspiring and magical, a step away from reality
16. The Lever - Chunky, heavy, slow, the way rock should be
17. Funky Jam - So funny, a perfect end to a perfect show
---
By ANONYMOUS
What can i say? It's been two days since the gig now and still it is all that i can think about, i still find myself shivering at the thought.
Me and my boyfriend andy began cueing outside the Bush at about half three, i wasn't surprised to see a bunch of chair heads already there! After some alterations I managed to be the first person to enter the venue - amzing!!
We were sat right in the centre of the first balcony, what could be said as the perfect place to sit and admire Dan's pure amazement!
The support band - John Butler Trio - came on, the fact that a double bass was involved kind of sums up their show, it was an excellent beginning to the night. As they left the stage and the lights returned my whole body was shaking uncontrolable with excitement.
After what seemed like houres, the lights dimmed and Daniel walked out, wearing what looked like pure style! A cravat with noe shirt, inly he could pull that off!!
He sat, without a word, at his piano, and began the beautiful intro of - After All These Years - everyone seemed stunned, just watching the reality that this was actually happenning. At the end of the song the shouts came out, cheering him on. But it was nothing compared to what was to come.
Ben and Chris came on stage and they played a few sonds from Diorama, - The Greatest View - Without You - Luv Your Life - Tuna in the Brine -. These were played flawlessly, the emotion built up by them had me almost in tears so many times.
They played - The Door - with a funked up vibe to it, which had Daniel dancing about all over the stage, and most of the crowd as well!!
Their rendition of Ana's song was ultimately beautiful. This could be forseen as before it Daniel said, "this is a sad song, you may need to cry".
About half way through the gig, Daniel stood at the front of the stage and said, "Forget about the first half of the gig, it's always crap", in my opinion the first half had been amazing, but he was right it was nothing like what was to come. They broke straight into - Emotion Sickness - a lengthened version, which was...outstanding.
A trip down memory lane sparked off a rendition of - Isreal's Son - which got everyone really going. Then as Freak began, what seemed to be against Daniel's wishes, everyone really came out. The reaction he was getting from us seemed to set him off so by the end of the song he really was enjoying playing it.
- Anthem of the Year 2000 - my personal favourite Silverchair song, was brilliant, all the crowd seemed united in singing along with it. By this time the whole of the balcony was standing, and i could see Natalie Imbruglia sitting at the side jamming along with it too!
At one point, i can't remember which sond he did play his guitar with his mouth, something which always amazes me.
As the left the stage, i knew that it was coming to the end, but Daniel soon returned and played - Asylum - I really do love this song, the clarity of his voice as he sang it, again had me almost in tears.
The last song - The Lever - was such a brilliant some to go out with. I could see the crowds below me really going for it. One kid crowd surfed to the front and Daniel shouted "Don't throw that kid out!" The outro was purely amazing, with some complimentary guitar throwing and breaking up of the drum set before all three of them left the stage for the final time.
I sat there, on the balcony for about ten minites without speaking, trying to tarke in what i had just seen, probably one of the best nights of my life.
What can I say? Only thank you Silverchair, for being amazing, I LOVE YOU!!!!!
---
By SOPHY
Last night was quite possibly the best night of my entire life.
I had built up this amazing video in my head of what the silverchair concert would be like, and after waiting for months, being so excited i sometimes couldnt sleep...yes...it was nothing short of amazing!
I took the train down by myself from Bristol, and met up with some friends down there who were already in line.
Outside Shepherds Bush Empire, there were crowds of people...and when the doors opened we rushed in and managed to get spaces right at the very very front barrier!
The John Butler Trio were the support band, and i thought that they were pretty good. Under any normal circumstances i would have been happy to listen., but the anticipation waiting for Silverchair was too great! I do have one complaint, just to get it out the way. They didnt play Miss You Love. If you asked me for any song in the world i have to see live, it would be that, and they cut it out! The concert was wonderful nevertheless, but i was disappointed....

Unfortunatly i can't really remember the exact Set List, but i think it went something like this...

After All These Years
World Upon Your Shoulders
Without You
Across the night
The Greatest View
Tuna In The Brine
Luv Your Life
The Door
Emotion Sickness
Ana's Song
Freak
Anthem For The Year 2000
Do You Feel The Same
Israels Son
Asylum
The Lever

When the lights came down, and Daniel walked on stage the crown went crazy! He sat down on his piano, and i knew exactly what was coming. After All These Years. I was totally mesmorised by the song....it amazed me how much it sounded like the CD, how pitch perfect he was.

Most of the first half was diorama, with a few of Neon Ballroom. The friends I was with didnt know Diorama really, but i was in my element! The high notes Daniel hit in 'World Upon Your Shoulders' was just fantastic, he kept on going higher, and when I thought he couldnt get any higher, he did! 'Without You' and 'The Greatest View' both got everyone going wild, and joining in. I have to say, it was definetly thanks to Ben and Chris there!
I think The Greatest View was one of my favourite parts. There's something about that song, especially the chorus that makes you want to shout out! And everyone did!
'Tune In The Brine' made me just stop and take it all in. That song amazes me everytime i hear it, but live was just something else. from 'Painting a lie seeing the colours but you seem closer than everything' i was almost in tears! Then it was 'Luv Your Life.' My friend hated that song when he heard it before, saying how it was silverchair turned teen trash pop.
Well, the first set of 'dooo's' i turned to look at him, he was grinning away singing along! It just shows what a live show can do you! That song always makes me happy, and i couldnt get enough of it then....i didnt want it to end!

But 'The Door' all i can say is WOW! Its not a song i listen to particuarly often, and i would never has classed it as one of my favourites, but now i love it! The Door, Freak, Anthem for the Year 2000 and Israels Son got everyone screaming crazily. Daniel was talking a lot about memories, and i just thought, havent silverchair come such a long way since these days. But now they were playing them, with such energy. The old songs sent the place into hysterics! Everyone sang along to Freak, 'Body And Soul, Im a Freak' Daniel said how they didnt really like this one, but even if thats true, he put on a great act of dancing around the stage! Straight after, he shouted "If you think that was heavy wait till you hear this one mother fuckers", and then came.....Anthem, the famous 'We Are The Youth.'

Being right at the front i was totally squashed, but i really didnt care! It was all part of the fun....being in a crowd with so many of people feeling exactly the same as you when silverchair play. I was in awe! I felt so so so sorry for the people who hadnt managed to get standing tickets. The rows were really high up, and i looked a couple of times, i think there were people considering jumping down! Well i would....must have been hell being so far away from all the action!

My absolute favourite was Ana's Song. Daniel said 'This next song is sad. So cry if you want...' Yes, Me and my friend Mallory were in tears! This song, you could feel how much everyone loved it, and it was just the best moment of the whole show. The reaction from the audience was something ilke ive never experienced. I've heard it live on mp3 before, and that sends shivers down my spine, but live....actually being there. I cant even begin so describe it. I think i actually closed my eyes, and swayed to this song. I cant remember anything apart from how wonderful it was. I remember telling the guy standing next to me, Kev...'i can now die happy!' Ben's drumming made this piece. Sometimes, although i love the lyrics, and they are really the essence of Ana's Song. I'd be perfectly happy to listen to the music without the lyrics......

Then Daniel went back to his piano for Asylum. I knew this meant we were nearing the end of the show, so i tried to take every single thing in. I really dont think anybody except me knew this! Didnt seem like it anyway, i had been waiting for this- and again, words can't express. The Lever was fucking faaaaantastic! Chris's guitar playing, i find this song orgasmic! They jammed for a while.....and it was a great end to a show that i felt honoured to be seeing.

Daniel wasnt particuarly chatty really. He did seem quite tired, and being the last show i thought we would get a bit more....but whatever, im not going to complain about anything. We had the famous ass shaking he's been famour for this tour......with an eruption from the female members of the audience! And he played the guitar with his teeth, shouting 'This is for my girlfriend'!!!! Then with a vodka bottle- i thought that was pretty cool! I have lost my voice, my head hurts, my legs are aching but that means nothing!
I cant tell you how much that night meant to me. If the rumous are true, and silverchair are no longer touring, then as Daniel said 'This is such a momentous occasion for silverchair' and everyone else there too- because we were possibly at the last silverchair show gig ever. I hope not....because they are simply stunning. I want to thank Dan, Ben, and Chris for the most awesome night of my life.....You had to be there, and to everyone who was-
WASNT IT FUCKING FANTASTIC!!!