12-06-2003
Shepherds Bush Empire - London, UK
By ADAM
All photos by MARK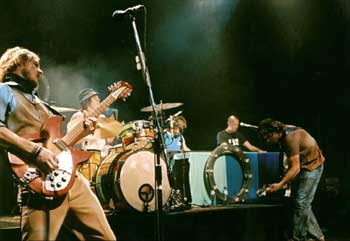 hey!! just got home from my 6th silverchair gig and my second and last of the 4 london shows. i was seating level 1 this time as i stood on tuesday night and fancied relaxing and just really watching the performance, i was glad i did, i had a perfect view of the whole stage, i was over on daniels side and was as close to the stage as you can get on 1st floor balcony. it was a really great night, i saw a few faces there too! opposite me on the balcony on the other side of the stage was the one and only natalie imbruglia, it was really nice seeing her enjoying the show, i looked over a few times and she was nodding her head and clapping along for the whole set, she looked very proud!! i looked at her also in a poigniant moment in "across the night" when dan was singing "yeah lets just get married" ah!!!!!!!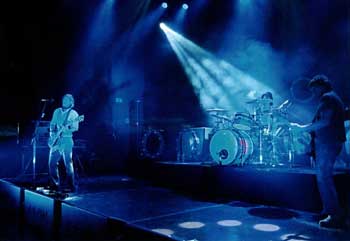 ok!! so yes, it was more rock than tuesday, this night they all walked on a rolled into opener "steam will rise", it was great to see as id never seen this track live before and i dont think they have played it live more than 5 times anyway. they were extremely tight once again and played a few more older songs, like petrol and chlorine. anas song was absoutely beautiful with a slower more touching intro, and emotion sickness was absolutely stunning and completely inspiring, i felt tears almost at watching it, daniel really does give everything of himself in these shows, it must be so emotionally draining for him!!
the end came too fast and after a fantastic (and amazingly sung) version of asylum they finished with the lever and a jam at the end. i spotted paul mac at the side of the stage smiling proudly at dan too!
so all in all, a fantastic show! LETS JUST HOPE ITS NOT ANOTHER 4 YEARS BEFORE WE SEE THEM AGAIN HEY GUYS!! :>
goodnight!
---
By SALLY
What a night! I still have chills thinking about it. As a long-time avid silverchair follower, right back from the days of 'Tomorrow' and Triple J Unearthed, I had very high expectations of this night. Having seen them perform a couple of times in Oz I knew what I was up for but still not sure given the slower more melodic nature of Diorama. I was not disappointed.
Daniel, oh my goodness, what a performer! Like Bono, he is one of those rare performers who continually keep you entranced. I couldn't keep my eyes off him all night. Let's not forget his sidekicks, Chris and Ben, who as always played faultlessly and full of energy. I must say, my favourite 'moments' were the oldies, 'Ana's Song', 'Emotion Sickness', 'The Door' and 'Anthem for the Year 2000.' The rest of the set was brilliant; full of pure, raw emotion and rock 'n' roll.
I don't think I can use any more superlatives to describe this night. Pure brilliance.
---
By MARK
Lets start from the beginning.
The trip to "Sheperds Bush" was relatively painless, going by train and then the tube, we finally arrived at the 'Empire' about 3pm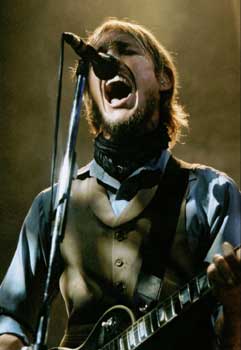 There were people already waiting, and we were under the impression that they had already been waiting there for a few hours. So instead of cueing up immediately we went to the "O'Neils" pub on the corner for a quick drink (Which its toilets smelled so bad you could almost taste it on your tongue? whatever it was!) and then about 3:30pm we went on to cue up.
As luck would have it while waiting in line (we originally had Level 1 seating) a girl comes up to us (the name escapes me now, actually I dont think she actually told us her name?) and explains her situation that she needs to swap 3 standing tickets for 3 seating! Yeah baby, you know we were straight up for that and so we proceded to swap tickets. (Damn my horoscope was wrong for today, my luck was going great!)
After what seemed like an eternity! (Well imagine waiting about 4 hours with bugger all to do, and see how long it feels to you!?) the doors finally opened and in we went (Looking back on it now, the 4 hours we waited didnt even feel like 5 minutes).
We decided to rush to the front of the stage so we could get a good spot. Myself (Mark) and my two minions Matt and Tom were anxious to take a toilet break but werent impressed with the huge! crowd that they would have to attempt to make their way back through to find me at the front (amusing really when at the end of the show we realised that noone by the end of the show were actually in the same place they started at! which is a good indication of how hot this crowd was tonight).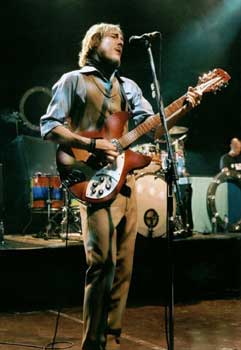 The support band "Colour Of Fire" came on after a hour wait (By this time your lower back really was hurting from the wait outside to the wait now for the support band?) And under the circumstances if this band were touring on their own, then they would have rocked the house down. They were a very punky version of "The Vines" and had a great vocalist, but you felt after about 4 songs they all started to sound a bit 'samey' and didnt have much diversity to the songs. You also felt that the fans were saving their energy for the main event and although "Colour Of Fire" got a great! response after every song, it was just a filler to Silverchair (I honestly thought the support band would be alot worse than they were, but they held their own infront of tonights crowd).
So after their set, we had a 30 minute wait for the roadies to change over equipment, which obviously caused a crowd surge, as everyone wanted to be at the front and able to see what was going on.
A guitar tech (Who was about 60 years old and had grey hair everywhere and looked like a down and out hippy) was up on stage with Danials guitar and testing the mic for a short while (Jokes about Danial Johns really letting himself go were quickly noted).
Then the lights dimmed and the crowd went ape! The band started off with "Steam Will Rise" which seemed alot more rocking than on cd, and had a jam style session at the end which was very cool. The first thing you really notice above everything else, is the over whelming feeling of excitement in the building that goes all the way from the crowd standing, all the way up to the fans in the balcony seating area.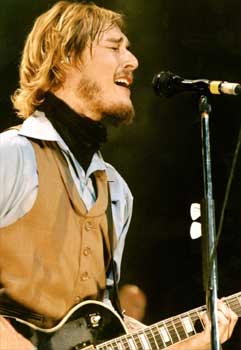 I cant recall the order of the actual songs but from here it went to I believe - "World Upon Your Shoulders" which had everybody singing along! Something worth noting is the energy of tonights crowd. Even though this song is chilled out compared to some of the other songs on this set, the moshpit was overflowing with bodies.
Then we kicked into "Tuna In The Brine" which really was just outstanding, vocally and musically, to cut certain aspects of this review shorter, (too late!) its safe for me to say that every! song people were singing their hearts out to, all you have to do is look around and see the peoples faces just beaming happiness and puring their individual souls into every word of every song. A truely magical experience you can only get when you see a band like this live.
And so the feeling stayed throughout the set.
A few things to note:
1.) The version of "Petrol and Chlorine" they played (Which I was really looking forward to as its one of my favourites off of "Freakshow") wasnt as different as I was expecting? It was still fantastic but it really didnt sound as different as everyone made it out to be?
2.) Hopefully the new intro they played to "Ana's Song" is a taste of whats to come from the new silverchair album, as everyone thought when they started playing, that this was a new song no-one had ever heard off!
It was so beautiful, and played with such a real spark of emotion behind its chords and had everyone mesmerised by its power.
3.) Oh my god! "Emotion Sickess"!
Now this song was amazing! But in the part of the song when Danial sings "Get up, Get up", just after this section he always adlibs his vocals by singing like an absolute angel, and tonight after seeing so many different performances of this song, this performance really was the most jaw-dropping experience of my life, and im almost certain of nearly everyone elses life.
To explain, basically the vocals were going higher and higher in pitch and then he finally reached the pitch of what can only be classed as a opera singer, and he held this pitch for a good 10 seconds and you thought at this pace he could just about crack glass by now!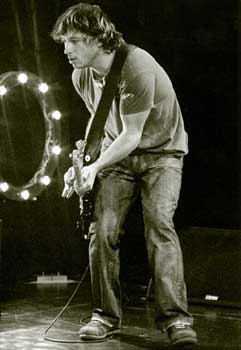 People were literally stopped in the crowd and jaws were dropping, as if they had just seen the second coming of christ. I know this sounds like an exaggeration but jaws really were hitting the floor!! Oh my god I still cant get over that. The best part of the whole show easierly.
4.) "Luv Your Life" - This was the biggest singalong of the night "Do, do, do do do do" could be heard on Mars it was being sung so passionately and loudly by the crowd and band.
5.) "Israel's Son" Was a spirit uplifter, when the bass line kicked in after Danial talked about this being "An Oldie to rock out to" (Danial swears alot? I like it! Makes him seem more down to earth.) the crowd went the most ape of the night and bodies were flying everywhere. This band really knows how to control an audience through its music.
6.) "The Door" - Myself and Matt thought that we would probably die when this riff kicked in, its had an extended jam session in the middle which really was the nuts! The crowd was steaming it was so hot and into this right now.
7.) There were a few bad points though and this wasnt to the bands fault at all!
a.) "Israel's Son" when people were crowd surfing, one guy came down right on the back of a group of peoples necks (myself and Matt included - god knows where Tom ended up throughout this set?) but although I havent got a problem with crowdsurfers, its things like this that when they happen you realise that sometimes maybe it isnt the best of ideas! I mean alot of people were really hurt by this idiot, who I call an idiot not because he was crowdsurfing, but because he wasn't actually crowd surfing properly!
He was thrown up in the air behind up, instead of being hoisted up onto waiting hands to carry him. So he obviously was just going to fall straight back down to the floor, or in this case land straight back down on top of unsuspecting fans necks which people werent happy about including myself and Matt
b.) You have to feel sorry for all the girls in the audience who really were taking a pounding through out this gig.
I mean it wasnt just us who were constantly trying to keep these girls from going down or trying to stop people from crushing them to death.
Not saying that the girls were complete wusses either, because they held their own for what its worth. But you just feel like its your duty as a bloke to make sure their not getting their arses stomped into oblivion!
There were so many other guys trying to do the same, but you felt like it was just a losing battle under the situation as there were so many typical moshpit morons causing havoc, I dont understand why people cant just rock out with out having to throw punches and kicks and act like a bunch of knobs?
c.) To the guy infront of us during the encore who was trying to impress everyone with his knowledge of the lyrics to "Asylum".
Now if people want to sing along to a song, obviously thats fine, like myself! I was singing along quite loudly and just enjoying myself, and if you look around, you'd see a few other people singing along, others were just content with enjoying the moment of hearing Danial on his own and singing like nothing short of an angel! and some others just plain didnt know the song but everyone was basically stunned silent to Danials beautiful voice.
But this guy was completely pissed, and while singing at an unceptably loud level and looking around at all the girls trying to impress them (somehow?) with his obvious inability to show a sensitive side and just shut tha hell up! I mean this is supposed to be a chilled quiet moment for everyone! not to be interupted by an idiot trying to impress the women in the audience.
-----------
But this really is just an attempt (Not including the really rather small bad points) to describe what a great experience Silverchair were/and are!
I've been to alot! of gigs over the past few years since my first gig in 1998.
But without a doubt this has been the best, for a number of reasons, personal and/or otherwise and I urge everyone to see this band before they stop touring for good The set list in Alphabetical order below.
Thanks to the band and everyone who turned up to make this such cool experience, especially the girls who hooked us up with standing tickets! You absolutely rule!
---------------------
Set List / Recap:
Across the Night - [so glad this song was included]
Anas Song - [the most amazing guitar solo intro]
Anthem for the Year 2000 - [a total crowd pleaser]
Asylum - [amazing vocal performance, and a experience all unto itself]
Emotion Sickness - [the highlight of the night with "that vocal part"]
Israel's Son - [classic never grow old utter rock n roll heaven baby]
Luv you Life - [singalong heaven]
Petrol and Chlorine - [plain and simple - a great song and great live]
The Door - [rocking like a mutha!]
The Greatest View - [another amazing singalong!]
The Lever/Jam - [more chilled out and funky/jazzy than whats been described in previous reviews]
Tuna in the Brine - [wow]
Without you - [god was this song sooo good live]
World upon your shoulders - [dont know how he pulls this off live so well]
---
By LORELLE
Well all I can say is SILVERCHAIR SERIOUSLY ROCK! What a night. My first time at Shepherds Bush Empire and I was totally wowed. Coming from South Africa it was a real treat to see one of my all time favourite bands live in concert so close. It will be a concert never to be forgotten. Oh man what a gig. They were unbelievable. Daniel is a brilliant showman. He is full of these stories with no meaning yet they somehow make sense and just fit in with the gig and makes for an interesting event. They did some interesting things with some of the songs, like going off into a jazzy/bluesy tangent. Daniel is one hell of a talented musician, sliding his fingers and tongue over the guitar strings comes with no effort and yet sounds fantastic. His voice gave me goose bumps. He has such a mesmerising voice. I really did enjoy the way he sang Luv your Life, he did that so beautifully. He did an amazing version of Ana's Song. And too me a true musician is if they can sing and perform live and sound better than the albums…. And he lived way beyond my expectations when it came to that, he was just awesome. Ben was just way cool; he has just got better and better. From Frog Stomp to now, they have all become truly brilliant musicians He sat there playing drums, but he always had this grin on his face checking out the crowd and what was going on.

Another thing that kind of blew me away was the venue. Shepherds Bush Empire, Is a top quality venue. Beautiful size, no matter where you are you get to see the stage and the act. But I was fortunate in the fact that I had really good seats. Was on the first level in the middle. It was right by all the Silverchair reserved seats. So we had Natalie Imbruglia looking on and jamming along with her man.

First half of the set was Diorama. Which was fantastic, I really do think that this album shows off all of there talents. So it was a treat to see them in action performing such well written songs. Then they played all the good old grungy Silverchair we all know and love. I was over the moon when they played Israel's Son. Then they did an awesome version of the Lever that just made everyone want more and more. Aaaaah I want to be there again, it was just fantastic. They just Rocked!!!!!!!It was just top quality!!!!!!

So I got to say thank you to Silverchair for the show that I will never forget. It was truly a privilege to see one of my favourite bands live and not be one tiny but disappointed, but just awed. So thank you!!!!! You guys seriously rock!!!
---
By SAM (age 12)
SILVERCHAIR were amazing!!!
So I arrived in London the suspense was building inside of me, as we drove in I saw the support band in their van. I lined up outside the Empire thinking of the songs and the setting, finally we started moving and then I got in the moment had come I was so excited I found the perfect seats it was the best view. The support band entered and played but was pretty normal.
After the support band I looked behind me and Natalie Umbruglia was sitting behind me but then moved places and sat three spaces away from me and the rest of their family's.
They got the soundcheck done then..silence! Then music of across the night came on and so did Daniel, Ben, Chris and Sam Holloway, the crowd went wild and so did I. Daniel and Chris grabbed their guitars and Ben picked up the sticks and played. The first song was made the place shake it was STEAM WILL RISE.
As soon as Dan started singing that made the crowd shout, everyone sang along I sang along with every song except from one song but it was all great, the sound of his voice was so smooth and fresh. the next song was WORLD UPON YOUR SHOULDERS, one of my personal favourites it is great live, the chorus made me want to cry it was so emotional on the guitar solo Dan played with his teeth!!! It was incredible Dan was shouting, "Can you feel the power, feel the power!!!!!!!"
The next song was EMOTION SICKNESS after that song the rest was a blur; the amazing intro to Emotion Sickness was clearly amazing I couldn't believe it was actually happening. After a couple of other songs he played ISRAEL'S SON the heaviest song ever Dan said " We are going to take a little trip down memory lane"
As soon as everyone heard the bass chord go everyone went mental like they did on THE DOOR another heavy song.
Set list a-z (cant remember order)
Asylum
Across the night
Anthem for the year 2000
Ana's song (open fire)
Emotion Sickness
Israel's son
Luv your life
Petrol & chlorine
Steam will rise
Tuna in the brine
The greatest view
The door
The lever/Jam
World upon your shoulders
Without you
I almost cried on the greatest view and World upon your shoulders it was so emotional Asylum was so beautiful Tuna in the brine, another fantastic song one of my favourites. That night will be a night I will never ever forget. (my most magical night)