10-06-2003
Shepherds Bush Empire - London, UK
By CHRIS
Photos by ELISA
I have always wanted to see the mighty 'chair live as they have been a most liked band of mine ever since good ol frogstomp days. I found out about the UK tour and knew i had to go somehow. Living in Yeovil, Somerset does have its benefits of some ace local gigs but is a pain for any bigger bands. After much hassle me and my friend Char managed to get standing tickets which i was quite pleased about to say the least. I paid for her ticket as I'm nice...well, and because she agreed to drive us there and back!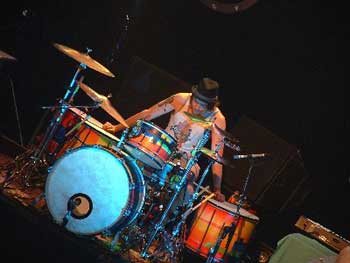 Finally after months of excitement the morning came, and me and Char headed off for london at 9:30am as we wanted to allow much time to get lost/eat/sleep etc! According to our good directions it should only take 3 hours but we wanted to make sure as Char hasn't been driving for long and had never been on a M3 let alone driven in London! This was quite a worrying and nervous journy to Shepherds Bush as you can imagine, however after concentration and a few maps we managed to arrive safely in good time too!
We were excited all day and finally the time came for us to go que up and wait to be let in. We managed to get in down at the front, on the barrier. I didn't know what to expect from the band "Nu" as i had no knowledge at all of them. They certainly had a lot of band promotion outside the venue with signs advertising them going up 15ft up the lamp-posts! I didn't really know what to make of them as they performed fairly well and had some good riffs, but i guess it couldn't of been much to be expected considering who they were opening up for. The shirley manson wannabe and the "busted" look guitarists gave a popy rocky dirty feel with their music, but they weren't anything special.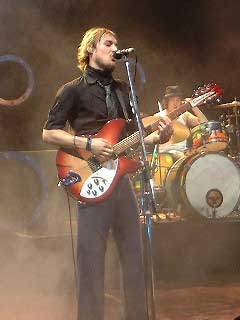 Silverchair were amazing. Amazing. Amazing. Not enough words really can say how well they played and how great the gig was. Best gig i've been to for sure. I'm sure a LOT of people will be saying that as well. Even though due to my 6ft tallness, i am unfortunatly not that fat and my lungs did get quite squished to say the least. A 6ft wide girl next to me did not help matters! I won't go there though because she seemed to try and ruin the whole gig for others around her. I couldn't believe how great they sounded and they mixed the diorama and neon ballroom stuff so well with the guys playing the synths for the piano/strings/harmony stuff. It basically sounded as good as the recordings, just with minor orchestral stuff which you noticed missing occasionally. Ben and Chris both played enthusiastically with permanant smiles and Daniel looked like he wasn't half enjoying himself with mouthed guitar solo's, violent guitar swining and smashing at the end of the set, and wiggling his bum which probably made the girls eyes pop out of their heads. It was so nice to see Dan, Chris, and Ben all happy and enjoying themselves.
I really can't remember the whole set's proper oder but here are the songs that were played. Towards the end of the set i was getting worried at Char feeling faint, as she had to drive us back home 3 hours again out of London!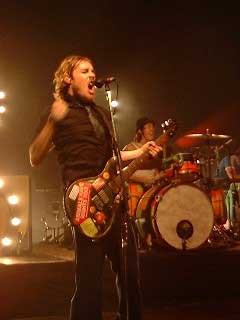 Across the Night
After all these years
Anas Song
Anthem for the Year 2000
Asylum
Emotion Sickness
Israels Son
Luv you Life
Miss you Love
Petrol and Chlorine
The Door
The Greatest View
The Lever/Jam
Tuna in the Brine
Without you
World upon your shoulders
An amazing set with many amazing songs. I loved the way how the show was a performance too, and i greatly enjoyed the participation with the audience, the showmanship displayed by the band. The jam was truly great and went on for ages!
After getting home safely i just thought...WOW. I didn't know what else to say really. I didn't know what they were going to be like live, and i got treated with every "candy" possible. Thankyou to Silverchair for giving me such an amazing time, and many thanks to Char as well, your a darl and wouldn't of been able to see them if it wasn't for you. :-)
---
By CHRIS
having been a chair fan for years and years and still somehow missing them on the few occasions they travel to these shores, tonight i was hoping would be a night i would not forget. what followed was possibly one of the greatest gigging experiences of my life...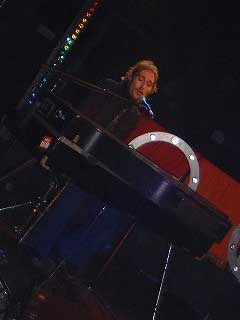 i dont tend to read road reports before going to gigs as i feel it spoils the surprise slightly, and this case was no exception. silverchair are not a conventional band by any standards, and yet despite this i was still surprised and overjoyed when the delicate strains of "after all these years" started the show. the crowds cheering almost drowned out the softness of his vocal, but it really was the perfect minimalist start. the next track, the gentle "world upon your shoulders" was the perfect perfect follow up. daniel had been on stage for around 5/6 minutes and still the rhythm section had not entered. i was just waiting for that first crash, and when it came the sound enveloped me. at the climatic solo i went giddy at the knees as johns thrashed around the stage, playing his heart out. when the first orchestral clash of emotion sickness rung out in all its powerful glory, i couldnt quite believe what i was hearing. it was breaktaking, and the extended interlude was the perfect period of mournful reflection you needed after the crescendo of "won't you starve my brain..." that had preceeded it.
all in all the set was exactly what i had wanted. a heavy bias towards diorama and, to a lesser extent, neon ballroom. of course, like any other i welcomed the storming "israel's son" and the extended funked up "the door", but for me these merely provided rockin' out moments of relief in between the intense emotion of their more recent and, in my opinion, superior moments. but all that was to come. we were treated to the inspiring "without you" (one of my favourites off diorama) and, to the absolute ecstacy of me and my friend, paint pastel princess. the absolute highlight. this possibly has to be one of our favourite songs of all, and the unexpectedness of its inclusion only served to make the experience all the more emotional and...euphoric. having since read that the boys usually play miss you love instead of this, it feels more like fate that we were there on this night. (at the risk of sounding like i ve been watching too many matrix films)
what was also heartening was viewing just how much fun the boys seemed to be having. johns looked fit and well, and was the perfect entertainer as well as the catalyst for the emotion that ran around the venue. the spontaneous gansta-styled rap/conversation with one of the keyboardists was one of the more random, and very entertaining, aspects of the show. the musicianship was impeccable. the 2 keyboardists thru sampling and playing managed to recreate the layers of orchestral work that litter the new material perfectly. this combined with the tight and driving rhythm section and the powerful guitar work created an extremely intense atmosphere that i let wash over me. the extended musical interludes were also welcome, and showed off gillies' fill-happy style of drumming moreso than anything else, particularly in the end of set "the lever", which i never wanted to end.
at the end of the 1 hour and 45 minutes i could hardly believe they had been on so long. we just stood there, enthralled and barely able to move. it had been an emotional rollercoaster, and a night i shall not forget. thank you silverchair.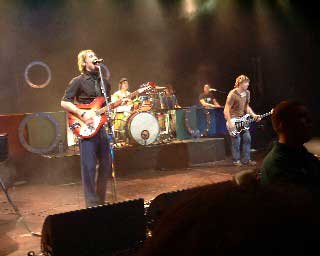 set list (in album order):
across the night
the greatest view
without you
world upon your shoulders
tuna in the brine
luv your life
the lever - extended
after all these years
emotion sickness - extended
anthem for the year 2000 - extended
anas song
paint pastel princess
the door - extended
israel's son - extended
asylum
---
By BEN
Ever since my friend learnt me "NEON BALLROOM" over 3 years ago, I have been waiting for this day, the chance to see Silverchair in person. I was like an excited school kid on Christmas Eve waiting for the big day, and when it arrived WOOH!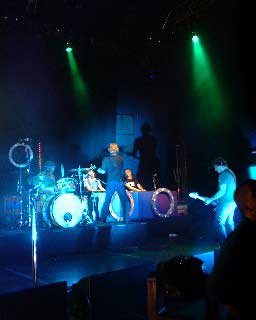 The first thing I noticed about the venue was how small it was, it kind of reminded me of my old school hall where we use to have assembly's. The other thing I notice was how small the stage was, it wasn't very high and with more and more people coming in, I know that seeing the actual band was going to be difficult, but as long as I could hear them, and for that matter hear my favorite Silverchair songs in the fresh, that all that mattered.
The support band were a British band called NU who I had seen the one and only video on MTV2. They were alright but we weren't expecting them to be in Silverchair's class. When they played there last song, one of the drummers stick came zooming past me. Being a drummer myself it would have been nice to pick up a memento, of course I would have told my friends it was Ben's stick. We were standing right at the back for Nu and since I was already struggling to get a glimpse of anything, I told my friends that I had to get closer. So we got a close as we could. My friends sported Daniel's fiancé Natalie Imbruglia on one of the balcony's. Then, the lights went out.
Even though I couldn't see that well, I could tell by the hundreds of girl screams that Daniel Johns had took to the stage. He walking on to stage with the sounds of the horns of the ACROSS THE NIGHT theme being played. Looking at other people's reviews of shows, I was expecting the first song to be AFTER ALL THESE YEARS, I wasn't disappointed. Played beautifully with the crowd singing back every word. I was no different, indeed, it was the first show where I was singing every word that was passing Daniel's lips (well, nearly all). All threw the set you could see he was smiling, enjoying himself again, even cracking the odd joke there and then. He kept repeating how he loved and had missed London. I can tell you know, London had missed him and the rest of Silverchair.
I tell you the whole setlist abit later, but the best songs were as follows:
EMOTION SICKNESS. The best song of the night without a shadow of a doubt. Although it maybe lacked the emotion that the album version has (mainly cause the lack of the strings, although the keyboardists tried his best) it was still incredible to see the band put there heart and soul into it. Extra extended version as well with an amazing guitar solo.
WITHOUT YOU. My favorite song off Diorama, for this song I tried to stand still and admire the genius of it all. Although it was very difficult when hundreds of people are swaying at the same time. It nearly brought a tear to my eye as the song reminds me about this girl that I'm crazy about but because of circumstances I have to "hold on without her". The energy put in by band made this song extra special for me.
PAINT PASTEL PRINCESS. Wasn't expecting this song, thrilled when it did. Got me really going and put a huge smile on my face. The emotion in all the songs was something special.
LUV YOUR LIFE. This was the song that got all the couple in the crowd kissing. I wished I could enjoy in at the moment, another great song.
ANNA'S SONG (OPEN FIRE). I don't need to tell you how good this song.
ISRAEL'S SON. The heaviest song of the night. By this time, the two keyboardists were off stage leaving the original 3 piece to do what got them in the spotlight in the first place. Again another song I wasn't expecting. My god, it rocked. I have memories of covering this song in the first gig I ever did. Are singer cocked it up and we really didn't do it justice. Seeing it done probably and even more heavier then the album version (if that's possible) puts me to shame.
The final thing the band did on the night was a 10 or 15 minute funky jam where Daniel start telling about a guy going off to get some drugs from someone called Steve. He informed us that when your on drugs, everyone has the name of Steve. It was a great and funny way to finish off a brilliant night of music.
It was one of the best experience of my life. I hope the rumors which my friend told me were untrue that the band were splitting up and that was my only chance to see them live. They are all great entertainers and with still being so young they could still be making great music in 30 years time and still put on great live shows. daniel said it best himself. You get wo things from a Silverchair concert, Songs and Moments. For me, tonight was one of the biggest moments that I'll never forget.
Here's the setlist for the night. I know the songs are right but the order may be wrong. Here it is anyway:
1): After All These Years.
2): World Upon Your Shoulders.
3): Tuna In The Brine.
4): Emotion Sickness.
5): Without You.
6): Paint Pastel Princess.
7): Luv Your Life.
8): Across The Night.
9): Anna's Song (Open Fire).
10): The Greatest View.
11): The Door.
12): Anthem For The Year 200.
13): ISRAEL'S Son.
ENCORE:
14): Asylum.
15): The Lever.
16): Funky Jam.
---
By DARYLL
Well the wife and I were in the car for nearly 5 hours to get to the gig and believe me it was worth it. We only live about an hour and a half away, but I've confirmed to myself that London traffic is the worst in the world!!
When we finally got to Shepherds Bush Empire, it was such an impressive site to see the legion of Chair fans trailing right round the block. Anticipation was high and we were not in for a dissappointing night! I'd like to say a big hello to all the Aussies at the gig, they added so much to the crowd!
I was surprised at just how small the venue actually is, however, smaller places allow energy to translate better and I prefer them. We were sat at the back of level one, very close to the bar. I'd also like to say hello to the security staff member who wouldn't let me into the bar unless I gave him my chair T-shirt cos he wanted one... That just summed up my experience of the people at the gig, friendly and fun.
The support band came on first at about 8pm. They were called Nu(?). To be honest I was actually quite impressed. They performed a set of catchy tunes that I found myself bobbing my head too. The band were pretty tight, although that couldn't be said for the drummer's crash cymbol which kept falling off!! All in all they were very good, although the lead singer seemed a little nervous and a bit stiff.
Anyway, just before the chair were about to come out... The soon to be Mrs Johns / Natalie Imbruglia walked right past us and took her place in the reserved part of our level, to which the crowd seemed surprised! The young men in the audience seemed to silence almost immediatley!!
Five minutes later, the lights dropped and out walked Daniel to a loud roar! you could feel excitment in the air, everyone waiting with baited breath to hear what he was going to play first. As soon as he touched the keyboard the crowd roared again as 'After all these years' was played. His voice is holding up very well on tour, and I must say the effort Daniel put into this and all the songs of the night was incredible.
Next came 'World upon your shoulders'. Again a great version followed up with an equally brilliant 'Tuna in the brine'.
Next came one of the highlights of the gig. It was an extended belting of 'Emotion Sickness', where the whole band seemed tighter than I have ever seen them.
After that came 'Without You' which caused the tow guys at the front of level 1 to start dancing in their seats.... you know who you are.... a performance by them which was not unnoticed as you will find out in a bit.
The next song played was 'Paint Pastel Princess' which is one of my faves from Ballroom, and went down very well with the crowd, as did 'Luv your Life' which was dedicated by Daniel to 'his girl'! This was followed by a brilliant version of Across the night, and my fave song 'The Greatest View'. This was the song I wanted to catch the most as it just rocks more than any other song in the world!
After this, Daniel strapped on his old SG and offered a superb performance of 'Ana's Song', followed b 'Miss you Love'.
Then THE HIGHLIGHT OF THE EVENING. A funked up, extended version of 'The Door' which Daniel introduced in a Godfather of Soul type voice and dedicated to the two guys at the front of level 1 who had been dancing arm-in-arm in their seats all night!! GOOD ON YA GUYS! This version was so cool, Daniel really ripped it up on the guitar as did the other bandmates on their instruments. Daniel even played a solo with his teeth!!
Next an old favourite, 'Israel's Son' which was followed by 'Anthem for the year 2000'.
After a short break came the encore which started with 'Asylum' with Daniel on the keys, and followed by a rocking version of 'The Lever' which I'm sure made everyone go home with a smile!
All in all, the best gig I have ever been to, and the best crowd I have ever seen. Silverchair really know how to entertain!
GOOD ON YA GUYS!