31-05-2003
Gross Freheit - Hamburg, Germany
By WENKE
Photos by ANNETT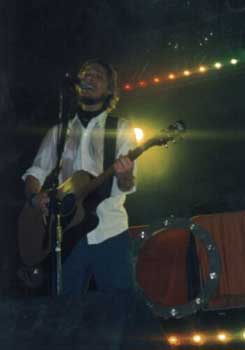 Well, now I am sitting here at the station, just some minutes after the concert and I really have to sort my thoughts. What a chaotic but EXCITING day. Why chaotic: Hamburg was in state of emergency, I tell you. It was G-Move Day (smaller version of the Loveparade). Hey, who thought Techno was dead? For some thousand teenies in fluffy sheep outfits it isn't. After an hour drive by train with every wagon full with these people (don't try listening to Silverchair on your Discman with Techno beats coming from the back) I finally got to the Grosse Freiheit at 5 o'clock. There were already around 60 people peacefully sitting in front of the entrance. People were so relaxed that it was easy to catch a good spot inside. I was third row next to some girls from Denmark The opening band "Something for Kate" hit off really well and the crowd reacted fair.
At 7:45 p.m. Silverchair entered the stage. Daniel wore blue trousers, white shirt and a black scarf, "Mr Hat" Ben came in shorts and muscle shirt (yeah, we were able to see his tattoo), Chris wore Jeans and a brown T-shirt. In contrast to the shows in North America they chose Steam will Rise as first song. As I got to see later this song could have been the motto of the night. You could tell the boys were in their element right from the start. During World Upon Your Shoulders Daniel was sketching the scale of the song with his right arm. The crowd was heated up by a really long version of Emotion Sickness. Everyone was singing as loud as they could. Luv Your Life and Without You followed. The life version of Without You, one of my favourite songs of the latest album, really blew me away. There was a real harmony between Daniel's guitar, the waving crowd and Ben's drums, especially during the ending part. By the way Ben was so concentrated on his drums the whole night. He played with his typical "I twist the corner of my mouth"-grimace. At the beginning of the show Chris let his gaze wander over the crowd a couple of times.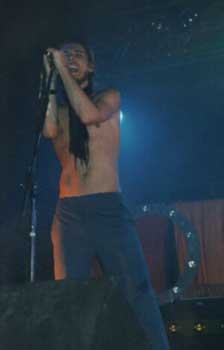 Anyway, it got extremely hot inside. Daniel asked if we need some water. The crowd screamed YES. The stewards started to hand out plastic cups with water. Later they just simply drained the bottles over us. My real first highlight was Tuna In The Brine. Oh , I could have listened to Daniel singing that song for years. His voice was just filling the air. Next up was Ana's Song. The crowd knew what was coming. As Daniel finished the intro and started to sing hundreds of voices joined. It was so overwhelming that Ben winced behind his drums and started to grin. Daniel lay back his head and closed his eyes as if to show the pain connected with the story of the song. After Miss You Love came Across The Night. Daniel then introduced The Greatest View with the words: that's your new f.... favourite song. The harder part of the show started off with The Door. Anthem for the Year 2000 followed. At the end Daniel started to sing: "we are the youth" and asked us to repeat the line. With Israel's Son, at the latest, there was no getting hold of the crowd. Everyone was moshing and jumping. I ended up far in the back.
Silverchair left the stage but returned for the encore. Daniel started to play an interpretation of Nelly's Hot in Here on the keyboard, but then he played Asylum. People were waving lighters. It was just simply beautiful seeing Daniel on stage singing that song, a song that I adore and relate with a very special person. The show ended with The Lever and an extreme long outro. Daniel asked the crowd two questions: 1. Do you want to spend the night with me? 2. Do you think I am gay? The crowd was really stunned. Daniel used the silence to tell us about the things he and we could do on the Reeperbahn (the most sinful place in Germany), which is just a 1 minute away from the venue. During the song he then started to throw his guitar in the air and into Ben's drums. Silverchair left the stage around half past 9 p.m.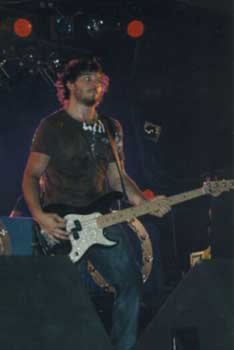 the setlist (as far a I remember correctly):
1: Steam Will Rise
2: World Upon Your Shoulders
3: Emotion Sickness
4: Without You
5: Luv Your Life
6: Tuna in the Brine
7: Across the Night
8: The Greatest View
9: Ana's Song
10: Miss You Love
11: The Door
12: Anthem for the Year 2000
13: Israel's Son
Encore: Asylum
The Lever
Please don't mind that I left out the unnecessary details about Daniel getting undressed and shaking his booty for the girls. Simply important is that all the chaos, the waiting, the sweating was worth for a night like this. The guys were brilliant. Cheers! How am I supposed to sleep tonight??? To you out there: GO AND SEE THEM. And to the stupid person who threw a bottle at Daniel: If I ever catch your little ass... I will get you a job as a steward for the Julio Iglesias World Tour. I Swear!!!
---
By FRAUKE
Hey there!!!!!!
It's been my first show ever and it definitly was the coolest and hottest one ever!!!!! Even the foreband 'something for kate' was awsome!!!!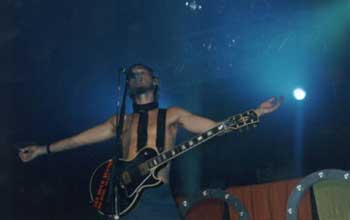 The show was in a smaler place with like 400 people in the crowd!!!! It started with emotion sickness which is definitly one of my favourites!!!! The crowd cheered by hearing the first notes!!! They played a fantastic mix of songs from neon ballroom and diorama!!!!
When Daniel took of his shirt it was just the hottest thing ever!!!! I love this body!!!! They even played ana's song which was fantastic!!! They also played after all these years, the lever, anthem for the year 2000 and many more!!!!! I even can't remember each of the songs played it was just sooooooooo great!!!!!
Daniel obviously thought it was too hot, so he even started singing 'it's getting hot in here so take of all your clothes' and made some fun about chris and himself!!!!!!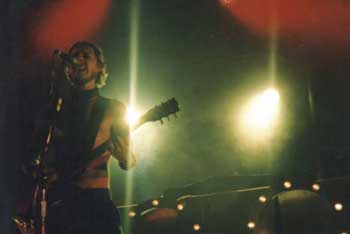 He performed each song perfect and I can tell that it was really worth it to go there!!!!! He let us see him swinging his hips and my heart was beating more than fast!!!!! They played two songs extra!!!!! One them was after all these years!!!! While he sat at the piano it got so quiet and kind of romantic in the crowd it was awsome!!!!! The other extra song was more rock I think it was the lever and the crowd got enthusiastic again!!!!!!
Daniel also made us sing anthem for the year 2000 which was great!!!!!!!! After leaving I was kind of apathic being fascinated by this great show, hot body and great performances of all my favourit songs, so to make it brief and simple to understand it was Silverchair concert with Silverchair songs!!!!!! I couldn't expect anything else and got even more!!!!!!
Thanks guys and rock on!!!!!!!!!!!!!!!!!!!!
---
By DANNIE
My friend and I arrived in Hamburg at around 1 pm. About 20 people were already sitting there waiting to get in. We sat down and talked to a few fans. At around 4 pm Silverchair did their soundcheck. It was an amazing feeling to really hear them. Knowing Silverchair was in there was awsome. They played "Emotion Sickness" and "Tuna in the brine" and all of the fans were silent listening to the songs. At 6 pm we finally got into the club. The Security was very nice. They had nothing against taking our cameras in as long as they weren't digital. A half hour later Something for Kate entered the stage. The music was very mellow and it was ok. But I wanted to see Silverchair and hoped that every song they played was the last song. It's just the typical 'support-act-feeling', it's nothing against the band. But they were cool. When they played about 30 minutes, the Roadies prepared the stage for Silverchair. When I first saw Ben's colorful drumkit I really realized that I am at a Silverchair show. I couldn't believe it because I waited almost 3 years to finally see them live. When they were done the lights went down and a weird sound appeared. Everyone was clapping hands and screaming. It was just a great feeling. Then Silverchair came on stage.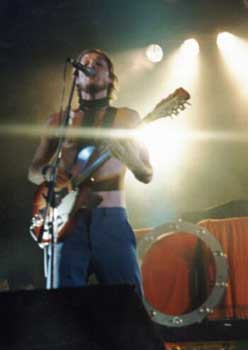 Setlist:
1. Steam will rise
2. World upon you shoulders
3. Emotion sickness
4. Without you
5. Across the night
6. Luv your life
7. The greatest view
8. Ana's song
9. Miss you love
10. The Door
11. Anthem for the year 2000
12. Israel's son
------------Encores-------------
13. Asylum
14. Hot in herre (Nelly Cover on Piano, it sounded so funny)
15. The Lever (incl. freestyle...the song was almost 15 minutes long)

They played the first 3 songs without saying anything, then Daniel greeted the audience. After 4 or 5 songs Daniel took off his shirt and touched his whole body. The Audience went insane. After the next song Daniel talked to the people.
Daniel: "Do you want me?"
Audience: very loud screams and "Yeah's" all around the club, even some guy screamed yes.
Daniel: "Do you think I'm gay?"
Audience: Some screamed yes, but most of them screamed no... =)
Daniel: "Do you want to join me in my hotelroom?"
The people went nuts. Right before The greatest view, Daniel dedicated this song to a very special person.
Daniel: "This song is dedicated to Chris, because he ate 2 bowls of Pasta today."
Daniel was just funny and having fun. Ben was smiling the whole show and Chris was a pure rocker. He was totally into the music.
Daniel said we were the best crowd of this tour (I hope he didn't say it to every Audience hehe). He did some very sexy dancing and screaming. His voice was just amazing. Some so damn high notes, it was just great. A lot of "fuck" and "Motherfuckers" and fun and the show was nearly over. Daniel sang "Hot in herre" twice at the show, it was funny. He threw some waterbottles into the crowd, everyone was grateful. I almost cried when they played "Miss you love" because Daniel sang it with all his heart.
Before they went off stage Daniel threw his guitar in the air like 3 times and smashed it into the drumkit afterwards. When the show was over I went straight to the merchandise and bought the tourbook, it was totally worth 10 euros.
I just can say that it was the best show I've ever seen (and I've seen a lot!). SILVERCHAIR FUCKING ROX MOTHERFUCKERS!!! haha Please come back, it's like tasting blood. You always want more!!!
---
By KIM
On Saturday May 31st five Danish guys, lucky enough to get tickets to a certain gig, went on a roadtrip from Denmark to Hamburg, Germany. Once upon arrival, and after a few well deserved beers, we made our way to the venue "Grosse Freiheit 36", located in the heart of Hamburg and The Reeperbahn District (a place filled with money greedy strip joints ­ much like "Kings Cross" in Sydney, Aus).
Anyway back to the story; The street "Grosse freiheit" was packed on this lovely day, with German people wearing orange cowboy hats! (Why? I still don't know!). Many of them stood in line outside the club waiting for tonights sold out show with SILVERCHAIR + support act Something For Kate.
Once we got in SFK had already entered the stage. From what I heard (a good half an hour), some of the songs sounded quite promising, others were a bit monotonous. It's hard to judge a band and their songs though, when listening to them for the first time ever (especially live).
Grosse Freiheit 36 has to be one of the cosiest venues I've ever been to (with a very nice balcony made out of wood, going all the way around the concert hall). It had just the right capacity (a guess would be approx. 1000 people) and the sound was truly great! And finally, what we all had been waiting for in such a long time: Silverchair live!!!
The guys made their entrance at 7.45pm (I still don't know why the gig started so early!?) and played an intense and magical set, lasting precisely an hour and a half. The set, with the newer songs as the backbone, worked surprisingly well live.
My personal stand-outs from tonights fantastic show must be: The Door with a very cool and funky middle section, the extremely powerful Anthem For The Year 2000 (also tonights crowdpleaser) and Across The Night which, for sentimental reasons, sent a chill down my spine! The song also saw Daniel Johns taking (…yeah almost stripping!) off his shirt and showing the public that his problems with anorexia, a few years ago, definately belongs to the past!! He is now more than well built! And although I'm straight, he made some really nice and cool samba dance movements with his rear end ­ which also made the entire female part of the crowd, screaming their lungs out.
Setlist:
Steam will rise
World upon your shoulders
Emotion sickness
Without you
Luv your life
Tuna in the brine
Across the night
The greatest view
Ana's song
Miss you love
The door
Anthem for the year 2000
Israel's son
Asylum
The lever
As a final comment, on behalf of both my friends and I, we certainly hope this WON'T be our last time seeing silverchair perform live, cause they're better than ever before!!!
---
By AUDREY
Steam Will Rise
World Upon Your Shoulders
Emotion Sickness
Without You
Luv Your Life
Tuna In The Brine
Across The Night
The Greatest View
Ana's Song
Miss You Love
The Door
"Y2K"
Israel's Son
Asylum
The Lever
The first thing I've recognized while we were waiting for silverchair after something for kate had left the stage was a man (bailey holloway?) who was lightning two incense sticks (does anybody know which flavour it was? patchouli? because it smelled so good!) behind Ben's great colourful drum-set before he started tuning up Daniel's black Gibson guitar (where the white "jesus loves you...but he thinks you're an asshole" sticker was missed).
After 30 minutes it got darker and darker and the intro which we heard then seemed to be a mixture of the orchestral parts of "across the night". Then the two keyboarders went on stage and after them Ben, wearing his wonderful hat, Chris with his long har which seemed to be a little bit grey (!) and Daniel, wearing a white shirt and a black sacrf ( ! although it was sooo hot there that three girls had collapsed before the concert started at all ! ). Nearly everybody was expecting to hear "after all these years" but they started with "steam will rise" (it shouldn't be the only surprise at that show!!!) followed by some rocking version of "world upon your shoulders".
Daniel said "thanx Hamburg" and "this place is fucking hot" (really Daniel?!), still wearing his scarf! Then they played "emotion sickness" which was definitely one of the hits at that show and "without you" which seemed to be a little bit too fast or simply "changed"...don't know.
After that they played the rocking version of "luv your life" where Daniel's voice was supported by the two keyboarders (and he seemed to be really happy about it because he thanked them and smiled at them all the time).
While he was changing his guitar Daniel invited the crowd to throw letters on stage because: "I'm going to read them out loud!" (Unfortunately noone had the courage to do that - ha ha!) Then they started playing "tuna in the brine" where we all could hear Daniel's cool voice especially when he sang "to all of the animals who keep sipping the sweat from my back, you're making me ill and I can't get enough"!!!
But now the time had come and Daniel took off his shirt ( so that the "fangirls" could better see his piercings and his new tattoo), said some words I did not understand (sorry), screamed "God Is The Sir" putting his hands in the air and looking like Jesus himself (ahh, is that the reason why the sticker was missed? just joking) and started singing "across the night" where he showed us his special Danny dancing (watched "rocky horror show" too often?!).
After that he had some very, very good idea and asked the crowd: "Do you need some water? I don't need water 'cause I'm not even thirsty!" He throwed water into the crowd and showed us some real aussie-boy- smiling! Then he put the scarf in his mouth, spit and said:" It tastes salty! The next song is your new fucking favourite song" and played "the greatest view".
After that he played some melody noone knowed when he suddenly began singing the first words of "ana's song"! That song had been the favourite song of the crowd definitely, the song they had all been waiting for!
"Ana's song" was followed by "miss you love" and the special version of "the door" (Daniel announced it as the "dancing song") with the great guitar solo played by Daniel's tongue (or teeth? you know...the "hendrix-style"). Daniel also changed the lyrics and sang something about a girl fucking (?) with him at some hotel...
After playing "anthem for the year 2000" Daniel said something about "the fucking grunge-teen-sensation from down under" and started playing "israel's son" when some bottle hit him on his arm (fucking idiot in the crowd!). "Israel's son" seemed to be more hard-rock and was better played than they did at their last tour.
They they left the stage...but the two keyboarders and Daniel came back! Daniel sat down on his "piano-chair" and sang: "It's getting hot in herre, so take off all your clothes, uuhhh!" (Yeah, the heat seemed to be the theme of the night!) He smiled at the keyboarders and said: "Common guys! Eins, zwei, drrrei (I've loved your "r" Dan - it was more that Russian or Bavarian "r" and I'm from Bavaria! ;-), vier, fuenf, sechs, sieben, acht, neun" and played "asylum".
After that the time had come for the absolute big hit of the night (my personal favourite): the long version of "the lever"!!! Great weird guitar solo, wonderful drumming and in the end it all turned into a screamed "fuck you"!!!
So after 1 1/2 hours Daniel took his shirt, bowed to the crowd and left the stage together with Ben, Chris and the two nice keyboard players. I've only seen happy faces...nobody was disappointed after that great rocking "freak show" with Daniel Johns acting like a real "rock star"...you have to decide on your own whether that's positive or negative...
Thank You!!!