30-05-2003
Berlin Arena - Berlin, Germany
By ANNA
Photos by NADINE
Being into Silverchair's music for over four years I didn't care about 300 kilometres distance and went to their concert in the Berlin Arena. Joined by a friend I entered the hall as one of the first and got the highest of the few seats. Perfect view.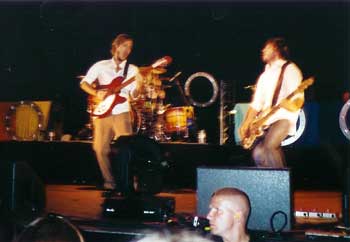 "Something for Kate" didn't thrill the audience. They're probably good musicians but… in the end it all sounded the same and they played like eight or nine songs. The hall was about half-full at that time. When the lights went out for the second time and Mr. Johns ­ in company of two other keyboard players ­ entered the stage the hall was full of people. The first song was "After all these years, just a bit different from Daniels appearance on "The panel" but still great (even better I believe!).
You had some problems with listening to the music with all these people screaming in excitement… I stepped onto my seat and stood on it for most of the concert. Second was "World upon your shoulders" ­ yes, Ben wore a hat and Chris looked way better then ever ­ and third was "Emotion sickness". I'll always have special feelings for this song and on this evening I definitely had problems with keeping myself under control. It was gorgeous. Daniel left a lot of the lyrics out and turned it into an instrumental piece in the end instead. I think it's been after this that he greeted the audience and said something like "It's the first time after quite a while that we play in Germany and there won't be much after this"…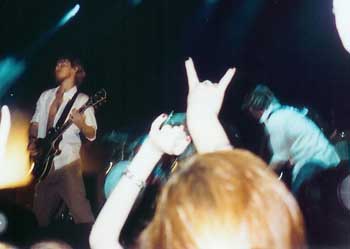 Well, I'm not sure about the further order of the songs but there were "Ana's song" (with a little choir-help of the audience), "Miss you love" just after it, "The Greatest view" and "The door" in a long hard rock- version being the only song of the first two albums (with a bit too many times "motherfuckers" in it but…). "Love your life" was part of the show as well as "Without you" and "Across the night".
There Daniel gave the guitar away at some point, threw the plectrum into the croud and made gestures with his arms such as pretending to hold a baby in it. He lifted his shirt several times just to receive screams from the audience. In the end he bowed to us.
Later in the evening he opened his shirt. And Chris had problems with the strap of his bass guitar. The second last song - only on keyboards again - was unknown to me. The last one was "The lever" ­ like "The door" in an extracted hard- rock-mother-fucker-version.
Daniel's voice has improved amazingly. The notes ­ the high as well as the deep ­ were stronger than I would have expected (and my friend remarked that there was a certain deep voice singing along with Daniel the whole concert… yes, I am a female with a deep voice, so what? ;)).
I'm absolutely looking forward to his next album. And I'm gonna sit in front of the TV on June 6th and record their "Rock am Ring" performance.
---
By ANNE
I've been a fan of Silverchair since I've heard 'Ana's song (Open fire)' for the first time which was unfortunately only a year ago… they aren't showing their videos on TV or playing their songs on the radio very often over here? Anyway I'm glad I got the chance to know Silverchair + their music, I just love it?
So I've been waiting to see Silverchair live for some time and was incredibly happy to hear they're coming to Berlin! Berlin is actually not the nearest city for me they could've possibly picked but it's really worth the 4 hours' drive!
Before Tina and me went to the concert we did some shopping and just in time we prepared to get to the Universal Hall (where the band was supposed to play) we saw a poster that said: 'because of the many requests the concert is now taking place in the Arena Treptow'! Oh my God? Where the hell is this new place, huh? I almost went nuts and it took some time to get there… we arrived at 7.20pm and thank God we still got a place near the stage;)
The first thing I did was of course buying a t-shirt? I thought I might get 'I can't believe it's not rock there'cause it's hard to find this EP and we have no credit card you need for ordering via internet…?
Then at 8pm the support act Something For Kate started to play. I knew some of their songs before and they're good. I thank you for performing 'three dimensions'! one of my favorites? They played only half an hour and then left the stage. After that the crew of Silverchair prepared the stage + everything for them. This stage just looked beautiful! I love these lights in all coloures of the rainbow! You are to blame that my dad's gotta build me something like that, too???
At 9.12pm Daniel Johns entered the stage and began with an amazing performance of 'After all these years'-the crowd loved it (and so did I) and we all sang along with him, welcome back in Germany Silverchair! Afterwards Chris and Ben joined him and they all played 'World upon your shoulders' followed by 'Emotion sickness' OMG what a song and what a marvelous voice!
During all songs you could see that Daniel was happy doing what he did and that he indeed feels good. He seemed to be content with himself and to feel more comfortable + confident on stage now? To see him this way(and to see his disease seems to be over finally) made me feel overjoyed.
Some days before I had seen photos of other concerts and I was (okay I confess it) a little bit shocked by his appearance… it seemed he looked completely different… but in the end everything was okay-he still is a cute, sensitive guy and the way he sings live is just something you should at least have experienced once in your life! But no way you'll ever get enough of this, you'll hunger for more as I do;) And guess what, Daniel even danced sometimes, excellent?
But to come back to the concert… After 'Emotion sickness' they played one of my favorites of Diorama (though I love all songs?) 'Tuna in the brine'. Then 'Across the night' (during this song and during some others Daniel conducted an imaginary orchestra only he could see-beautiful!) and after Daniel said: 'You gonaa get fucking loud with this one' they rocked straight away with 'The greatest view'! The crowd started moshing and it seemed I was right in the moshpit…I still feel something hurting me;)
Anyway finally they performed that one song that turned me into a fan and that one song that is my all-time-favorite…'Ana's song(Open fire)'(show me someone who doesn't like this one!)I can't describe it, it was overwhelming and everyone was singing along with Daniel? Then they played 'Miss you love'(great)and then he said: 'this song is dedicated to all of you who came here to dance'
They performed 'The door'(the moshpit started again*autsch*)and the next one was 'Anthem for the year 2000'-Daniel let us sing the first part-awesome! Later this song he sang: 'we are the youth, sing it!' and the whole crowd sang: 'WE ARE THE YOUTH' I think he repeated this about 4times and I guess we rocked the whole city! didn't you feel the earth shaking?;) It was amazing?
After that came 'Israel's son' which wasn't supposed to keep us silent either*smile*. Then he thanked us again for coming and Daniel,Ben+Chris left the stage. The crowd kept screaming for some time till finally Daniel came back to perform 'Asylum' which I think expresses exactly the way he feels now: 'every time I see your face in a cloud I feel no violence… till it turns me around to my own decidement' he is happy and does only what he wants to, right?
Then Ben+Chris returned and they played 'the lever'! Excellent, above all Daniel talking to himself at the end, funny thing;) He even played his guitar with his teeth and later on with a bottle of water…then he crushed his guitar into the drums?and left the stage. So the concert was over all too soon? But anyway it was just ROCKING+KICKING ALL ASSES!!!!!!!!!!!!!!!!!! THANK YOU GUYS A MILLION TIMES FOR THAT! KEEP ON DOING YOUR OWN THING WHICH IS JUST WONDERFUL???
I even got a tour book with beautiful pictures;) It said you've put a lot of time + work + sweat + blood + heart + love in preparing and rehearsing for the tour… I wanna thank you for that, too. It's been worth your hard work, I loved it! you did a good job making it unique and something really special?
And one more thing: PLEASE COME BACK SOON!!!!!!!!!!!!!! (maybe you could also rock smaller towns for example my hometown Erfurt?) To everyone who's got any chance to see them live-GO FOR IT! It's fucking worth everything!
An extremely happy fan;)
P.S.:Daniel threw his plectrum in the audience during one song, but I didn't catch it? anyway thankx again!
---
By BAS
setlist:
after all these years
world upon
emotion
without
luv
tuna
across
greatest view
ana
miss
the door
anthem
israel
asylum
the lever/jam
It was the day I had been waiting for. I was 4 years since I had last seen silverchair play at 013, Tilburg, Holland in 1999. I had to wake up at 5.00 in the morning, because I had to take the train from Zaltbommel (Holland) to Berlin. But it was all worth it!
Around 1.00 we arrived in Berlin, found a place to stay and we went straight to the Berlin Arena. There were like 50 people sitting at the Berlin arena. From the outside the Berlin arena looks like a factory. But inside it is a very nice concert building. I think I was like 3.30 when the soundcheck started. Not many people where paying attention to the soundcheck. They played; Emotion Sickness, Without you (instrumental) and Tuna.
At 7.00 the doors opened and one thing I noticed that nobody started running to the front of the stage, maybe it is a typical German thing to stay relaxed and don't run ;-). Me and my friend were the only 2 running to the stage. So we stood straight in front on Daniel's microphone. I talked to this girl who had seen them play in Wollongong, Australia, I was really amazed ( if you are this girl sent me an e-mail: bas18@hotmail.com, this is also for other people with questions about this show). 8.00 was showtime for Something for Kate. They did a pretty good show for an opening act, with a very good singer I might say.
Then at 9.00 the lights went out and everyone started screaming. The across the night intro started and Daniel (in brown trousers and a white blouse) and Julian entered the stage. Daniel went straight into after all these years. It was very nice to hear a the variations in Daniel's voice during that song. It was so beautiful. You could hear everything so clear since not many people were singing along to this song.
After that Ben, Chris and Stuart entered. Daniel got his "Rickenbacker" from Bailey. So I knew they were going to start " world upon your shoulders". They totally rocked everyone, The hole place was screaming and yelling.
Emotion sickness without the small piano intro they did in Brazil, While everyone was singing the " get up" part, Daniel did his "screaming" thing.
During across the night Daniel opened part of his shirt, and all the girls were screaming( many of the girls were in Berlin with their mom of dad!)
The greatest view got introduced as a very big hit here in Germany. During the songs Daniel did not much of a talking. Mainly " thank you" or something like that. I had the idea they still had a jetlag.
"This song is for people who came to dance" !! The Door was next, so powerful, I love his guitar sound during that song. Ofcourse there was the drum, guitar and piano solo in this song. Pretty cool so Dan do his sort a rap thing/talking.
The Athem intro started and Ben opened with the drum part. It was so cool. Great interaction during that song, with the band and the crowd. The crowd singing the " we are the youth".
At last there was the song I had been waiting. Daniel mentioned something like this is for the old generation. Chris started the Israel son intro. Everyone went crazy. The mosh pit got every worse! :-P. The band left the stage and the crowd started screaming "we want more" (in German language!)
Daniel came on stage again and lauched straight into asylum. I love this song. Although not many people knew this song. The ended with the usual 10min. version of the lever!
The show was really great. But the security people were not that nice. They took a lot of camera's, even a video camera. Another thing I should mention is that the show was not sold out. There where some empty spots. So I think it wasn't really necessary to move the show from the universal hall to the Berlin Arena But overall a very good show, good sound!
See you tomorrow Ben, chris and Dan in Hamburg!