24-05-2003
Kool Haus - Toronto, Canada
By ADAM
Photos by MARCEL and CHRISTELLE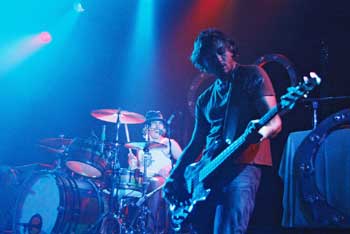 Set List:
1.. After All These Years
2.. World Upon Your Shoulders
3.. Emotion Sickness
4.. Without You
5.. Luv Your Life
6.. Tuna in the Brine
7.. Across the Night
8.. The Greatest View
9.. Ana's Song
10.. Miss You Love
11.. The Door
12.. Anthem for the Year 2000
13.. Israel's Son
14.. Asylum
15.. The Lever
Tonight's show was SOOOOOO much better than last night's show, and last night's show was absolutely amazing by itself. I think Daniel had alot more energy tonight, last night he was coughing a bit (I overheard a few people in the crowd talking about how he probably has SARS now that's been in Toronto - don't be alarmed tourists, the media is making more the issue than it deserves). But anyways, last night the keyboard at the left of the stage was left unattended all night, so for those who were at last night's show knew that tonight Toronto would get to experience Daniel go solo on it, and for those who had been following the set lists from the previous show on the Accross the Night Tour, that also meant that he would start with "After All These Years".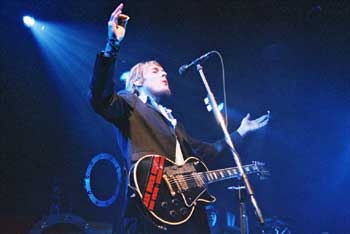 It was truly magical. From the moment he started, I knew that he was more happier playing the new more melodic, instrumental songs he's written, as opposed to being "pressured" to play what the public demands. But I was suprised though, a lot of people were singing along to the new songs from Diorama, even though the album never did that well up here (we didn't really get alot of radio or television exposure of Diorama, partly due I suppose to Daniel's athritis, but also partly due to just how incredibly different it is compared to "Frogstomp", "Freak Show" and "Neon Ballroom".
After his piano solo, Ben and Chris stepped on the stage and the immediately went into "World Upon Your Shoulders". It's an amazing song. You can really tell how much Daniel has worked on his singing, and how much more range he has from the earlier days with this song. And you've got to credit him even more with starting with that song, not even really warming up his voice. I was trying to keep up with the singing.....ha......good effort, but I couldn't even come close at all.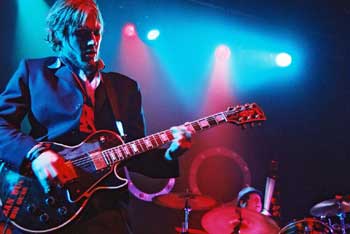 Next they guys stormed into "Emotion Sickness". In the second rendition of the "burn my knees" part of the song, after the heavy riff part of the song, the crowd got to really get a taste of how amazing Daniel's voice actually is. He got his voice up so high and kept in so crisp and full at the same time. My friend who came with me who hadn't been following silverchair that much, just looked at me and said how amazing that part was. After the end of the recorded version of the song they kept going with a rythym that just captivated the entire crowd. It was amazing, like a whirlwind of powerful music that grab you and wouldn't let you escape. Spectacular.
Next came "Without You", it was great, the end of the song got some of the older silverchair fans who wanted to rock out going, that song was really fun. Next came "Luv Your Life" and it was so relaxing, when I listened to it, everything bad just went away, even though the lyrics may not be too too positive, the song is just so uplifting, it really makes you feel better about everything.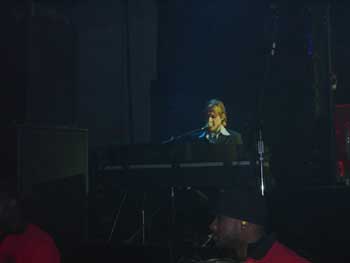 Next came "Tuna in the Brine", this is my personal favourite off of "Diorama", I just love how Daniel just decided to write about how he is finally doing what he really wants to do and how he feels "closer to everything". It just made me so happy to here him sing that, because it made me feel that he is finally breaking out of his teenage "rock group" pressures into something he actually enjoys.
After Tuna came "Across the Night", it was simply magical. You could feel the music just capture you and take you away. Everything about their new show is so much more captivating and exploritive than ever before, you didn't know what to expect at all, but you knew whatever it was it was taking you and the rest of the crowd with you.
Next came "The Greatest View", before they started Daniel told the crowd that "this is your new favourite song". It was alot of fun, people were half-moshing, half-dancing. It was pretty cool, I had alot of fun, and it looked like Daniel, Ben, and Chris were having a lot of fun too. After TGV, Daniel switched guitars and started playing a single note version intro to "Ana's Song" instead of playing the regular chords. It gave the song a more simple, but more emotional picture to it, it was interesting. But as soon as the chorus started the guitar and the rest of the band got into the full heavy rendition with distortion that really got the crowd going. After "Ana's Song" came "Miss You Love", it was great, everyone was singing through the entire song.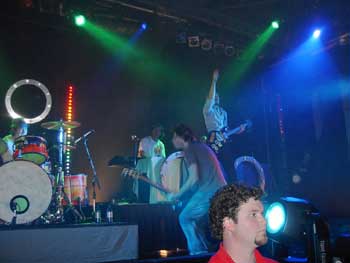 After "Miss You Love" came "The Door". Everybody was jumping at the beginning and the crowd keep going through the entire song. At the end they finished with a real funk/blues part that was so much fun just to dance and jump around to. It makes me wonder if this maybe what some of the new stuff Daniel is writing may sound like, if so, I can't wait, it sounds like it's going to be so much fun.
After "The Door", came "Anthem" and it got all the old silverchair fans going and got the old hard rock fans in the new intrumental, melodic silverchair fans coming out too. Everyone at the Kool Haus was moshing and dancing and having fun.
Then came what everyone was waiting for. All through last nights concert and tonight's as well so many people were screaming "Israel's Son! Israel's Son!" I don't care if they maybe didn't want to play it, it was absolutely amazing. It was what so many people had been waiting for, as soon as Daniel said "This song is for you Canada" everyone knew what was coming up. Then Chris started playing the intro on his bass and everyone screamed with joy and people just started going nuts. When you think it couldn't get any more crazy, as soon as Daniel came in with his first guitars palm mutes, it just went even more crazy. Everyone was jumping and pushing and screaming. SO SO SO MUCH FUN! All through the song, everyone was singing and moshing, crowd surfing and dancing. Then when the ending of the song came up absolutely everyone was screaming "I AM, I AM ISRAEL'S SON. ISRAEL'S SON I AM!" It was incredible, possibly the most fun I've had at a concert ever. I love the new stuff, but it's so much fun to just let out all your anger and scream "HATE IS WHAT I FEEL FOR, AND I WANT YOU TO KNOW THAT I WANT YOU DEAD". So much fun, so much fun.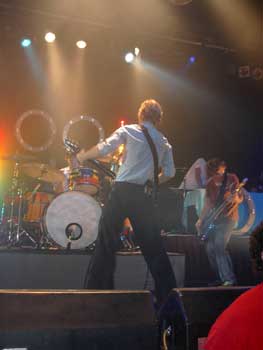 The boys left the stage after that and in a matter of second the crowd started screaming "SILVERCHAIR! SILVERCHAIR! SILVERCHAIR!" for about 3 minutes straight, everyone was just so energized by the show that had just finished that they could go for that long at the top of their lungs. But before long, Daniel came out and amazed the crowd with Asylum. I really really love that song, partly because I think Daniel really likes it. Seeing him up there, I think he's really enjoying himself more and feels more comfortable on stage. He was really showcasing his pianist talent with Asylum, it was amazing. Just seeing live how much he's matured is amazing in itself, especially when you see rock stars ten years older than him still stuck inside their guitar riffs. He is incredible.
When Daniel finished "Asylum" Ben and Chris returned and the boys started playing "The Lever". A great song to finish with, everyone got to get out their last bit of energy out with this song. It was so heavy, it got everyone moving. At the end, much like last night, they finished the song with a real interesting and heavy set of explosive bangs and thunderous palm mutes. It simply kicked a$$, real heavy and mean.
In short, I think tonight was the most fun I've had in a hell of a long time. My voice is gone, my body stinks of stale sweat, I think I'm getting a cold (uh oh SARS), and I'm completely drained of any energy I had before I left my house for the show. Absolutely amazing, so so so much fun, and truly captivating and exhilirating musical experience. I hope to god that this isn't their last tour, because I don't think I'll ever have so much fun ever again.
Thanks for coming to T.O. Daniel, Ben and Chris, please come back and do 10 shows instead of 2 next time. Just kidding, but do it if you want.
---
By JONATHAN
Hi everybody!!..This is Jonathan from Toronto. I was in the show yesterday May 24th..
First I would like to say that after this concert (like Jessica, the beautiful girl that I met waiting on the line for the show would have said): 'I FEEL SPECIAL NOW!!
I've been living in Toronto for about 3 months now, cause I'm from Peru (south America), and this has been one of my firsts concerts here...and, could I have asked for more??..well NO!!..It was Silverchair, my favourite band since I watch 'abuse me' on TV, and it is one of the most important bands in the world right now (not anybody can have 2 sold-out shows in the same city) so...
Well, I went to the Kool Haus at 2pm, and I thought it was too early, but hell no!! there were like 25 people already on the line . So we had to wait 6 hours to go in, but with some Silverchair albums and the cool girls that I met on the line, the waiting wasn't that long..haha..
Anyway, the show started about 9pm when the guys of Red West got on the stage. They were pretty cool. They did their thing and played for about 45 minutes. After that we had to wait another 15 minutes...and then it started.
Daniel appeared and the crowd just went nut. He started to play 'After all these years' on the piano (personally my favourite on the album) so since the first tune I instantly knew that it was going to be unforgettable. After these beautiful peace of art by Daniel, Ben and Chris got on the stage and started with 'World upon your Shoulders'…it was just amazing…I just could not believe that I was actually there. Then they continued with an extended PERFECT version of 'Emotion Sickness' that really captivated the crowd and let us know that we had to be really thankful for being there, watching these guys that are simply ARTISTS.
Next, they played songs like 'Without You', 'Luv your Life' and 'Across the Night'. Songs that just made you feel that everything was ok. Listening to them made me feel that I was in such a peaceful place, even though the crowd was moshing and all that!!..hehe..
'Tuna in a Brine' and 'Ana's Song' showed you how Daniel really FEELS what he is singing. He just sang them with so much heart and passion that easily he could have made me cry. Then they came with our favourite new song, 'The Greatest View'. Everybody just started to sing and jump. Somebody started a mosh pit there so it was a lot of fun. 'Miss you Love' had the crowd singing and moshing!!…I don't know how but there were like 7 guys moshing until the song was over!!…haha…
Then they continued with 'The Door', and it had the entire crowd jumping and shoving… for a second I thought that I was going to end up smashed or something!!
Then 'Anthem for the Year 2000' and 'Israel's Son' just made us all went crazy!!… everybody knew the lyrics and sang along with Daniel. It was pretty cool. Ben and Chris were awesome!!…they just played perfectly!! Then they went off the stage and had the entire audience just screaming: 'Silverchair Silverchair', for about 3 minutes, until Daniel got on the stage once again and played 'Asylum'. I think everybody was waiting for that one. Daniel just showed what a musician he is, the way he played the piano was just magical.
And just to finish, Ben and Chris came back and played 'The Lever', what a song !!…they did it longer and just tore the place apart. Daniel smashed the guitar and almost hurt Ben!!… haha… But it was cool… It was the perfect song to finish the perfect show.
And well that's it!!…I just have to say that it has been THE show, the best concert in my life. It just let me see that I wasn't wrong, Silverchair is an awesome band, they deserve everything they have, and even more!!…
Just thank you guys for being SILVERCHAIR…
---
By KRISTEN
i just want to say it was the most amazing surreal experience that i have and will ever encounter in my life. this was fortunately the second time i was able to see the boys perform, and i pray to gods, that it won't be the last.
i've been waiting 5 years for them. and it was so worth the wait. the show was beautiful and the music they conducted was amazing.
i noticed alot of set lists being posted. i therefore cannot remember the order as i'm still shaking an unconsiderable amount.
i am now glowing with a silver lining and i just want to say: Silverchair - we love you! please come back as soon as you can!!
thank you for the greatest night i will ever have in my life, you've been my inspiration, and i thank you everyday for keeping me alive inside.
---
By BILLY

Set List:
1.After All These Years
2.World Upon Your Shoulders
3. Emotion Sickness
4. Without You
5. Luv Your Life
6. Tuna In The Brine
7. Across The Night
8. The Greatest View
9. Ana's Song
10. Miss You Love
11. The Door
12. Anthem for the Year 2000
13. Israel's Son
Encore:
14. Asylum
15. The Lever

When I got to the Kool Haus at about 7:00 the line for the chair was already HUGE spanning about 3 or 4 blocks in length. I was highly anticipating the show since I'd never seen them play live before. I didn't see Friday night's show, but from overhearing people in line, apparently it was pretty good. Little did I know what I was in for. After they opened the doors we all went in and waited while the tech's tuned up the guitars and made sure everything was ready for the opening band, The Red West. By the time they came on stage, the place was absolutely packed. The Red West played about 6 or 7 songs (including a slower cover of The Smashing Pumpkin's "1979") before the chair came on.
As the band members were coming out, they had this Across The Night Techno music playing and all these flashing lights like it was the starting line-up for a basketball game or something, but it was pretty cool! Daniel came out to a large applause from the audience and proceeded to play a beautiful version of "After All These Years". He would pause in between different sections of the song giving it a real emotional feeling. After he finished, Ben and Chris came out and the band went right into "World Upon Your Shoulders". The keyboards and backup harmonies by Julian and Stu really gave the song that extra something that makes Silverchair such a special band live. Dan's voice during the song was amazing and they really rocked out.
The next song was "Emotion Sickness" which was absolutely incredible. Before the ending guitar line started, the band extended the song about 3 or 4 minutes allowing Daniel to play some solo's and jam out. What was amazing during this section of the song was Daniel's voice though. He started experimenting with the range of his voice and really showed how talented a vocalist he is. He kept going higher and higher, just belting out notes. He started getting into a ridiculously high range...but proceeded to just keep going to everyone's surprise. He kept building up his voice and then let out an unbelievably high wail which shook the building and literally left half the crowd with their jaws hanging on the floor. This note was so high I think Christina Aguilera or Mariah Carey would have been jealous.
The next song they played was "Without You" which was followed by "Luv Your Life" and "Tuna in The Brine". Luv Your Life and Tuna sounded unbelivable live and I was impressed that these songs sounded so good since they have so many big orchestral arrangments.
Next Daniel came to the mic with a big grin and said "This one's for all the ladies" as the band went right into "Across the Night". This song sounded so good live and it really shows just how much the band has grown since the early days of being The Innocent Criminals with hits like "I Felt Like It" and "Won't You Be Mine".
After finishing Daniel said "This is your new favorite song" and then the band played "The Greatest View" which really got people jumping around and filled the place up with energy. Everyone was singing along with this one and it made me feel really good to be around other people who appreciated the chair since I'm from a small town where most people don't even know who they are!
The next song they played was "Ana's Song" which Daniel started with a different opening than usual. I think a lot of people thought it might've been a new song at first until he started singing "Please die Ana...". It was in my opinion the best version of the song I've heard the band play to date. After this they went right into "Miss You Love" which was also very good.
Daniel really hadn't said much to the crowd except "Thanks Toronto" at this point, but then he started to go crazy and really got into it. He asked the crowd if they were ready to get funky as they cranked into "The Door". About halfway through the song, they extended it like Emotion Sickness for about 4 or 5 minutes while they all just jammed out. Daniel came to the mic and started singing all these funny blues lines and even had the crowd chanting a couple of them at one point. It seemed like Daniel was really enjoying it at this point and he really interacted with the crowd during the rest of the show. They played "Anthem" next in which Daniel started by having the audience sing the opening. After the song finished Daniel mentioned that the concert was much better than the previous night and that he really meant it and wasn't just saying it. Chris started playing the opening bass riff for "Israel's Son" which was a welcome surprise that I don't think the crowd was expecting. The crowd really got into it a lot and there was a ton of good moshing and people screaming their lungs out. In the end when Dan screamed "Put your hands in the air" everyone threw up their hands yelling along to the music. After this they all left the stage to the crowd chanting "SIL-VER-CHAIR, SIL-VER-CHAIR" for a while and then Daniel came back out and played "Asylum" which is one of my favorite chair songs and awesome live.
When Dan was finished, Chris and Ben came out and Dan started playing these evil sounding piano notes and singing into the mic in a devilish voice singing this song about Ben and Chris being the rhythm section. While Dan was doing this Stu was on his mic doing evil laughter going "MWA HAHAHAHA" which gave everyone a good laugh. Then Dan got his guitar back and they started playing "The Lever". This is also one of my favorite songs from Diorama and definitely an awesome song to end on. Once they finished the song they paused and then extended it like some of the other songs for about 6 or 7 minutes. They made the extension sound heavy, but almost jazzy and Daniel told the crowd "This is a continuation from the door" when he was singing the blues. He started singing some more of the blues and would say something around the lines of "Girl, you forgot to call me, ya' bitch" and then he would slap himself and continue to have a conversation with himself (which was hilarious I might add). Then they finished all out heavy, jamming out until the end.
Afterwards Dan let the guitar ring and then started throwing it against Ben's drumset. Ben looked at him kind of surprised and I was like "SWEEEET, he's going to break his guitar!!!!" He did throw it against Ben's drums once more but afterwards set it down probably realizing maybe he shouldn't break it.
I can't think of any other way the night could've been better and it's amazing how much progress this band has made over the years. Hopefully someday Silverchair will be back on tour because they are definitely one of the best rock and roll bands on the planet today.