11-05-2003
Belo Horizonte, Brazil
By LUCIANA
Photos by ANDERSON
Finally the best band in the Earth was going to play at my city!!! I didn't believe when I opened the chairpage and saw that the guys were going to play in "Belo Horizonte", it drove me crazy!!!!!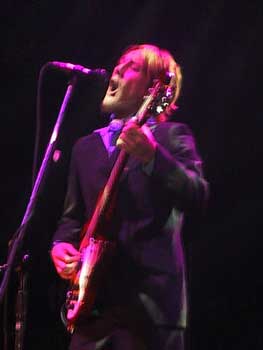 Anyway, at 6pm a brazilian band started to play, it was pretty cool but, of course, everybody wanted to see Silverchair!!! The band played just four songs, just twenty minutes!!! I couldn't believe that nearly half hour later I was going to see the band I love so much and the concert I've been expecting for three years!!!!
So, the show started with "World upon your shoulders", and I had the impression that I was the only fan that could sing (brazilians just know "Ana's song" and "Miss you Love", I'm kidding!), it was amazing, Daniel's voice is so wonderful, it looks like an angry angel!!! Ben was so goodlooking with that hat and Chris was just wearing casual clothes, Daniel was in a black suit (it was kinda cold outside, but that suit was too much!!!).
After that they played "Emotion Sickness", as I expected, the song was even more beautiful live, and pretty longer too, I think it lasted seven minutes or more, I don't know, in a concert like this you lose the sense of time. Daniel was moving his hand as if he was a maestro and the crowd his orchestra (my friend told me that he was gay!!! Just kidding again...).
Then I think they played "Luv your life", it was quite beautiful too, and Daniel started to shake his hips (was he excited with Brazil, the land of samba?), all the girls loved!!! And I think the guys were a little bit jealous...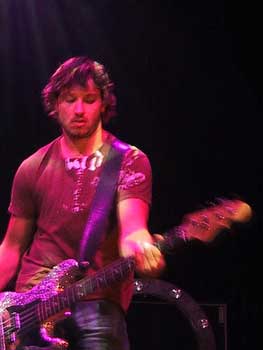 Anyway, after "Luv your life" the guys started with "Israel's Son", one of my favourites, and the crowd was absolutely crazy, it seemed like the stadium "Mineirinho" was going to fell down!!! Everybody started to jump and people near me were thinking I was insane!!! In the second part of the song (... hate is what I feel for you...) Daniel put his guitar on the piano, took off his suit and put his shirt leaves up (finally!!!!), the girls were shouting so loud (and me too, of course)!!! This song rocked!!!!
Then Daniel tried to speak portuguese he said: "Obrigado" (Thank you) and talked about some brazilians like Ronaldo and Sepultura, it was very fun, his pronunciation is very cool, he talked about our soccer team too I guess... my english is not so good (as you can see) and the crowd was screaming so loud that was impossible to hear what he was saying...
After "Israel's son" I don't know how was the sequence, I guess they played "Tuna in the brine" which was amazing, I was really impressed with his voice... Then Daniel told us that we need to do aerobics for the next song which was "Slave" and he was right it's very hard to jump, sing and shout at the same time!!!
So it was time to hear the song that everybody could sing, and Daniel said "This one is for you!" and they played "Ana's song"! Absolutely wonderful!!!! I have no comments for that and for "Miss you love" which they played after.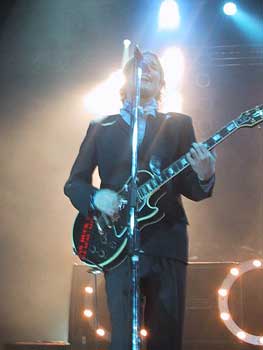 And then was time to put the stadium down again with "The door", and Daniel really liked to shake his hips!!! Again my friend told me he was gay, but she actually liked the shaking too (who wouldn't?).
After put the stadium down they played "The Greatest View" and "Without you", some of my favourites too, and I was still choked with his talent, I'm really not used to see that in my country (australians you're really blessed!!!!).
Well, then I was about to hear a song live that I'll never forget, they played the best song ever: "Anthem for the Year 2000"!!!! I almost fell from the chairs, hit a girl in front of me and my friend in my back!!! I'd waited so long to hear just this song and they didn't disappointed me at all!!! And they left the stage, of course everybody was waiting them again, I was waiting just Daniel and his piano, he took a long time to come back with "Asylum" which was one of the most beautiful songs played in the concert, in the middle of the song he stopped and said: "Get out of here Chris, what are you doing here? Get out of here!!!" and they entrered again, Daniel stood up, got his guitar and they played the last song: "The lever", Daniel played over the piano, he layed down on it and rocked!!!! Then he jumped in the amplifier and started to hit Ben's drums with his guitar, in the end he throw the mic away and Ben throw his sticks to the crowd, no comments too.
Well, I don't Know how to explain my feelings today, I still don't believe that I was in their concert, it seems like a dream, my friend told me that this is so normal and I'll need too much time to realise that. The only thing I know is that I am "more fan" now, and I really hope that those rumors about their ending or that "Across the night" is their last tour are fake because I really need to go in their concert again!!!!!!
Thank guys, for a magic night!!!! I hope you enjoyed the concert and the city too!!!!
SILVERCHAIR ROCKS!!!!!!!!!!!!!!!!!!
---
By ANA MARIA
Photo by ANDERSON
If i had to describe this concert in only one word i would say it was AMAZING!!!!
I passed the whole week pretty anxious and excited 'cause i never thought silverchair would come to my hometown!!! I was just hoping they would enjoy playing here and i think they really did....the crowd was fantastic and everyone at the concert seemed to be real chair fans since we all knew almost all the lyrics and we were getting crazy with every move and every word Daniel was saying....especially when he was saying things in Portuguese such as Obrigado( thanks!) and Cuidado aí ( Take care down there!!) ...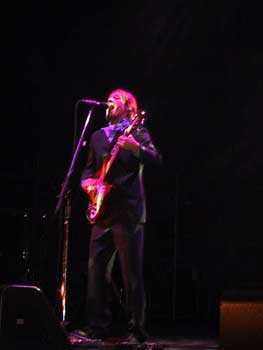 When silverchair came on stage i just couldnt stop screaming...the feeling of seeing them in front of me one more time was just incredible...Daniel, as usual, was extremely well dressed with grey pants, a grey coat and a blue shirt with a tie that he found his own way to put it...Ben was also pretty cute with that hat and Chris was great too!!!
I guess they played almost all songs they had played in the previous aussi tour but there were some songs missing like after all these years, paint pastel princess, do you feel the same and petrol and chlorine...but this didnt make the concert less perfect!!!
I can say they improved a lot ( if this is any possible!!!) since the concert i went in Australia in 1999. Daniel was seeming to be really happy and secure of himself like he has never been before!!! His guitar solos were making the crowd delirate!!! When i saw him on the top of the pianno that was on stage i just couldnt believe i was living that moment!! It was like a mirage!!! Especially when he laid down on that pianno and started to play his guitar with such a pleasure that we were all able to feel the same sensation he was feeling!!!
When they started to play Ana's song and straight after Miss you love the crowd just got crazy!!! Everyone at that concert was singing along with daniel and sometimes he was even letting only they crowd sing it for him....I guess those 2 songs were the crowd's favourites!!!
Unfortunately they only played one song from Frogstomp but it was enough to make us, 'chair fans, live again those old and great times.... PUT YOUR HANDS IN THE AIR!!!!!!! PUT YOUR HANDS IN THE AIR !!!!! and this what we did!!! with our hands in the air just enjoying that moment as if it could last forever!!!!
All of a sudden Daniel found a brazilian flag on stage and when he put that flag on Ben's drums and later on on his microphone the crowd got extremely crazy!! I couldnt believe in what was happening!!! It was just too amazing to see them here in Brasil, holding our flag in front of our eyes and enjoying the concert as much as we were enjoying it!!We just started screaming : SILVERCHAIR!!! SILVERCHAIR!!!! and Daniel , pretty funny, was screaming it with us while Ben was also making some noise on his drums!!!
I just cannot finish this report without talking about 2 other things.... first of all, when Daniel started to play pianno and sing Asylum i was almost not believing it!! I just love that song and i got extremely impressed with the way Daniel was playing it..even if he forgot the song and asked Ben and Chris to go save him..( It was pretty funny!!!)..
Daniel is getting day by day a complete musician...his skills are just getting better and his star is shinnig brihter and brihter as well as Ben's and Chris's....
Second of all...Daniel is becoming a real Jimmy Hendrix!!! He was playing guitar with his mouth and licking it , which let us with our mouths open!!!! I must confess i wish i was that guitar....and i'm pretty sure i'm not the only one!!!!=)
Well, all i wanted to tell them on that night was THANKS!!! Thanks for coming here, thanks for playing such an amazing concert and thanks for making me feel so happy and so proud of being a silverchair fan.....
---
By MARIANA
My dream came true.
Yes, Silverchair came to play in my city and I just loved it.
From the beggining till the end they were awesome. Specially Daniel, my prefered.
I love Silverchair since Frogstromp, so, I waited for almost 7 years to see their show, but it was worthwhile.
The best part of the show was when Daniel shaked his cute butt dancing for us. I also loved when he pretended to play guitar with his teeth and when he played laying down on the piano. And the best songs were Anthem for the year 2000 and Without You. I had the best time during The Door also, I couldn't stop jumping... But one thing made me sad, they didn't play Pure Massacre, which is my favorite song ever. But, anyway, it was a great show and it made my sunday fucking good. Thank you guys and feel welcome to come back anytime!!!!!!!
---
By DIOGO
My name is Diogo Gill and i got to see Silverchair at Belo Horizonte on May 11!!! I´m form Brasilia and drove a loooooot to see those guys perform again...

First of all, let me just say that it was fuckin great!!! The best birthday present i could ever have given myself was a trip to see silverchair in Belo Horizonte,and for the second time they completely blew everybody´s mind. I ´ve been following their work since frogstomp and had a chance to see them perform at Rock in Rio in 2001, in the occasion in wich their concert took the spotlight from the long awaited Chilli Peppers performance, Well They didn´t dissapoint no one this time either, The sound was great, Daniel´s voice was awesome and all the girl´s eyes were on Ben and Chris this time (probably cause Daniel is about to get married....)plus the bass and the drums both sounded really freakin heavy. The start came with "World upon your shoulders", withs lots of screaming but not that much singing along, But as soon as they hit "Emotion sickness" and "without you" the whole Gymnasium went crazy, after that a big blend of heavy and calm hits and lots of new and beautiful songs, such as "Tuna in the brine" and "Luv your Life", some of the brazilian´s audience favorites were in there also, "slave", "Israel´s son", "Ana´s Song"... I must say i got a little bit disspointed with the length of the show....I was really expecting to See the whole Act 1 and Act 2 thing going on....i was really hoping to hear some of my favorites like Petrol And Chlorine, Steam Will Rise and some others....but hell with it... I Paid to see a rock concert and they gave me one of the best i´ve ever seen... and also one more thing, lots of bands take their whole fucking carrer to come down to south america to play concerts and only when they get here they realize how awesome and wild it gets down here... Silverchair have been here three times in less then ten years, and if it is true what they are saying about stop touring take this as my Personal Thanks for Coming here and and blowing the fucking place out. It´s not just the audience that´s awesome you know... 50% is the band, If they give the people who paid to see them what they want (a great concert) there you go...you got 50.000 (or even 250.00 as in Rio) fanatic people singing all of your songs along with you. Thank you guys... For giving us Lots of Great shows!!!
---
By PABLO
Silverchair in Belo Horizonte is everything I ever wanted! This is the dream of any Brazilian Silverchair Fan!! The show was amazing! If you don't go, you will never know what you are missing! I'm serious! Ben, Chris and Daniel Rocked!!
But otherwise, some part of the crowd screwed everything! What those people (mother***kers) were looking for? Fights?? They were not really fans of Silverchair.. They were only curious people... Looking for a mess... You may asking why am I saying that… you may not believe, but at the encore, Daniel came and started to play Asylum, and what a beautiful song! But some jerk, some stupid jackass, who probably doesn't know the song, thrown an empty bottle on Daniel's head… Than Daniel stop singing and asked: "- Where are Ben and Chris to save us?"…
So, Ben and Chris came in and started to play The Lever.
Right after the song, Daniel began to punch his guitar against the drums, and then the guys get out of the stage (pretty mad maybe), without saying good bye.
If Daniel thinks just like me, Silverchair will never play in Belo Horizonte again.
The fans missed some songs like Black Tangled Heart, One Way Mule, Across The night, and others that Silverchair played at the Australian Tour. But congratulations to the band, and especially to Daniel, his voice sounds perfect! Ben and Chris were fabulous!
There's the set list with 14,5 songs.. , but I'm not too sure about its sequence ok? So, forgive me!
(Sorry about my ugly English)
- Set List
World Upon Your Shoulders
Emotion Sickness
Without You
Israel's son
Luv Your Life
Tuna In The Brine
The Greatest View
Slave
Ana's Song (Open Fire)
Miss You Love
Freak
The Door
Anthem For The Year 2000
- Encore:
Asylum
The Lever
---
By VINICIUS and AMANDA
It was surely the best show we have ever been and the most exciting night of our lives. Yesterday Silverchair were flawless, spectacular! They were even better than at Rock in Rio. The gym had its floor and chairs full of people screaming very eager to see the band on the stage. We were so excited about seeing Silverchair live once again that we didn't even pay attention to the guest band.
Everything was magical… when they first put out the cloth that was covering Ben's drums, the crowd roared very strongly. The show would begin!!!
The set list:
World Upon Your Shoulders
Emotion Sickness
Without You
Slave
Luv Your Life
Tuna in the Brine
Israel's Son
The Door
Ana's Song
Miss You Love
The Greatest View
Freak
Anthem for the Year 2000
Asylum
The Lever
Instrumental
Daniel, Ben and Chris entered the stage and lights were turned on. The crowd went mad! They started with World Upon Your Shoulders and it was so beautiful, as well as all the other songs. Every song was sung by the crowd together with Daniel, except Asylum, which is known just by feel people [we sang it!!]. By the way, this song was played only until after the first chorus, when Daniel stopped playing and asked where Ben and Chris were. [They were at the backstage]. The second hit was Emotion Sickness. They played it very beautifully, and we noticed it was longer, as well as other songs [The Door, Israel's Son, The Lever and Slave].
Daniel seemed to be enjoying himself a lot, and we think the guys were happy to play. Daniel swung his waist a lot, played a guitar solo with his teeth [the crowd went mad!], licked the guitar, it on his pelvis and simulated a masturbation movement on it. He also played a guitar solo standing on the piano [really!] and then he laid down on it and kept on the solo!
Someone had thrown the Brazilian flag on the stage and Daniel took it and put on the drums, then he took it and put it hanging on the microphone stand, and that was nice.
At the end, after the Instrumental part, Daniel took the microphone stand and thrown it to the other side of the stage. He then run across the stage and jumped over the amplifiers [and simulated some sex movements on it!]. Then he took his guitar and hit it three or four times on Ben's drums! Then they went out the stage… and left the crowd in ecstasy!
Vinicius: Though Emotion Sickness is my favourite song of all; I think the highlight of the night was Without You. I must confess that I cried a lot during this song… But I cried also during Tuna in the Brine, which was perfect. Daniel's vocals were just perfect, and the guys made the song become even more beautiful than on Diorama. I will never forget that night!
Amanda: I think the highlights of the night were Without You and The Greatest View. Daniel was lovely! Singing so neatly… specially Asylum! Chris was so cute also, and I loved Ben's hat!!
Well, all we both have to say is that Silverchair made the best show of the city's history. Belo Horizonte says "Thank you".