31-03-2007
Young Modern
By Bernard Zuel (Sydney Morning Herald)
http://www.smh.com.au/news/cd-reviews/young-modern/2007/03/30/1174761728609.html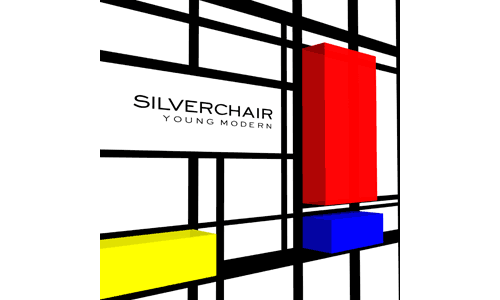 As with every Silverchair album, Young Modern is not just better than its predecessor.

Tight-trousered punk-funk, shaggy haired pub rock and thumping disco are but three of this decade's revivals of long gone-forgotten-ignored genres that have had their moments in the charts. There's been another revival recently - prog pop - though it's unclear, despite the outstanding efforts of groups such as Arcade Fire and the Decemberists, that there's a public clamouring for its return.

Prog what? Prog pop is one term to describe the elaborately conceived, theatrical in nature but nonetheless song-based work of artists such as Peter Gabriel, Brian Eno, Kate Bush and, of course, David Bowie in the 1970s and early '80s. As with its heavier sibling, prog rock, it threw up tunes galore while also presenting material more complex than your standard three-minute radio hit, with multiple parts, strange progressions and a willingness to disturb in the middle of an idyll.

Some called it pretentious, some turned headphones up and dug it. But is it a little too esoteric for today?

Well, Daniel Johns, Ben Gillies and Chris Joannou aren't going to die wondering. Silverchair's fifth album, Young Modern, the long-awaited successor to 2002's often grand and sometimes grandiose Diorama, has flamboyant pomp and light-stepping swing, fluttering falsetto and tuned percussion, pulsing underpinnings and arrangements that turn on a 10-cent piece.

Oh, yes, and the kind of melodies that would feed lesser careers for years, turning some of the album's less ambitious songs, such as Reflections of a Sound (like Johns's other project, the Dissociatives, channelling the Beatles) and Waiting All Day into brightly lit atmospherics.

The album has at its centre a three-part suite - Those Thieving Birds parts 1 and 2, separated by Strange Behaviour - where surreal lines sit alongside strong personal bluntness. Around these lyrics (and it should be noted that Johns, never much of a lyricist, has done his best work on this album) are woven '50s-style popular song, romping '70s fun and just enough hints of sadness to flavour.

There's plenty more. Mind Reader struts its Elton John-on-steroids moves, Straight Lines builds inexorably to a surprisingly vibrant bit of electro pop and If You Keep Losing Sleep is like a melding of Peter Gabriel and Sherbet as envisaged by Fellini. There are dramatic string arrangements butting heads with galloping drums, a Daryl Braithwaite-ish vocal suddenly tweaked higher and running amok and a carnival atmosphere - if that carnival were running on something much stronger than caffeine.

Peter Gabriel had to jump ship from Genesis to set free his pop-leaning muse; Johns has found a way to explore many of the same avenues without having to leave. It says something about both Johns and his accommodating band mates, who are more talented than we often acknowledge.

As with every Silverchair album, Young Modern is not just better than its predecessor. It is a generational shift in quality. Will it work commercially? Who knows, but artistically it is a resounding success, more than justifying the lines from the opening song, Young Modern Station: "The clocks are ticking timeless/dead Dali days behind us/the band is back together/allergic and in the news."