24-02-1997
The Palace - Los Angeles, USA
Photos by Christopher Horvath, MuCoMo/L.A. Live
silverchair wrapped up a 10-city promotional tour of the U.S. with a sold-out show at the Hollywood Palace on Feb. 24, 1997.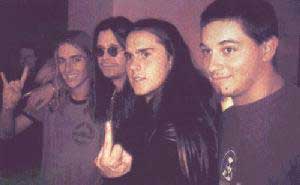 "They were 10 times better than I thought they were going to be," said Scott Gilbert, a veteran observer of the rock scene who saw the 'chair for the first time. "They were hot! [That's a] lot coming from an oldtimer like me. I have seen Led Zeppelin with Bonham, The Who with Moon, Black Sabbath, etc. It was cool when they played Paranoid. And the end was wild when Daniel and Chris crucified themselves with feedback on the amps while Ben jumped into the crowd. There are not too many new bands that I can get excited about. But silverchair rocks!"
Another highlight of the L.A. show was a visit from Ozzy Osbourne and his 13-year-old daughter Amy. Chris, Ben and Daniel were thrilled to meet the legend -- and her dad as well!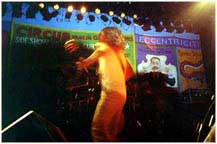 The Hollywood Palace show marked the third time on the recent tour in which Ben took a stage dive into the crowd. silverchair covered Black Sabbath's Paranoid at the Philadelphia and Los Angeles shows, after playing Minor Threat at other recent gigs. The band was joined for the last few performances of Minor Threat by vocalist Jeremy Chatelain and guitarist Tom Capone of Handsome, which opened most of the shows on the February round of shows.
Handsome, which was warmly received by fans hearing them for the first time on the tour with silverchair, was forced to cancel as the opening act at the L.A. show when some equipment fell on drummer Pete Hines after the band's set in Washington, D.C. on Feb. 21. Hines suffered a broken rib and a collapsed lung.
---
By LUCKY G., Livewire magazine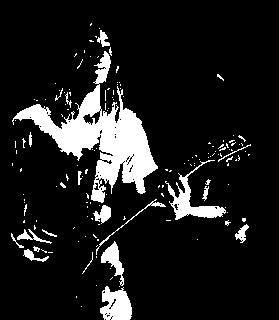 It takes big balls to admit when you're wrong about something or someone. Yes, mine are huge. and I'll be the first to admit that I made a mistake.
Like an idiot, I never would allow myself to enjoy silverchair's first album called frogstomp. In fact, I never even listened to it. I, like many others, only heard their songs on the radio and formed my own narrow-minded opinion, that they stunk.
So why am I at a silverchair concert, you're asking yourself? For the money of course, you putz. The sweethearts over at Epic Records hooked me up with a ticket and a photopass and even sent me a free CD to enjoy. Did I listen to it before I went to see silverchair at the Palace Theater? No. Why should I? These kids can't rock.
The Palace was packed with young virgins; females were everywhere. The curtain behind the stage had paintings of human oddities. It had the Bearded Lady, the 1,000 Volt Man, Lobster Boy, Jimmy Torso, The Legless Wonder, Pincushion Woman and the infamous Mr. Stretcho. I was dreaming of corndogs and cotton candy when the houselights went black and circus music was piped through the house speakers. Chicks began hootin' and hollerin' when the three Australians mounted the stage and slid into their instruments.
Wham! silverchair instantly burst into Slave, the first track off of their new CD Freak Show. Uh oh, wait a minute, this sounds -- good. I looked around and everyone seemed to be digging Slave as well. The crowd looked like a sea of women flowing like syrup and silverchair were the pancakes. Their instruments were the utensils, and link sausages were on the menu tonight.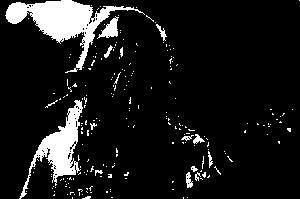 Studboy vocalist/guitarist Daniel Johns strummed his Paul Reed Smith axe with a youthful vengence as he led his band into the next tune called Freak. This young tart standing next to me, wearing a Kurt Cobain t-shirt, screamed, "Danny, I love you!" And I think she meant it. Bass popper Chris Joannou flopped his hyper body back and forth, as he prowled the stage like a leopard trapped in a cage. Ben was smashing his drum kit so hard that it was truly a miracle that his sticks didn't snap in his hands.
Dan said, "I wrote this next song called No Association to a friend I didn't know I had." He sang, "You've never wanted to know me before, little or no association. Leave me alone I want to live. Stop sucking the blood right out of me." Wow. Being a rock star sure must be tough to have so much pent-up anger don't you think?
To promote this current American tour, I heard that the band was only going to do three 15-minute interviews, and no group photo sessions whatsoever. Seems they would prefer that their music speaks for itself. It was doing a fine job tonight, that's for sure.
silverchair proceeded to wow the crowd with Learn To Hate and Roses, and a buttload of tracks from frogstomp. "You're too kind," Daniel said as he freed a lock of his blond hair from his pierced eyebrow ring, and he and his chums closed the show with a number called Nobody Came. The lights came on, and the crowd reluctantly filtered out the exit door to the station wagons with mommy patiently waiting in the drivers seat.
---
silverchair at the Palace in Hollywood
By BRIAN MAY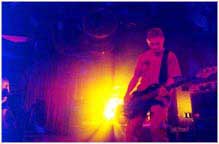 We didn't get to the Palace until about 6 p.m., and the line to get in was already half a block long. Luckily we knew some people who left hours before us, so we were behind only about 20 to 30 people. Although the tickets said the concert was to start at 8, they didn't open the doors until about 20 minutes after 8.
I walked to the upper level and sat in the front row. The concert didn't start until 9. Handsome did not open this evening, due to the drummer's accident with some equipment, so in their place was a well-known local band, Unwritten Law. I have not seen a band like this in years. This band had timing like you would not believe. They had the crowd jumping, floating, moshing. Sometimes it looks as if all the all the people in the pit were on pogo balls. Unwritten Law played for about 45 punk-rock minutes warming up the crown perfectly for the headliners, silverchair.
After about 20 minutes had passed, the Freak Show backdrop was raised, and everyone started screaming, but it wasn't until 15 minutes later that silverchair came out. And when they did, they came out with a bang, starting with Slave, beginning with long pauses between the first few beats. Everyone was just wild, singing along with every song.

After Slave, there was a little pause, and then Roses blasted from the speakers. Daniel was on the left side of the stage, as usual, Ben in the middle, and Chris on the right. Immediately after Roses, silverchair jumped into Findaway. Daniel then said "L.A. rocks!" and brought out [tour production manager] Bailey ("Hollywood") Holloway [to play second guitar on Abuse Me] and introduced him as the band's sexual guidance counselor. Bailey was on stage in the background behind Chris and next to Ben. Abuse Me was beautifully played and everyone sang along. Freak was the next song, and as in all of the other reviews that I have read, when the time came for "get a different disease" Daniel yelled it very wickedly. And "as cool as you" was changed to "as cool as all of fucking you." After the song, Daniel said, "You guys rock."
During this break, Chris and Ben left the stage, signaling that Cemetery was next. Talking to the girls in front of him, Daniel said, "All right, later we'll fuck." Then he began Cemetery. Lighters were set aflame, and Cemetery was played beautifully. After this song, Ben and Chris came back to the stage and Daniel said something like if it wasn't for this band, we probably wouldn't be playing the songs we do, and then Black Sabbath's Paranoid was played. After Paranoid came Suicidal Dream. Everyone was singing along to this one as well. Directly after Suicidal, the band broke into Tomorrow, with no wacky intro.
After Tomorrow, there was a little guitar solo. Then Daniel said, "It's time to rock!" and "This song is about nothing" and busted into The Door. There was a little pause, and then came Faultline. What can I say, I love this song.

They extended this song a little at the end, which was really cool. Afterward we got a little treat from Daniel. He said, "You guys are rockin', man, what I can hear. Fuck you. Fuck -- you. Come on up, I'll kick your ass. I'll take you all on. If you're a girl, Ben will take you to his hotel room." That was so cool. After that little fan interaction, silverchair started Pure Massacre. Next, one of my favorite songs off the new album was played, No Association. When Daniel sang "stop sucking the blood right out of me" it was wicked and sounded so good. After the song, Daniel said again, "You guys rock" and "We love L.A. One of the first times we played this song in L.A. the sound went out. So we are kinda tempting fate. So if the sound goes out we don't give a fuck." (He was talking about the Palladium show which I attended one year and 20 days earlier when the sound went out twice during Madman. This time, Madman was played with no interruptions, ending the set.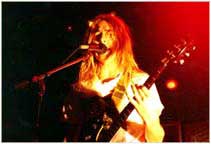 The guys came back for an encore, starting it off with Lie to Me. For the encore I wanted to get a few close-up pictures, so I headed down to the pit. Good thing too, because the last song of the evening was Israel's Son. During this song, Daniel made the most evil looking face that I have ever seen him do. It was really cool. After the song was over, Daniel and Chris were just messing around and Ben stood up, moved around to the other end of his kit, still banging the crap out of it. I knew what was going to happen (thanks to a few other reviews) so after Daniel and Chris left the stage, Ben tossed out his sticks (I ALMOST got one, but almost only counts in horseshoes and hand grenades). Then Ben made some movements, and I got myself in the perfect picture taking position. Then, as I knew he would, Ben stage dives right in front of me! If he was jumping over water, it would have been a belly flop. The security had a fun time trying to get Ben out of the mob as the fans were pulling on him so he could stay with them. But eventually security won, and Ben walked off the stage, ending the show.
SET LIST: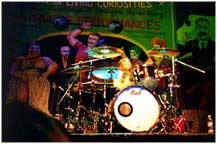 Slave
Roses
Findaway
Abuse Me
Freak
Cemetery
Paranoid
Suicidal Dream
Tomorrow
The Door
Faultline
Pure Massacre
No Association
Madman
Lie To Me
Israel's Son
---
By KRISSI GRANT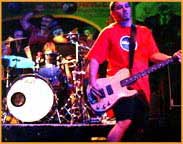 We got there at about 5 p.m. Of course there was already a line of girls, but the line wasn't THAT long. We talked to a few people standing near us and for some reason the line instead of getting longer got wider, so there was like five people across. The show was supposed to start at 8, so it wasn't a good thing when they opened the doors and everyone was still in line, so basically everyone was pushing and shoving and it was practically a mosh pit in itself to get into a single file line, but finally we got in and we waited for the show to start.
It was quite a welcome surprise when I found out Unwritten Law was opening up. I was bummed that Handsome wasn't, 'cos I'd heard how good they are, but I saw UL two weeks before and they rocked, so I was stoked! They went on at about 8:30. When they finished their set, we somehow pushed our way through many RUDE people and got kinda to the front... it was about 45 minutes between the time UL finished and silverchair came on, and people were pushing and shoving every which way, and it was SOOO hot in that cramped area, so we decided as soon as silverchair came on and there was actually room to move, we'd go towards the pit.
So FINALLY at like 9:45, they came on with the circus music and broke into Slave with huge pauses at the beginning part. I was pretty surprised they didn't play Leave Me Out or Pop Song. Daniel wasn't really talkative (at least not as much at he was at the Troubadour show in December). He kept saying "L.A. rocks," and he mentioned the guitar dude was their sexual guidance counselor and taught them about sex, and then something about how Ben would take girls back to his hotel room, but I think he said that at like every show. He did say something to some girl yelling his name along the lines of "What?! Yeah, ok, later... yeah, later we'll go in the back and fuck." It was SO funny! Of course that got all the girls screaming, but actually to my surprise they were barely any girls screaming his name -- they were just screaming and they were actually quiet during Cemetery, so it sounded great!
But out of all the shows of theirs I've seen, I think this had the least amount of screaming, period! Well there was this one dumb girl behind us screaming "Daniel, Daniel!" My friend Sara turned around and said, "Yeah, that is Daniel and I'm SO proud of you for knowing that, now shut the fuck up!" Hehe, her mouth dropped and she just shut up, it was SO hilarious!
Daniel also said something about how if anyone got up on stage he'd have to kick their ass. Daniel, at the end, did that thing (someone else mentioned this I think) where he was hanging on the amp like he was hanging on a cross or something, it was SO weird. At the end Ben dove into the crowd and sunk under, and the security guards (it took like four of them) tried to pull him out, but I guess the girls were trying to pull him in, so there was a struggle, but finally he got out and walked off stage. And then the show was over.
It totally rocked, but not like that's a surprise or anything. :)
I did notice that barely anyone knew any of the new songs, except for Abuse Me and Freak, which are the ones that get airplay here, but only a few people were actually singing along with the rest of the new ones. I thought that kinda sucked, but then again, the album's barely been out for three weeks.
---
by JANISS GARZA
At the age of 17, the members of silverchair are touring behind their second album. "Kids" this Australian trio may be offstage, but in front of an audience--like the one that packed the Palace--they're seasoned, professional rockers.
The marked improvement between the group's debut, frogstomp, and their latest LP, Freak Show, was made clear during their 90-minute set. New tunes such as the pounding Freak and more laid-back (though no less twisted) Abuse Me blow doors on silverchair's prior hit, Tomorrow, not to mention the lesser songs from frogstomp that the band chose to play.
Happily, the concentration was on the new material -- the sludgy heaviness of tunes like Slave and the frantic energy of Lie To Me show a great sense of dynamics.
When the guys quieted down and left frontman Daniel Johns alone on stage to sing the pensive, poignant Cemetery, it was nearly a transcendental moment. The strength and confidence with which the guys played made it easy to forget just how young they are. And while influences such as Tool, Soundgarden and Pearl Jam may still be obvious, in the past two years silverchair has grown into their own identity and sound.
The only time the band's youth became apparent was at the end of the show. Drummer Ben Gillies stage-dived into the audience, and the security guards had quite a hard time getting him back over the proscenium. Meanwhile, Johns reached back and grasped his amps, clinging to them until they fell over. It was the kind of trick that would have looked foolish coming from their elders, but because the guys are still in their teens, it was pure fun.
---
By KELLY
Since I enjoy reading what other people say and hear at the shows, I though I might add what I heard (and said).
I was around all these girls, so naturally the general statements were "I love you Daniel," "I want your body," "I wanna fuck you," blah blah blah. But some people got creative. One girl actually screamed out many times, "Ben, bend over!" I thought that was pretty funny.
One girl told Daniel to take his clothes off. "Take what off?" he asked. I didn't hear what she told him but he said, "Umm... no."
One guy was actually getting pretty nasty and Daniel said, "Yeah, get up on stage, I'll kick yer ass... so fuck you."