21-02-1997
The 9.30 Club - Washington DC, USA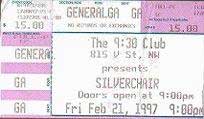 Set List:
Slave
Roses
Findaway
Daniel: "Thanks! Bailey, can you give me a pick? Bailey! Bailey! Pick? An extra pick? [to the audience] Hey thanks, I wanna fuck you too. You guys rock -- Washington kicks ASS! This is Mr. Bailey Holloway. He's gonna play guitar on this song. He's played with previous artists such as Led Zeppelin and Black Sabbath. He knows all the rock 'n' roll lingo. This is on the radio a bit, you might know it, maybe not, maybe."
Abuse Me
Freak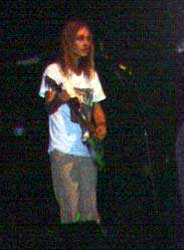 Daniel: "Thanks, thanks very much. Thanks for all coming tonight. Uh... yeah, YEAH, YEAH, WOO YEAH! This is off our new album, I'm gonna do it by myself. Thanks."
Cemetery
Daniel: "Thanks. We would like to thank Handsome for touring with us and playing and being so fucking cool. Go and buy their record. This is off our old album, so rock on."
Suicidal Dream
Daniel: "The next song is our grunge song. It's very grungy."
Tomorrow
Daniel: "That ending gets longer every show. We're gonna do a set of guitar solos next time we're around so come check it out. Here's a present from Ben. You guys are too fucking quiet -- YELL! You gotta rock, you gotta rock the fucking house... 'cause you paid money! All right, we're ready to rock and jump and fucking... be grungy. We're not gonna be grungy but, we'll rock for ya, this is a rock song. It pretty much sucks like the others, but you know, ya go for it."
The Door
Faultline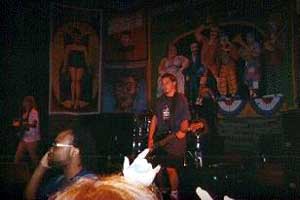 Daniel: "Um, oh fuck, this is uh... love you too... Who's here and who's wild? Ben wants to know who's wild. He said something about having a party. Oh, I dunno what he said but I'm guessing that... oh, any interested females, see Ben later on. Yeah? Yeah? Yeah, that's it, you're totally cool. OK, this is, um, now we're gonna do a song about hate... for a change. This is track number five.
No Association
Daniel: "Thank you. Thanks. All right, what do you want us to play? We're taking requests. We're gonna do Leave Me Out, because we were supposed to play it earlier but Watson fucked up. [Here, manager John Watson pretends to throw a water bottle at Daniel from a balcony above the side of the stage.] Confused everyone, fucked us all up. So rock on, fucking jump and just do everything except break people."
Leave Me Out
Pure Massacre
Madman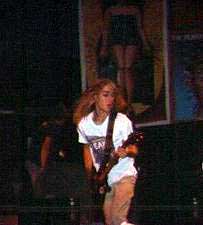 Daniel: "Flex your head! [band leaves stage prior to returning for encore] Hey! Well... we're gonna play... um, a cover. Has anyone heard of Minor Threat? You're not familiar with Minor Threat song and Jerry, Tom... Jerry! [laughs] Tom and Jerry, yeah, just joking, it's Jeremy, we're gonna play Minor Threat, they're gonna play. Yeah! Lemme see if this microphone works, yeah. These guys are from Handsome."
Minor Threat
Daniel: "FLEX YOUR HEAD! Thanks! Thanks, Handsome. They're the only band we've come across who knows the fucking words. That's pretty rad. [picks up hat thrown on stage.] Pantera... [puts on hat briefly before putting it on Jesse, the headless doll who shared the stage with silverchair for the entire tour.]
Israel's Son
[Thanks to Jamie and the freaky silverchair page for the photos.]
---
By GREG SHERMAN (gsherm1@tiger.towson.edu)
I saw the band's February 21 show at the 9:30 Club in D.C. The show rocked, but I was a bit annoyed by the much of the crowd. Several people threw objects at the band and others seemed to drown out the tunes with their ear-splitting screaming. Otherwise, the show was very enjoyable.
They started their set with Slave and Findaway -- two kick-ass songs. Between them was Roses from the new album. Daniel played a killer solo version of Cemetery and then went straight into Suicidal Dream. Other songs included Freak, Abuse Me, Faultline, Lie To Me, Leave Me Out, Tomorrow (their "grungy song," said Daniel), and the most intense jam of the night, The Door.
silverchair was joined by the singer and one of the guitarists from Handsome for a Minor Threat cover. Daniel said that Handsome was the only band they'd come across who actually knew the lyrics.
They ended the show with a feedback drenched version of Israel's Son. Handsome put on a decent performance and were joined by Ben on vocals for one of their last songs.
This show was definitely well worth the wait!
---
By JAMIE M. (goddess@avana.net)
As far as the Washington show goes, it rocked! It was the best silverchair show I have seen, and i have seen five! It was really cool when Ben came out and sang Thrown Away with Handsome. I tried to take a picture of it, but it didn't come out. It was just soo cool because Ben had the happiest look on his face. It is really awesome to watch concerts when you KNOW they are having a blast.
It was also cool after Israel's Son when they smashed all their guitars and stuff. I had NEVER seem them do that before! I think Dan killed his green guitar and the silver one. Chris' bass was destroyed and so were Ben's drums!
The only downer was that I was in the front row so I lost my hearing for three days. But other than that it rocked!
[EDITOR'S NOTE: I guess the smashing business was kind of like professional wrestling because all of the band's equipment turned up intact for the Philadelphia show the next night! Thanks to Kari for her help with this page.]