18-02-1997
St. Andrews Hall - Detroit, USA
By NATE LICHTMAN (foof@earthlink.net)
All photos by AMANDA YATES (tyates@mnsi.net)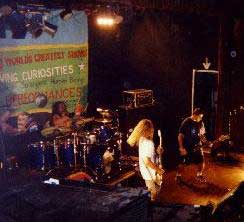 After seeing this concert, I have more respect for silverchair than basically any band around. Daniel Johns has more onstage presence than Billy Corgan, Chris Cornell and Page Hamilton combined. I have seen all of those guys in concert and not one of them even remotely had the energy or charisma of Daniel.
I got to St. Andrews about 10 minutes before they opened the doors and then they started letting people in. When I finally got in, I got my blue shirt with the tour dates on the back and waited for handsome. St. Andrews was packed, but there is this little balcony thing where all the little teeny girls went so they could avoid the mosh and yell about loving Daniel.
Handsome was good, really tight, and they played like 10 songs or something. Then they set up for silverchair which took like over an hour, which really sucked. Finally in complete darkness, Chris followed by Ben then Daniel took the stage and ripped into Slave, really drawing out the opening part. This song really rocked live and everybody loved it.
Highlights:
1. Ben stage diving after Israel's Son (good jump, Ben!)
2. Daniel headbanging and completely rocking
3. Ben's drumming on No Association [photo above]
4. Chris doing the Israel's Son bass line
5. Israel's Son really rocked
Basically, this show was the best thing that I could have imagined. Anyone who thinks silverchair has gone pop or aren't too hard are nuts. There is no one -- and I mean no one at all -- who can even match the energy and charisma of this band live, period. I can't wait till they come back in April or May so I can relive this experience again.
---
By VAL GOODMAN (valsg@interlynx.net)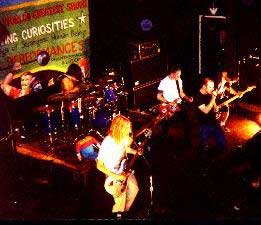 While waiting outside St. Andrews, we could hear silverchair's soundcheck. They played a little bit of KoRn (A.D.I.D.A.S), Abuse Me and Slave. We saw Handsome go into the club and I got my picture taken with Peter (the guitar player, who used to be in Helmet). After that, Ben came to an upstairs window [photo at right] and threw out a banana and mushrooms. Girls were screaming like crazy. Daniel came (more screams!) and threw little Hershey chocolate bars, then Ben threw broccoli (I caught two, rock on!) and the girls just wouldn't shut up -- they were being so annoying. Ben mooned us and that was followed by LOADS of wild screams. After about 15 minutes, Daniel stuck his head out of the window with a video camera and recorded us for about 20 seconds. All I did was wave. [EDITOR'S NOTE: It was learned later that the camera was not actually recording anything.]
Once inside, we decided to go up to the balcony and we had the BEST view. We didn't have to go through pushing and shoving, just completely headbanging to pure rock and loving it! After a while Handsome took the stage and kicked major ass! I thought they were amazing. They gave off a great energetic set and really were into the crowd. It was so awesome! The thing that was really cool is that Daniel and Ben were watching the show from the balcony in disguises (tuuks, beanies, whatever you call 'em where you live!) and Daniel was videotaping the show.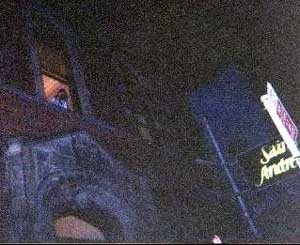 silverchair didn't hit the stage for about 45 minutes, because there was a concert going on downstairs and you could hear it upstairs. There was a heart on each of Daniel's amps and one right under the "e" in Pearl on Ben's drum set.
When silverchair took the stage, the crowd went wild. They drove straight into Slave, which kicked ass, and Daniel was thrashing like crazy! Then, without a word, Ben started playing the beginning drums of Roses and that was awesome because I thought it was gonna be taken out of the set list. It's one of my favourite songs.
On Ben's drum stand, there was a headless doll which silverchair had nicknamed "Jesse." Ben threw one of his drumsticks into the crowd at one point. After Minor Threat, Jeremy from Handsome dove into the crowd and Daniel cheered him on. After Israel's Son, Ben stood on his drum stand and looked at the crowd. He did a HUGE leap into the pit and got sucked under! The security people were looking at each other like stupid idiots and finally one jumped in to get Ben. He was fine and got back on stage and left. Daniel played with his pedals and then left.
Sayings of the night:
"as cool as mother fucking you!" (in Freak)
Daniel started singing "Detroit Rock City" by KISS, which got everyone screaming
"You guys ready to rock? Well, you're gonna have to wait 'til the next song 'cos I'm doing this one by myself." (before Cemetery)
"We never have practiced this, so if we fuck up, that's why." (before Minor Threat)
"This is just the encore, so if we fuck up, it's OK 'cos we don't give a shit, and you don't give a shit!" (before Lie To Me)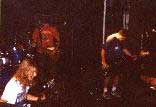 After the show was over, Ben was standing on the sidewalk beside his tutor (Jim Welch) and we walked over casually (we didn't want all the chicks to follow us) and said hi. Ben politely said "g'day" and we thought he was just gonna cross the street to the bus, but he didn't. He stayed, talked, signed autographs and snapped photos with people. I thought that was great that he stayed to greet the fans. There weren't that many people, so I think he stayed a lot longer than he would have, if there was a whole mob of people. He was really nice. I told him I'd be at the Toronto show in April and he said that was cool. After Ben got on the bus, we hung out with, Jeremy, Eddie, Peter and Tom from Handsome. They were really nice.
It was well worth the money and the train ride to get to Detroit. It was so amazing. I had loads of fun and I can't wait for the Toronto show in April!
---
By JENNY GATES (chairhead1@aol.com)
WAITING TO GET IN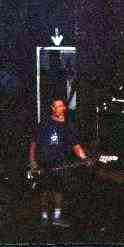 Oh my! It was a teeny wonderland! Geez! I was gonna PUKE! I started to make fun of all the teenies by talking in a really high voice saying things like "Daniel is so cute," "I love Daniel" and "Daniel is my boyfriend." Everyone in line had to have been about to kill me, but hey, they started it. When we got in, NO ONE searched us. That really made me mad 'cause I wanted to tape the show -- just for my listening -- I probably wouldn't have even traded it. I had the recorder but my mom gave me her usual guilt trip so I left it in the car.
There were two guys peeing on the wall of a building next to St. Andrews Hall... it was so SICK! Then there was a rubber shark that people were throwing around. It was so weird! We got in with no problem and we bought T-shirts -- I got both -- after all, I did save up $85 for shirts and there were only two!
HANDSOME
I had never heard them until the night of the show. They are a great band. For some reason, the lead singer reminded me of Maynard from Tool and Billie Joe Armstrong of Green Day. It was his voice that reminded me of them. He danced like Henry Rollins. They played well and had GREAT riffs! They were much better than silverchair's last opening band in Detroit, Speedball. Let's just say Hootie is just as good as Speedball.
SILVERCHAIR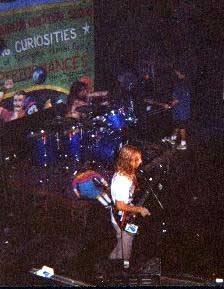 First the trademark circus music played before they come on stage. They opened with Slave and of course it rocked da world. Then they played Roses! I was already exhausted, but I kept up. After Findaway they played Abuse Me. It was weird 'cause this time Daniel actually danced. Last time in Detroit Daniel just stood there, and when he did his solos this time he would face the wall. Since he was in Detroit, he also mentioned the KISS classic Rock City.
There was a poster in the background that was some kind of circus thing. For the encore they did Minor Threat, Lie To Me and Israel's Son. The lead singer and one of the guitarists from Handsome joined them on Minor Threat [photo at left] -- woo hoo!
They ended with Israel's Son. Daniel seemed to want to smash his guitar.
At the end Ben ran to the back of the stage and took a running jump into the crowd. The staff wasn't ready and the crowd seemed to be about to kill him. Some girl grabbed his head and kissed him. They were pulling his hair and touching him.
---
By AMANDA YATES and JENN BARCROFT
Sarnia, Ontario
We arrived at the parking lot for St. Andrew's at 6:15 and we asked the parking attendant where St. Andrew's was. He pointed and said "right down there." We looked down the street and saw a tiny building with a dingy little sign that read St. Andrew's. We were very suprised at how small and old it was, but we thought "cool, the smaller the better."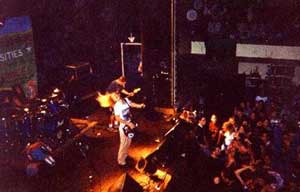 We took our spots in line near the front, but just around the corner of the building. All of a sudden we heard loud screaming so we ran to the front of the building and out of the window popped Daniel with a video camera videotaping all the fans. [EDITOR'S NOTE: It was learned later that the camera was not actually recording anything.] The crowd went crazy. A short appearance was made by Ben in the window beside Daniel, then a few minutes later the doors were opened and the crowd began moving in.
When we got inside we quickly took a spot in the front row, but soon we started getting crowded and crushed against the barricade so we decided to take a place on the upper level, a little to the left of Daniel's mic. Soon all the fans had crowded in and Handsome came on stage.
Handsome really rocked. The crowd surfing got going, but the mosh pit remained pretty calm. They played a few songs, thanked silverchair for letting them tour with them and then left the stage.
After what seemed an eternity of waiting, the crowd started to get anxious and they chanted "BULLSHIT! BULLSHIT!!" and "SIL-VER-CHAIR!!". Then circus music started, the crowd went wild, and Chris, Ben and Daniel took their positions on stage. They opened with Slave.
The crowd surfing really got going again, and the mosh pit started to go crazy. Daniel was really getting into the music, thrashing uncontrollably. They played a few more songs and then came to one of the crowd favourites, Abuse Me. Stage crew chief Bailey Holloway played back-up guitar [photo at left]. The crowd and the band remained calm during this song, but the crowd sang along to the chorus. The reaction was the same when they played Tomorrow. When Bailey left the stage Daniel said, "That was our sexual guidance counsellor."
One of the next songs was Freak, one of the best songs of the night. During the verse Daniel sang "as cool as all of fucking you!" That song really rocked!!
Another one of the best songs of the night was No Association [photo at right], which might be a suprise to silverchair since Daniel introduced it as the song we might hate.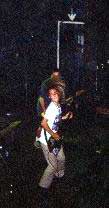 Later on Daniel requested for the singer and guitarist of Handsome to come on stage. They came and then together they played a cover song of Minor Threat. Then Daniel introduced Lie To Me saying, "If this song's fucked, don't worry about it, just have a good time." We didn't think it sounded "fucked" at all, it was great!
The concert ended with Israel's Son. Near the end of the song Ben was tying his shorts tighter and Chris looked at him and laughed. Then Ben got up on the drum riser, counted to three and jumped into the crowd. He didn't get very far since he was quickly pulled under by all the excited fans. After about five minutes the security got Ben back on stage and he was soon followed by a crazed female fan who chased him off stage. A minute later Daniel left the stage and it was over. They played a total of 17 songs.
Our final thoughts are that Daniel is an amazing guitarist and singer. He really rocks, he goes psycho! Chris is an amazing bass player and Ben doesn't just play the drums, he attacks them. These guys are legendary! If they ever come to your city, go see them. We already have tickets to see them again in Toronto on April 25 and we can't wait! The concert rocked, they kick ass! They seem like really cool guys and it would be cool to meet them.
---
By MEREDITH (crapweasel@juno.com)
Oh man, it totally ROCKED! Val and I arrived at St. Andrews at 3. We could hear the sound check from outside, and heard Slave and Abuse Me. We were also told they played some KoRn but unfortunately we couldn't hear it.
While waiting in line, the guys of Handsome pulled up and started unloading their equipment. We were introduced to Peter and got our picture taken with him. He's a cool guy. After all their equipment was taken into St. Andrews, the security guards started to put up the bike-rack type things to help control the fast-forming line.
A while later, the second-story window opened and cucumber slices were thrown out the window and one hit me on the shoulder. More time passed, and the window was still open. Ben stuck his head out the window and threw some mushrooms at us, then came a banana, and then broccoli. Daniel stuck his head out and he threw those mini-Hershey bars that people pass out for Halloween. Of course there was a lot of scrambling to get these prizes. Then more and more screams -- my ears began to hurt from the girls. Then Ben stuck his ass out the window to cheers from everyone! It brought back memories from their last concert here, when Ben stuck his ass out their tour bus window after the show in December 1995. Then some of the girls started screaming for Daniel to come to the window. Time passed, then Daniel stuck his head out of the window again, this time with a camcorder so everybody yelled and gestured with their hands. Finally, we were let into the club.
I started for the front of the stage but then heaps of running girls started charging toward the front. It was quite humorous! So we got out of there, not wanting to deal with them. I bought a T-shirt, then we headed upstairs to the second level. We had a perfect view. It totally ROCKED, so we planted ourselves there. Laura came over and we chatted some more. Finally Handsome was going on at about 8:30 or so (I think).
I seriously loved Handsome, those guys totally KICK ASS. I was SO impressed, the music totally ROCKED! Their stuff was awesome! There's not much more I can say about them except that I'm buying their CD as soon as possible.
The stage setup for silverchair didn't seem to take long, but there was a long wait until they started. They came on about 10 or so because they were waiting for Cibo Matto to finish a concert they were playing in The Shelter, which is the basement of St. Andrews. The stage had a circus banner hanging in the back. Ben's blue drums shined in the lights and the doll without a head, Jesse, sat at the foot of the drums. Anyway, after the long wait the circus music came on and everyone started going crazy. Daniel was wearing his "Freaks" shirt that he wore at the Much Music Intimate and Interactive show. Ben was shirtless and had khaki shorts on. Chris had a blue T-shirt and shorts.
They opened with Slave, an AWESOME opener. The way they play it at the beginning is SO COOL!!! The crowd was totally into it. Then came Roses, which was great to hear. Findaway was next, and then the rest of the show.
The first encore, Minor Threat, was AWESOME!!! Jeremy Chatelain and Tom Capone from Handsome came on stage to help play it. Jeremy sang lead and Daniel did the backup vocals. After they played it, Jeremy took a stage dive -- it looked so cool. During Israel's Son, you could tell Ben was going to do something because he was looking at someone backstage and nodding his head and smiling.
At one point he was fixing his shorts, I think tucking in some strings or something. At the end of the song, the strobe lights were going crazy and Ben's drum sticks looked extremely cool in that light. Ben got up from the drums and stood on the riser and gave a clue that he was going to jump. He had a wicked grin on his face. So he jumped and he looked like a flying squirrel or something... it rocked! Then the crowd held him up, but they started attacking him -- well, not really attacking, but a security dude jumped in and fetched him out of the claws of some girls. He was under for quite a while. One girl somehow got onstage at that point and a security guy pulled her backstage. Anyway, that was the end of the concert. I was SO disappointed for it to be over!
I think the highlights were No Association, Leave Me Out, Madman and Lie To Me. Not that the others didn't kick ass, it's just those stick out in my mind.
Daniel said, "Detroit -- Rock City!" Then he started to sing a couple of seconds of the KISS song "Rock City." It seemed like after every song, Daniel said, "Thanks" or "Thanks for coming" or "Thanks a lot!" Before one song he said, "This song is off our new record, you don't know it and you won't like it" or something like that. He said "ROCKIN'" a lot.
I was impressed with their stage presence. Last time I saw them was at St. Andrews on Dec 1, 1995 and they seem to really be getting into the music onstage (not that they didn't before). Daniel was going crazy, it was really cool.
Afterwards, Val, Maren and I hung around outside. Daniel and Chris had already gotten onto the bus. I'm assuming they booked there after the concert in hopes they wouldn't get mobbed. Most people left. Then Ben was walking to the bus with their tutor, Jim Welch. So we went over and talked for like a millisecond and the other girls came running over. Most of them asked, "Can you get Daniel to come out of the bus?" and also there were comments about his ass and stuff to that effect. One girl asked if she could touch his head for good luck. I found that to be extremely funny. After about 15 minutes or so he went on the bus, but it was really cool of him to stay for a bit. He was really nice and mellow, a cool guy. He would say, "G'day." Before he left he said, "there's only one thing I live for -- girls." He was really cool about staying around. We then were introduced to all the guys from Handsome. They were all extremely nice.
The whole night was AMAZING... I won't forget it!!!!