04-02-1997
Toronto, Canada (Intimate and Interactive)
By JESSE PATTERSON
February 4th, 1997 -- the day silverchair rocked the world with the release of their new CD Freak Show. But for me, this was the day silverchair rocked from coast to coast on live television in Canada, the country where they have more support per capita than in any country outside of their native Australia.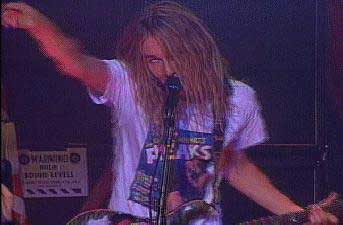 Pick any day in February in Toronto, Canada, and one would expect lots of snow and ice -- instead, it was cold, damp and raining. Hundreds of silverchair fans waited for up to 11 hours outside the CityTV building on trendy Queen Street, in hopes of catching a glimpse of their favourite band who were scheduled to appear on City TV's Much Music cable channel. Fortunately for me, I didn't have to stand outside getting soaked.
The approximately 200 fans inside the studio got their names put on the "guest list" by calling in to the station at a specified time. All the spaces were gone in 25 minutes!
The "bouncers" hired by CityTV were absolutely huge -- between 300 and 400 pounds, with shaved heads and lots of tattoos! But they were really cool (they didn't even frisk anyone before going in) and they were pretty relaxed about things -- I mean, how dangerous could a group of mostly teenagers be? Hmmm. Maybe CityTV knows something about the effect silverchair has on a teenage audience!
Earplugs anyone? CityTV staff were handing them out to everyone. Most of the crowd didn't wear them, but some of the older folks did. Daniel Johns wore them, I guess to protect his hearing. Signs were posted throughout the stage area warning of excessive sound levels (even signs on the amps!) Well, duh! I would certainly hope so.
Just before we were seated we were given the lowdown on the house rules. No moshing allowed (floor space too small). Taking pictures was only allowed during commercial breaks. Girls were specifically told to "remain calm." Yeah, right -- this is silverchair!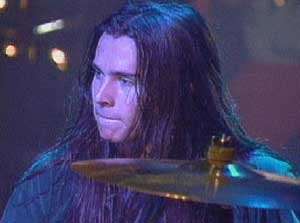 After this they guided us in groups of 10 into the concert area and told us to sit within the defined boundaries. I got a spot in the second row, stage left, which I thought was not bad. The people in the first row had been screened earlier for suitable questions to ask silverchair. We had to wait 30 very long minutes before silverchair came out on the floor. Of course, the crowd (both inside and outside) went absolutely wild. Once the band took their places, I realized that I was directly opposite Daniel, who soon told us to stand up. It was time to rock! At this point the camera starting rolling for TV.
During the first break, two stuffed animals were thrown to Daniel, as well as a T-shirt and an audio cassette tape. Daniel kept the gifts beside himself and threw his water bottles into the crowd in return.
They opened with the song Slave. Later, as they played the opening bars to No Association, a young girl yelled out, "I love this song." For the song Abuse Me, silverchair had road crew chief Bailey Holloway playing rhythm guitar, just in case you were wondering who the shy guitarist was.
During every commercial break the girls in the audience wouldn't stop yelling, "I love Daniel/Chris/Ben." The camera flashes seemed like strobe lights and the air felt electric.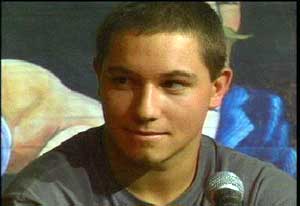 During the question period, someone asked Daniel about the incident with a car on a beach in California. While the question was being asked, Daniel lay his head on the microphone -- I got the impression that he didn't want to answer this question for the millionth time. I mean really, who cares what happened?
I bet Pete Walton got a kick out of hearing his name mentioned by bassist Chris Joannou as the webmaster of the band's official website, chairpage. He went on to say that the group sends a lot of material to Pete for inclusion on his pages.
At the end of the show a girl gave Daniel one of her rings which he willingly accepted. If Daniel has a girlfriend, I hope she's not reading this!
I think Daniel has a great sense of humour, and he seems a little shy. During a break between songs, he thanked us for being patient, which gave me the impression that he would rather play music for us than talk about his music and his personal life.
Although silverchair's musical style is still the same, I think they have expanded their musical horizons since November 30, 1995, when I saw them play at the Warehouse in Toronto. Today, their on-stage presence is dynamic and forceful. They are all very intense musicians.
I hope silverchair enjoyed playing in this intimate setting at MuchMusic as much as I enjoyed seeing and hearing them. If they come to a town near you, I recommend that you go see them, because all your senses will be rewarded with their honest lyrics and raw power.
Here is the setlist: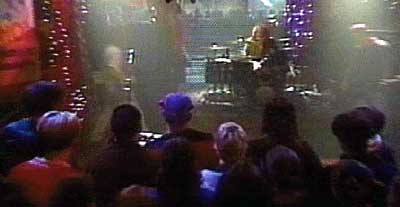 1. Slave
2. Leave Me Out
3. Abuse Me
4. Cemetery
5. Tomorrow
6. Freak
7. Madman
8. The Door
9. Suicidal Dream
10. Roses
11. Faultline
12. No Association
13. Pure Massacre
14. Israel's Son
(Videofotos by Gary Davis from television broadcast by Much Music)