13-02-2007
Webster Hall - New York, USA
By Nate Lichtman
New York, NY--Silverchair lead singer Daniel Johns came dressed for a job interview at Tuesday night's Webster Hall gig and if the crowd reaction was any indicator, he'll be signing up for his 401(k) plan by week's end. At the second of two soldout shows (Monday's show was at the Bowery Ballroom), Johns and company commandeered the cavernous club with a tight set that drew heavily upon material from the latter stages of the band's career. They also tossed in a few new songs to tease the crowd for the band's fifth studio album, Young Modern, which hits stores in Australia on March 31 and will hit stateside in the summer.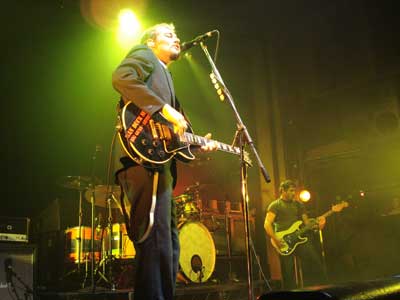 Taking the stage to a pulsing thump that sounded like a heavy heartbeat, Johns took a bow, grabbed his black Gibson and the band launched into "Without You," one of the highlights off of 2002's Diorama. By the time he reached the song's blazing finale, the band was firing on all cylinders and made a seamless transition into "Emotion Sickness" from 1999's Neon Ballroom.
The proggish epic vacillated between time changes and rhythms as the crowd sung along. By the time the track built to its climax, a frenetic solo absent from the recorded version, it was safe to say the band hadn't lost a step since the last time they toured. Bassist Chris Joannou and drummer Ben Gillies have been bulletproof for over a decade and they gave no indication that they're slowing down anytime soon. The rhythm section of Silverchair were spot on all evening, especially Joannou whose bass gave all the songs an added thump not always felt on their studio counterparts.
Of the new songs, "Young Modern Station," was a delight. The tune's desperate pace, catchy hook and distorted edginess sounded dirtier and darker than the new single, "Straight Lines," but that's not meant to be a slight. "Straight Lines" is probably one of the most pop leaning tracks the band has recorded, but sounds bright and brilliant live.
For the heavier portion of the evening, Johns broke out his octave pedal and tuned down for an incredibly heavy version of "Freak" from 1997's Freak Show and set closer "Lever," from Diorama.
By the time the crowd left Webster Hall, a snowstorm was in the making but for those in attendance, they'd already weathered a musical storm--no scarves or mittens necessary.
---
'From the bottom of our breakin' hearts' - Silverchair returns to New York
by Raptor
American fans hadn't seen Silverchair in close to four years, so we were pumped in the extreme to welcome back our good friends from Oz, who just happen to be the best band in the world, in my humble opinion. Silverchair shows are more like big parties than concerts - good friends who live far away, you don't see them as often as you'd like, so when they visit, it's a special event. I missed the show at Bowery Ballroom the night before because the tickets sold out in 32 seconds, but by all accounts the Bowery show was awesome and amazing. Silverchair was awesome and amazing at New York's legendary Webster Hall.
The crowd was jolted out of restless anticipation when Chris Joannou, Ben Gillies and Daniel Johns walked onstage, 9:30 on the dot as promised. No fashionable dawdling or rock star b.s. 'let 'em wait' attitude from these A-list professionals. Johns looked confident, even suave--that's right, suave--in a great-looking suit, sporting his new Young Modern image. The band opened with Without You, one of my favorites from Diorama. Finally, we were treated again to the unique singing voice of Daniel Johns live. When the band broke into the big closing riffs of Without You, the crowd literally gasped in amazement at that defining Silverchair blend of exhilaration and power. They were back!
Now I've seen crowds mosh like crazy, I've heard them scream their lungs out. But only one other time have I ever heard an audience gasp like that. It was at my first Silverchair show at Madison Square Garden. The band opened for the Chili Peppers. The huge Chili Peppers crowd, most of whom like me didn't even know who Silverchair was, gasped in amazement as the band unleashed a brilliant electronic wave of energy through the Garden to end their set. So you can call this phenomenon the Silverchair gasp!
Next came Emotion Sickness and The Greatest View, complex arrangements which the band performed flawlessly. I know that drummer Ben Gillies is inspired by the late soul master James Brown. The musical tightness of Silverchair reminds me of the legendary precision of James Brown's stage shows. Somebody is kicking serious ass in Silverchair's woodshed because these guys have got their act together.
Ana's Song. What can you say? Hearing Silverchair perform Ana's Song live is one of the best musical experiences you'll have in your life.
If Daniel Johns weren't already the best vocalist in rock, his reputation would be sealed as one of the top guitarists. Back in the days of Frogstomp, Johns was a good power chord guitarist but he couldn't play lead for squat--I could do better with my toes. Now he is a genuine monster on guitar, a ferocious badass who just rips up his solos like a tyrannosaur. Gillies and Joannou are still the best one-two knockout punch on bass and drums in rock'n'roll. Now that Johns can match them on lead, the band's power songs like Freak and The Lever sound better than ever.
We heard several songs from the new album. As he has done with every album since Frogstomp, Johns is leading the band in another startling new direction. Young Modern is going to be just that--new and modern.
Music marketing is very different today than the days of Diorama. MTV doesn't matter much any more. Hype doesn't cut it. The action is on Myspace, where listeners rule, not record companies. Silverchair is well-positioned in the new on-line world. All their U.S. shows in this pre-release mini-tour sold out instantly with no 'old skool' advertising, just on-line word of mouth. And new keyboardist Paul Mac, who never performed before in the U.S., was well-known to the New York audience from his work in Australia with Daniel Johns. At the last Diorama tour, band manager John Watson was surprised the New York audience knew the words to the B-side Asylum that was never released in the U.S. But we knew the song from the band's website Chairpage. With their legions of hardcore on-line fans, Silverchair will do very well in the new musical meritocracy.